As a kid, I remember how much I loved sleeping in tents. Something about being in a tent sealed away from the rest of the world was comforting and exciting at the same time; like I was on the cusp of a big adventure. 
I never had a bed tent but now I wish I had. Bed tents are a great way to make kid's nights more personal and fun by giving them their own space and letting them control their own privacy. A good bed tent is more than just a tent, it's a way for your kids to exercise autonomy and self-determination. Bed tents can also help children who need sensory deprivation when they sleep or need help managing anxiety. 
That's why we scoured the web and put together this list of the top 8 best bed tent for kids in 2022. These products have been chosen for their good blend of high-value features, including materials, versatility, durability, and overall value per dollar-cost. 
Now without any further ado, let's get to it.
In this article, we're going to review the following best bed tent for kids:
Privacy Pop Bed Tent – Editor's Pick
DDASUMI Warm Tent – Best Large Bed Tent
Camp 365 Indoor Privacy Tent – Best Design Bed Tent
Sunny Days Entertainment Thomas & Friends Pop-Up Bed Tent – Best Bed Tent For Toddlers
Alvantor Canopy Bed Privacy Space – Best Value Bed Tent
Pacific Play Tent Kids Tree House – Most Colorful Bed Tent
Besten Floorless Privacy Tent – Best For Teenagers
FeelingLove Indoor Privacy Tent – Most Versatile Bed Tent
The Best Bed Tents In 2022
First up on our list is this twin-sized bed tent from Privacy Pop, a well-known maker of bed tents. The Privacy Pop is designed for ultimate security and perfect for kids who suffer from anxiety while sleeping. The Privacy Pop is simple, durable, and will fit most standard twin-sized beds. 
The zip and mesh sides circulate air so the tent breathes well and can be partially opened if you need a source of light. Zippers on both sides allow entry and exit from either side of the bed. 2 panels on the front and back open to reveal a mesh window.
The Privacy Pop is made from a durable polyester fabric that is double stitched at the seams to prevent tearing and designed to filter out ambient light. Now you can create a private oasis of security anywhere. It is designed for twin mattresses so it works great for kids, older teens, or college students that need a more comfortable and secure sleeping situation. There are also larger models designed for full and queen size mattresses. 
The Pop Private is an under-the-mattress style tent so you need to place the mattress inside the tent while setting it up. It rests directly on the bed frame and does not require any special attachments. The tent frame itself is made from a flexible composite material that can twist and fold up when not in use. The bed tent comes with a convenient carrying case with a handle. 
Assembly of the Privacy Pop is very easy. All you have to do is unfurl the tent, place the mattress inside, and you are good to go. 5 different color options mean you are sure to find something that fits your child's room decorations. 
Pros
Easy to set up
2 windows on front and back
5 color options
Ample interior space
Cons
The mattress needs to be placed inside
Can get warm inside the tent
The DDASUMI is a bed tent ideal for beds without a floor. The DDASUMI is very large and has ample interior space, perfect for older kids who might need a bit more breathing room.
The tent is made from a flexible yet durable polyester fabric that is specially designed to trap heat effectively. It is perfect for cold nights when the air conditioning just might not cut it. The tent stands 53" high and 82" long. It is designed for twin and full-size mattresses. 
The tent frame is made from a fiberglass material that is flexible and durable. The design is pretty convenient and can easily be assembled and disassembled. There are large mesh windows on three sides that have a zipper cover so you can modify the amount of light you let in. The tent comes with a convenient fabric storage bag and all components except the frame poles are 100% machine washable.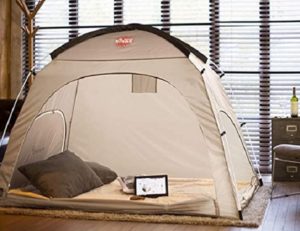 The DDASMUI is a bit larger than a lot of other bed tents so it may not serve as well if your child needs extra privacy and security. It will work wonders however if your kid wants a spacious place where they can do activities and play with friends. We especially like how it has three separate windows and how it's designed with the shape of an outdoor tent. 
The DDASUMI is a bit lacking in color with only 3 options and none are too bright. If your child does not care too much about the color though, then there are a lot of things here that they will love. 
Pros
Ample interior space
Designed like an outdoor tent
3 zipper mesh windows
100% machine washable
Designed for cold weather use
Cons
Too large for some kids
Large tent is tough to fold and store
Too hot to use in the spring or summer
Kids love space so what better way to keep them entertained by a bed tent dappled with stars and constellations? The Camp 365 Indoor Privacy tent is designed for young children and comes in two sizes, small and medium.
The small is designed for a standard twin mattress and the medium is designed for a full or queen size bed. The Camp 365 has a high canopy and has 3 zipper entrances on the left, right, and foot of the bed. The frame poles can be removed and the polyester canvas is 100% machine washable. 
The tent covering is made from a 90T polyester that is soft and durable. It is designed to block wind and drafts and keeps warmth within the tent, to make your kid's room more sleep-friendly. It's a great solution for kids who share a room or even teenagers who want some more privacy. The over the mattress bottomless design works well situated on a bed frame or can work on the floor as a regular tent. 
Setup is simple and convenient. The covering and poles can fold up for storage and easily snap back into place when in use. The heavy-duty fabric is specially designed to keep the interior warm which makes it perfect for use in the colder months or in cold climates. 
The tent can also double as a sunshade out on the porch but it should not be used outdoors on the ground. With Camp 365 you can be sure that your child will get the comforting and secure sleep experience they deserve. 
Pros
Cool designs
Lots of interior space
2 sizes available
Can work as a sunshade on the porch
Machine washable
Cons
Can overheat
Fiberglass poles can break if put under too much stress
Ok, so when I was a kid I absolutely loved trains. Even more loved was the show Thomas & Friends which featured the titular train engine and his compadre of locomotives. How stoked would I have been as a kid if I had a Thomas the Tank Engine bed tent? Pretty excited I would imagine!
The Sunny Days Thomas & Friends pop-up tent is everything a kid obsessed with trains could love. It's made from a durable fabric made for indoor and outdoor use and is four feet long, big enough to fit multiple children for playdates and the like. The tent can be used standalone on the floor as a play place or it can be put on a bed frame and be used as a privacy tent. 
The popup design is simple to set up and store when not in use. The EZ twist storage design secures the tent in storage mode and it lies flat so you can easily fit it in a cupboard or closet. The unique train shaped design has ample interior room and multiple entryways make access easy and convenient. If you have a kid who loves Thomas, tents, and all things train, then this is the perfect solution.
Pros
Extra-long design gives good interior space
Multiple points of entry
Beloved character designs
Easily popup and foldable design
Affordable
Cons
Not very durable
Does not handle machine drying very well
The first thing to notice about the Alvantor is its unique cylindrical design that is like sleeping in a capsule. The Alvantor has a patent-pending double zipper design that allows entry from both sides of the bed.
It also has a durable popup rib frame made from fiberglass rods that provide extra strength and stability.
The cylindrical design is nice as it avoids creating point pressures along the frame that can wear down the canopy over time. 
The Alvantor is great for someone who needs a secure and private sleeping space. It's made from a high-quality pongee fabric that breathes well and is soft to the touch.
We especially like the addition of anti-mosquito nets and dark gray color that filters out ambient light. It is a great choice for sleepers that need more sensory deprivation to get comfortable. 
Pros
Unique cylindrical design gives a private sleeping space
Round shape prevents pressure points
Versatile
Easy to set up
One-year warranty
Cons
Can get warm inside
Tough to use if your bed frame has side rails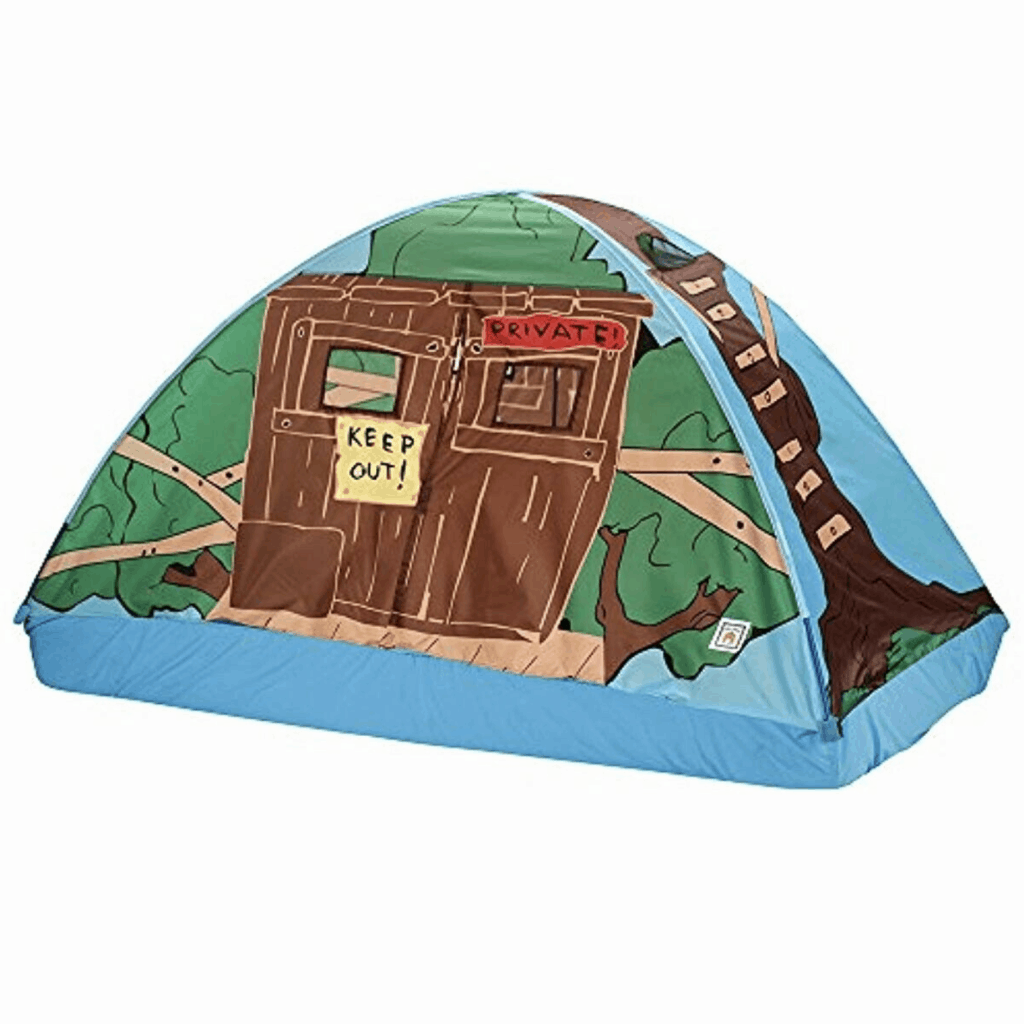 This dual-purpose tent can be used on or off the bed and is best used by toddlers who are transitioning from a crib to a bed.
The Pacific Play is made from mesh panels to provide air circulation and features a colorful graphic like a treehouse from back in the day.
The fitted outer skirt fits a full mattress and stands 42' high, with plenty of interior space.
The mesh panels are made out of a 190T polyester taffeta that is rip and tear-resistant. The frame poles are double coated to prevent breaking or splintering, which can be dangerous. The bed tent can be used as a play area during the day and as a private sleeping space at night. 
The entire tent is easy to assemble and folds up quickly for storage. It is also very affordable compared to some other bed tents we have covered. 
Pros
Colorful graphic is entertaining
Can be used on a bed or on the floor
Easy to assemble and extremely lightweight
Affordable
Cons
Not great quality
Frame wear fabric over time
Featuring a stylish design and high canopy, the Besten is great for older kids who want some privacy to carve out their own unique space.
The drape-style doors open wide so they can let in as much light as they want and close it completely when they want some privacy. 
The Besten is pretty big and has a high canopy, so it won't fit that well if your child's bedroom has a low ceiling.
The tent is designed to block drafty wind and circulates fresh air in virtue of its mesh fabric construction. It makes a good nook for studying, reading, relaxing and sleeping. 3 doors allow access on the left, right, and front of the bed. 
We especially like how easy the tent is to set up. The canopy is relaxed and can be modified to provide more security if your child wants it. It also has some useful pouches inside where they can stash their books, tablets, and whatever else they need. 
Pros
Long-lasting polyester
Fits all beds and mattresses
Works seamlessly indoors
Hassle-free assembly
Cons
Directions for use aren't clear
The base isn't sturdy
FeelingLove indoor privacy tent is a perfect canopy tent that features solid construction that will serve you for a long time. The tent is large and well–decorated with string lights, creating a joyful and ambient environment.
The tent also comprises a string of light and two hanging lights to offer you ample lighting to complement and brighten the purple color.
You won't have any difficultly setting up this tent, therefore it's versatile both for use on the bed and off the bed.
FeelingLove tent also comes with a warm and cozy material that transforms your bedroom into a paradise. By keeping the warm room with this product you get to save on electricity bills since you don't have to turn on the heating system.
In addition, the tent is designed with durable material that provides an excellent atmosphere. It's perfect for children and teenagers who share a room with siblings or students sharing a dorm.
Pros
Warm and Cozy
East to set up
Beautiful decoration with brilliant colors
Designed with sturdy and durable materials
Cons
Too big for a twin bed
It doesn't come with set up instructions
Bed Tent Buying Guide
The most basic question to answer is why you need a bed tent. Do you need it just as a toy to keep your kid occupied and entertained, or do you need one to give them a feeling of security and privacy? If the former, then bed tents with lots of extra features like windows, attractive designs, and cool fixtures might be a good idea. Some bed tents pull double duty and can work as outside tents. 
If the latter, then all you really need is something simple that is durable and machine washable. Bed tents designed for security and comfort filter out excess sensory stimulation so kids can sleep relaxed and undisturbed. Keep in mind that even though we are covering bed tents for kids, bed tents, in general, are suitable for people of all ages.
You should also consider the following features:
Tent TypeBed SizeMaterialsDesignOther Features
There are two major types of bed tents, ones that attach to the bed frame and those that go around the entire mattress. Bed frame tents need to be set up and attached but they can be taken down much easier whenever you don't want to use the tent. Bed frame tents do have a lot of detachable parts so you will have to keep track of all the pieces. 
Mattress tents go around the entire mattress and enclose the entire bed. These kinds of tents are usually a single piece of fabric and some rigid structural pieces. The real benefit of these kinds of tents is that they provide a more secure enclosure and can be folded up when not in use. There are fewer pieces as well so you are less likely to lose something. 
Obviously you need the bed tent to actually fit the bed. If you are looking for a bed tent for your kid, the most likely sizes you will need are either a twin or full. Many bed tents are adjustable and let you tighten to fit smaller mattresses. A bed tent that can adjust its size is a good idea if you want to use it on multiple beds. 
Most existing bed tents are made from a lightweight mesh fabric or a synthetic material like polyester. The benefit of these materials is that they are very durable
compared to natural fibers like cotton
, handle moisture and water better, are machine washable, and do a better job filtering out external stimuli. Polyester fibers can take a real beating and is much more resistant to tearing puncturing, or deformation from stretching. 
Even though polyester does not shrink, is more durable, and is more water-resistant than natural fibers, polyester fabrics can sometimes have trouble breathing. This means they can trap heat and become stuffy or they do a poor job of insulating heat from the cold. Some people also have a polyester allergy, though this condition is rare. 
Regardless of which material you choose you will want something that is machine washable. This goes double if you expect your kid to use the bed tent every night. One thing to watch out for though: polyester can shrink if washed repeatedly on high heat settings. 
The design is also important. Do you need something just for safety and security? Then you need something simple that fully encloses the bed. If you want something that is a little more adventurous, then there are plenty of models that have colorful designs and illustrations that can add some style to your child's bedroom. 
At the same time, there are bed tents that are more like single-person compact tents that don't offer much interior space and are designed to be portable. In contrast, there are also bigger tents with more spacious interiors that give a lot of room for activities. 
Bed tents range from simple models that are just for sleeping and models with more interior features. Some bed tents have plastic windows that let light in and others have more than one door so you can get in from either side. Deb tents may also have useful features like internal pockets for books, tablets, and other devices, as well as retractable sides.
FAQs Bed Tent
What is a bed tent?
Everything you need to know is right in the name. Bed tents are tents made specifically for beds. They can be used to promote security and privacy when sleeping or they can be used just for fun. There exist bed tents for both adults and children. The best bed tent is lightweight, durable, machine-washable, and filter out unnecessary external stimuli. Some bed tents are large and are more like camping tents in terms of their size, materials, and features. 
How do you use a bed tent?
It depends on the type of bed tent. Bed frame tents attach directly to the bed frame usually by a series of clips or vices you tighten. The benefit of these kinds of bed tents is that you can remove them easily if your kid wants to change up their sleeping situation. Bed frame tents also tend to have larger interiors and more space for activities. 
Other bed tents go around the entire mattress. These kinds of bed tents require you to place the mattress in the tent. Mattress-covering bed tents give a much tighter enclosure and won't be knocked loose if the bed frameshifts a bit and they are also easier to store as they have fewer detachable parts. But mattress-covering bed tents might be too restrictive for some and make them feel claustrophobic. 
Are bed tents safe?
Yes, provided they are set up and used correctly, bed tents are safe for young children to use. That does not stop your child from taking something dangerous inside the tent, so you should always make sure you know what is in there. As long as there are no sharp objects or things that can be swallowed, bed tents are perfectly suited for children over the age of 2-3 (and adults for that matter!). You should not use a bed or crib tent for an infant child though.
Which material is best for bed tents?
In our opinion, the best fabrics for bed tents are either a mesh fabric or a polyester fabric. These kinds of fabrics tend to be the best material for tents. They are durable, resistant to water, resistant to puncturing and tearing and do a good job filtering out light and excess stimuli. The one drawback with polyester is that it can have trouble breathing, especially cheaper polyester fabrics. 
There do exist natural fiber bed tents like cotton. These can be better for people who are sensitive to synthetic fibers. In general, bed tents made from natural fibers are more expensive than ones made from synthetic fibers. 
How often should I wash my bed tent?
You should wash your bed tent every time you wash your sheets, so at least once every week or two. The good thing about polyester bed tents is that they can be tossed in the washer with other things. You should avoid drying polyester tents on high heat settings though as repeated dryings can make them shrink.
How much should I spend on a bed tent?
A solid bed tent for kids will generally run you between $60-$100, though there are some pretty good models for around $50. Bed tents over $100 tend to be very high quality or have special unique features like extra openings or dual layers. You should probably avoid any child's bed tent less than $30. These tend to be low-quality and are not worth the purchase. 
Last Thoughts
Everyone could use a good bed tent. These nifty devices are a perfect way to give yourself some more privacy when sleeping or just add some ambiance to your child's room. Whether your child needs a bed tent to feel more comfortable sleeping or needs something for entertainment, a bed tent is a great way to meet those goals. 
Additional Resources
Best Air Mattress For Everyday Use
Best Waterproof Crib Mattress Pad
Chris was a psychiatrist and neurologist with board certification in sleep medicine Clinical Associate Professor at the University of California. For over 10 years, he served and helped patients at Stanford Health Care-Stanford Hospital with their sleeping disorders.
After suffered from sleep disorders for years, Chris has been passionate about sleep health ever since. He wants to help others sleep better and wanted to make the world of sleep easy to understand for everyday people.