✅ This article has been medically reviewed by: Dr. Amita Fotedar, Ph.D., Dr. Kate Sołdaj, M.D. and Dr. Bartłomiej Orybkiewicz, M.D.
Regardless of your age and overall health, getting adequate, restful sleep should be a top priority. Sleep duration and quality affects most aspects of our health, and our lives in general. Without adequate sleep, we suffer, and with good rest, we thrive – it's as simple as that!
If you or a loved one has been diagnosed with sleep apnea, then getting a good night's sleep will most likely involve the use of a CPAP machine. There are a lot of different units on the market, and since we often get readers inquiring about our recommendations, we thought we'd put together a list of the best CPAP machines. Let's get started?
What is a CPAP Machine?
CPAP stands for continuous positive airway pressure, and a CPAP machine is designed to do one thing: help the patient breath steadily at night. Sleep apnea disrupts sleep patterns by causing lapses in breath during the night, which can cause the patient to wake up. A CPAP provides a continuous stream of air into a mask, which the patient wears at night. This continual air pressure helps prevent sleep apnea episodes from causing the patient to awaken, thereby improving sleep quality and duration. For more information, see our what is CPAP article.
What are the Best CPAP Machines?
Since there are so many different options, we've selected a few top recommendations for you. We have based our recommendations on a combination of manufacturer specifications, user reviews, and our own personal experiences with these units. This is not an exhaustive list; there are certainly good machines out there that will not be covered here – but, we believe this is an excellent place to start for users seeking the best CPAP machine for their needs. Enjoy!
1.

Best CPAP Machine Overall: ResMed AirSense 10 AutoSet
The ResMed AirSense 10 AutoSet is widely considered to be the best CPAP machine on the market. It's the successor to the ultra-popular S9 model, and adds some innovative new features. Its AutoSet technology continually adjusts your air pressure to respond to apnea events and keep you sleeping restfully throughout the night. It's also notably smaller than its predecessor, the ResMed S9, so it's a bit easier to travel with.

The newest from ResMed, a leader in the CPAP industry
User friendly, simple design
Ultra well rated
Very quiet
Built-in humidifier
Automatically adjusting pressure
AutoRamp with sleep detection technology starts at a low pressure to help the patient fall asleep, and raises to prescribed pressure once sleep is attained
Automatically starts when breath is detected
Expiratory pressure relief technology uses a lower pressure for exhaling
Click here to learn more about the ResMed AirSense 10
The AirSense 10 builds on the success of the ResMed S9, but adds some new features. Perhaps the most noticeable might be the EPR or expiratory pressure relief technology. Basically, this allows for two pressure settings: one for exhaling (lower), and one for inhaling (higher, prescribed pressure). This makes it a lot easier to breath out comfortably, particularly for those with high pressure settings.
Another excellent unit is the DreamStation Auto from Phillips Respironics. This unit can be categorized in the same basic range as the ResMed S9 – it's a similar size, similar price, and similar quality. Phillips Respironics and ResMed are two of the largest CPAP companies, and the DreamStation Auto is Phillips' answer to the S9. This is a newer machine than the S9, however, and offers some unique features.

Sleek, user-friendly design
Quiet operation
Easy to use
Very well rated
Auto-adjusting pressure
OptiStart and SmartRamp technology
MaskFit setting to check for leaks
Regular reminders to change filters
Auto on/off feature
Advanced data displayed on built-in color display
Automatic altitude adjustment
Optional heated humidifier
Click here to learn more about the DreamStation Auto
The DreamStation Auto is a full-featured, well-reviewed machine from one of the industry's top manufacturers. It shares most of the same features as the S9, with the addition of an automatic altitude adjustment feature (the ResMed can also be adjusted for altitude, but it's done manually) and a few other features, such as reminders to change the filter.
3.

Best Mini CPAP Machine: ResMed AirMini
As you can tell from the picture, the ResMed AirMini is tiny. In fact, it's the world's smallest CPAP unit! If you are a frequent traveler, you can definitely benefit from using this lightweight, tiny unit. It still features award-winning ResMed technology, in a much, much smaller package.

Compact design – fits in the palm of your hand!
Ultra lightweight
Utilizes the same therapy modes as full-size ResMed units
Features unique HumidX Waterless Humidification technology
Controllable with the AirMini smartphone app
ONLY compatible with select ResMed masks
Designed to be used for traveling with CPAP
Click here to learn more about the ResMed AirMini
If you're a frequent traveler, the AirMini is a great purchase. Its compact design and waterless humidification system make it very convenient for traveling. With that said, I wouldn't recommend this as a primary, at-home unit, although it could be used as such if need-be. If you're looking for more compact options, see our guide to the best mini CPAPs and the best battery-powered CPAPs.
4.

Honorable Mention: ResMed S9 AutoSet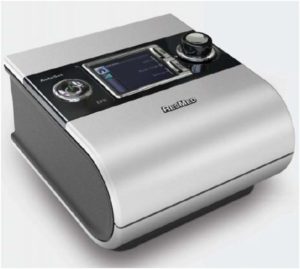 The ResMed S9 AutoSet is one of the most popular CPAP units of all time. In fact, if you search for "CPAP" or even "Sleep Apnea", you'll see mention of the S9 right away. This machine is quite popular, and for one simple reason: it works really well! It's become something of an industry standard, and although there are newer machines out there with more bells-and-whistles, the S9 remains one of the best CPAP machines on the market. The downside is that the S9 is no longer available from most retailers, so it can be hard to find.

No longer widely available for sale (ResMed's flagship AirSense 10 AutoSet has replaced the S9)
One of the most popular machines on the market
Very quiet
Very easy to use
Well rated by patients and doctors alike
Autoset technology continually adjusts pressure based on your breathing patterns
Can be used with or without a humidifier attachment
Backed by ResMed, one of the most trusted names in the industry
Built-in LCD display to view pressure, alter settings, etc.
Warm up feature lets you preheat water in humidifier
Automatic data recording on included SD card
Mask Fit feature lets you to test the fit of your mask and check for leaks
If you're looking for an affordable unit without sacrificing quality or features, you really can't go wrong with the S9. It's what I use personally, and I've had the unit for over 5 years without any issues. Unfortunately, you may have trouble finding it these days. For more information, see our dedicated ResMed S9 AutoSet review.
What About Accessories?
Now you know about some of the best CPAP machines, and you're on your way to more restful sleep! While the main CPAP unit is the most important piece of the puzzle, it's not the only thing a new CPAP user will require. At minimum, you will also need a CPAP mask and tubing. While tubing is all fairly similar, there are huge differences in different mask types – and it's vital that you get the right mask for you. We put together a guide to the best CPAP masks to help out.
Beyond that, there are a host of optional accessories you might consider. You may want to pick up a CPAP pillow to help improve comfort (particularly useful for side-sleepers), or maybe you'll want to get a CPAP cleaner to help make cleaning your CPAP easier. We have guides for all of these accessories, so be sure to follow the relevant links if you're interested in learning more!
Related: SoClean 2 Review: Is This The Best CPAP Cleaner?
Chris was a psychiatrist and neurologist with board certification in sleep medicine Clinical Associate Professor at the University of California. For over 10 years, he served and helped patients at Stanford Health Care-Stanford Hospital with their sleeping disorders.
After suffered from sleep disorders for years, Chris has been passionate about sleep health ever since. He wants to help others sleep better and wanted to make the world of sleep easy to understand for everyday people.