Best Electric Blankets–Reviewed
1.

Sunbeam Queen Size Heated Blanket – Best overall
Highlights
Soft Velvet plush fabric
20 personalized heat settings
Quick heating that auto-adjusts
5-year limited warranty
Dual controls
One unique feature about the Sunbeam Queen Size Heated Blanket is the ability to adjust its heat to meet your body temperature needs.  This Luxurious Velvet Plush Heated Blanket consists of a ThermoFine wiring system that delivers consistent warmth.
To achieve that cozy feeling, it monitors the temperature and automatically adjusts the heat to suit your needs. And if that's not enough, it features 20 personalized heat settings, including a pre-heat option and auto-off setting.  Also, it comes with Sunbeam's safety locking plug, which keeps the cord firmly attached.
If you and your partner have different temperature requirements, don't worry!  This electric blanket has a dual control, which allows partners to select the settings that work best for them.
Made for 100% polyester velvet plush material, the electric blanket heats faster and it's comfortable.  It's machine washable and dryer safe.  It has very few safety complaints from amazon and also features a 5-year limited warranty.
2.

L.L. Bean Heated Blanket – Most Comfortable Electric Blanket
Highlights
Ultra-thin, flexible wires
Dual light-up controllers
IntelliSense technology that ensures even heat distribution
Pre-heat options
9 hours' auto shut-off safety setting
L.L. Bean Heated Blanket is a great electric blanket for winter. It's made from two soft layers of Primalush and loftmink velvety polyester fabric featuring an insulating layer between. Thin electric wires are woven throughout the entire blanket to distribute heat- You won't feel them when you're snuggled underneath the super soft fabric.
This blanket comes with every feature you can expect from an electric blanket. It comprises a 9-hour auto shut-off function and dual zones for both the king and queen sizes.  Also, it has 5 heat settings so you can adjust the blanket to the temperature you desire.
Although the controller might be super confusing at first glance, you can use it easily once you've read the instructions.  The L.L. Bean preheat option will warm up your bed for 45 minutes, before dropping the heat levels. 
Additionally, you can tinker a little with the timer feature if you want to turn off the blanket a bit earlier. The blanket's IntelliSense technology prevents hot spots by ensuring even distribution of heat.
3.

Sunbeam Velvet Plush Heated Blanket – Best Value Electric Blanket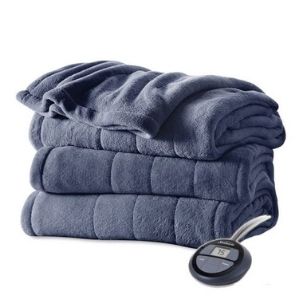 Highlights
10 heat functions and a pre-heat function
Velvet plush material to deliver premium softness
10 hours' auto-off mode
Limited warranty
100% Polyester
Colorful style, comfort, and convenience make the Sunbeam Velvet Plush Heated Blanket a good option.  Making use of Velvet plush, it provides sleepers with the best sleeping experience throughout the night.  The blanket will remain tatter free even after several machine washing.
One neat feature that will excite you about this blanket is that it comes with an exclusive wiring technology that disperses the heat throughout the blanket. The wiring is also secure and doesn't push out of the blankets even when folded.
It's so easy to use this blanket- you only have to plug it in and snuggle under.  The blanket makes use of a unique wiring technology to constantly adjust the heat.  Furthermore, it's equipped with a pre-heat option and 10 different heat settings which allow you to control the temperature levels of the blanket.
Just like many electric blankets on our list, the Sunbeam Velvet Plush Heated Blanket uses an auto-power system to offer you peace of mind.  After 10 hours of use, the system shuts off the blanket.
4.

Perfect Fit SoftHeat Blanket – Best Ultra Soft Electric Blanket
Highlights
Machine washable and dryer safe
Two zones with dual control
10-hour auto shut-off
Dual controls
Small and thin wires for even distribution of heat
Perfect Fit SoftHeat Blanket is a super soft and safe electric blanket. It's arguably one of the most comfortable blankets you'll ever snuggle up in.
It's constructed with an extra soft micro-plush fabric as well as a decorative triple-ribbed design that's excitingly smooth next to your skin.
In full king and queen sizes, this blanket offers dual control, allowing partners to customize the heat level at their bedside.  The small and thin wires throughout the blanket are virtually unnoticeable. They're placed 3-inches apart and evenly distributed from head to toe, meaning your blanket won't have any annoying hot or cold spots.
This blanket has an automatic pre-heat feature along with 10 heat settings that ensure your bed is cozy and warm before you can climb on. It will automatically shut off after 10 hours of use for power conservation and safety convenience. Also, it has built-in over-temperature protection for additional safety and peace of mind.
5.

Biddeford Microplush Sherpa Electric Blanket – Best Dual-Control Electric Blanket
Highlights
Machine Washable
5-year warranty
Auto shut-off safety features
Comes with a zippered bag which you can re-use for storing
10 heat seating for selecting the right temperature
The Biddeford Microplush Sherpa Electric is the perfect blanket for those who want to feel warm during a cold night. This cozy electric blanket is well-priced, and both the king and queen size electric blanket comes with controllers for dual-zone.
 It's designed from 100% polyester, Sherpa bottom, and micro-plush top. These materials are durable and can withstand continued washing and use.  The 5-year warranty assures you long years of snuggly comfort under your sheets.
It features 10 personalized heat settings that allow you to easily control and adjust the temperatures to suit your needs.  Also, it comes with a reusable zipper bag that you can conveniently store the blanket during warmer days.  The best part is that this electric blanket is dryer safe and you can launder it safely with other laundries.
Furthermore, it features a 10-hour auto shut-off function. This comes in handy on those days when you're in a rush and you might forget to unplug the device. The blanket will turn off automatically after 10 hours of use. 
6.

Sunbeam Reversible Heated Throw – Best Throw Electric Blanket
Highlights
Reversible super soft fabric
Over 2, 500 5-star reviews
3-heat settings and 3–hours shut-off
Machine washable and dryer safe
Very soft and easy to clean
Manufactured by one of the most trusted companies in the heated blanket industry, the Sunbeam Reversible Heated Throw comes with a dual-side plush design and auto-adjusting heat.
This blanket has Sherpa fabric on one side which is soft and smooth while on the other side it has faux royalmink which mimics the feel of Sherpa.  It's easy to care for this electric blanket since it can go in the washer and dryer.
Also, it's very easy to operate the blanket- you can turn it on and off and switch between 3 settings via one button.  It's the ideal blanket for warming the sheets before bed or snuggling up when binge-watching a Netflix show.  It shuts-off automatically after 3 hours.
It's budget-friendly and warms evenly through.  Over 2,500 reviewers love its cozy feeling and how warm it could get. But there were some reviewers who said they received defective products.  So ensure you've tested the blanket before the return period elapses.
Best Electric Blanket Buying Guide
Here's a list of things you should consider, when thinking of purchasing an electric blanket:
Material
 As much as you enjoy sleeping warm, you won't love sleeping on a scratchy blanket. Thankfully, most of the electric blankets are constructed from microfiber fibers that feel soft and cozy. Others are made from Sherpa or Velvet which are warm and fuzzy. Apart from comfort, polyester microfiber electric blankets are machine washable and dryer safe.
Price
Electric blankets are usually very affordable and won't even add to your electric bill.  Having it is a huge bonus as opposed to having conventional heaters.  But don't compromise safety for the price.  Blankets that come with additional features like an auto shut-off setting, tend to cost more.  Also, the size of your bed will influence the price of the blanket.
Energy Usage
Most electric blankets are affordable to run, especially when compared to switching the heater on. They retain the heat, keeping you warm during the night or when watching TV on the sofa – you don't have to heat your entire house.
In most cases, you'll spend four cents to run your electric blanket for an hour or more depending on the model.  Best heating blanket heats up quickly, evenly, and effectively, meaning you can switch them off after a few minutes. Thus, saving your electricity costs. 
Size 
Do you want a full queen/king size electric blanket?  Do you want an electric blanket for lazing around the house?    
Electric blankets come in different sizes. Some are perfect for Twin to King-size beds, while others are just the size of your average throw blanket.  It's up to you to select the electric blanket that suits your needs.
Opinions and comments from verified customers play a crucial role when it comes to selecting the best electric blanket.  Go through different electric blanket reviews to see what customers are saying about different products. Also, reviews will help you identify the core factors to consider before purchasing an electric blanket.
Dual Controls
Dual control means that there's a control on each side of the blanket.  This creates two different areas, suitable for two different individuals.
Dual control comes in handy if you're planning to share your electric blanket with someone else.  Your partner will have control of his or her side of the blanket. No more rows or boosting the heat before climbing to bed.
Some unique models can even split into 4 sections, meaning you'll have control of your side of the bed as well as the upper and lower parts of your body.
Overheat Protection
All electric blankets on sale must have an overheat protection feature. This way it will sense faults and overheating, and shut off itself.    If your electric blanket has this feature, you can leave it overnight or unsupervised without worrying. But even so, taking precautions is crucial.
Foot Warmth
This means that the blanket needs to be warmer at the bottom than the top. As a result, keeping your feet warm. If heat escapes your feet, you'll feel cold, which in turn affects the ability of your entire body to warm up.  If you experience freezing toes every night, find a blanket that will provide you with uniform heat distribution.
Other things to bear in mind
All electric heating blankets require an electrical connection. So ensure you've checked the length of the electric cable to see if it will reach a plug.
We often expect most electric blankets to last for about 5-years. While most manufacturers offer a 5-year warranty for their products others can go low as 2- years.
Finally, check if the electric blanket allows you to increase and decrease its temperature, this is very important. Some blankets usually come with 3 heat settings, while others have over 20 settings.
Do electric blankets use a lot of electricity?
Generally, electric blankets consume little energy. On average, an electric blanket can use electricity amounting to four cents an hour. Depending on the settings of the electric blankets, some can use electricity worth 15 cents an hour.   You can spend about $20 per season to run your electric blanket, which includes pre-heating and leaving it overnight for 3 months.
Electric blankets are effective heaters, so you only need to run them for 10 to 30 minutes before switching them off.  Since the blanket traps warm air, you will keep warm all night and you won't need the heater later.
What's even better is that most electric blankets have auto shut-off settings or timers. You can pre-set the blanket to switch off at a certain time to save energy. Avoid running your electric blanket all night.
Is it safe to wash an electric blanket?
Yes! Most electric blankets are designed for machine washing and drying.  You need to wash your electric blanket to keep it fresh and in working condition. However, you need to be careful when washing it since harsh twisting or agitation can damage the interior heating component and wiring.
Are electric blankets safe for children?
Electric blankets are perfectly safe for kids if you follow the necessary safety precautions to ensure the safety of your kid.  When purchasing an electric blanket for your kid ensure it's accompanied by the certifications that show the product abides by the relevant safety regulations.
We recommend you try to purchase a low voltage electric blanket.   The low voltage will reduce the risk of overheating or fire risks. A blanket using 25 volts as opposed to 120 volts will also save your electricity costs.
Connie finished her counseling psychologist program at Ohio State University. Her passion to write helped a lot of people suffering from physical, emotional, and mental issues.
Connie is a sleep specialist and a full-time writer for Sleep Standards. Connie has tested and reviewed over 40 different products and is always up to date on the latest sleep and mattress trends.