Do you start thinking about dorm furniture upon hearing the word futon! With the currently available models, it is tough not to associate them with your youth days. But these futons have definitely developed with the passage of time. 
A well-built frame can be your guest bed or a couch that you and your friends can use to sleep. To help you in finding the best futon frame, we have researched and compiled a list of top 6 futon frame reviews and buying guide for your assistance.
Read on to find the best futon frames on the market!
In this article, we're going to review the following Futon Frame:
So What a Futon is Exactly?
Any type of alternative beds, such as convertible couches, falls in the category of futons. Therefore, you will feel pretty confused when you Google the term, 'Futon'. A Japanese bed that tends to rest on the floor and is barely more than a pad filled with cotton is the Original Futon. 
But this isn't the design that most people look for.
You can find the modular couches and chairs with large-sized blocks of foam. You can unfold them into a platform that looks like a bed. This might well be the choice for many people but this isn't the style that we are familiar with.
Here, we are talking about the wood or metal framed futon that can hold a mattress, which you can fold in half. It will enable you to fold it into a couch and unfold it into a bed. These frames can last for many years.
The thing we love about these futons is that they allow you to change the cover easily for a new look. Another thing we love about this futon frame is the option to change the mattress. Convenience all along!
What Do You Need To Consider Before Buying A Futon Frame?
The best futon frames come with sturdy arms and legs. The platform itself needs to be made of strong material. Some frames come with an extra pair of legs for additional support right in the center. You can choose frames either with or without frames. You can also go for metal or wooden frames. Plastic frames are also available if you are a bit low on the budget.
Let's take at some of the other factors you need to consider apart from the material.
SizeStyleMaterialsBulkinessComfortDesign
Many people like futon style due to its couch feature or its foldability and being a space saver. Futons are available in different sizes ranging from queen to twin. A twin bed can be your chair futon; a full bed can be your loveseat futon, and a queen bed can fold into a couch futon.
As they can serve a variety of purposes they also come in different styles. You can go for the conventional look, mid-century modern look or go for the mod & mission style.
Futons are now available with pads as well as mattresses. You can use different types of mattresses and their covers according to your decor. Arms can be there or not if you want and you can also go for the lounging position with your futon. In most cases, the frames will be close to the ground and the height can vary too.
In most cases, you will find futons made of wood or metal. But now plastic futons are also available. Solid wood frames are expensive and they are available in different types ranging from ebony to oak and birch. Metal frames either have silver or black finish while the plastic ones are either available in white or black colors.
It is all about the question that how much space you want to give up using a futon! As there are different types and sizes of futons, you need to go for the one that fits right in your available space. You must include both dimensions of your futon as a couch and a bed. Bulkiness can influence storage convenience in your room significantly.
Futons vary in terms of comfort level. Metal mesh futons tend to be are the most comfortable out there. On another hand, the bars might be not very comfortable for some users. However, it is up to you to decide which one is better for you.
You need to go for a design that blends in with your home's theme. You can always choose a frame that you can accessorize later on. Go for a neutral tone because they are very easy to match.
Wood vs. Metal
The most important question here is which frame is suitable for you; whether it is metal or wood? The most critical factors here are affordability and durability. However, you can find some frames that can prove to be a perfect balance between longevity and affordability.
Metal futons
If budget is your concern then you need to go for affordability and this is where you need to choose a metal futon frame. Similar to any platform bed that has wood slats for holding a mattress, the metal slats are the foundations that hold the mattress or pad in place. You need to go for the slats that must be three inches apart from each or less. Any wider than three inches would damage your mattress or you will lose it between those gaps.
Whether there are rounded legs in your metal frame or they are squared, it is not going to matter much in terms of longevity. What we love about metal futons is that they are very lightweight and you can assemble them without any issues.
What if you have to move around your futon a lot? Just so you know, these metal frames are super easy to move around.
Wood futons
With the passage of time, wooden futons have gained immense popularity. You get what you pay for. The solid wood futons are the most expensive of all and they are very durable as well. However, you need to take care of them over the years. What we don't like about these futons is that they are heavy. You will definitely need some help in moving your futon frame from one place to another. You will face difficulty when you are repositioning it from bed to couch or vice versa.
Affordable wood futons are also available. They won't be durable as hardwood but they will be a lot lighter in weight.
What Is The Best Type Of Futon Frame?
Bifold FutonsLoveseat FutonsTri-Fold FutonsBunk Beds
You can fold thee frames into half and form a seat and backrest of a futon. Fold it down to convert it into a bed. As per the size and dimensions you need to choose the mattress.
These futons are best if you have limited space available. There are three different sizes available here including, queen, twin and full. You can fold them into a loveseat and open to convert into a bed. Some of these designs also come with a lounger that may be present between the flat and the upright section of the bed. You can go for a thick mattress on this frame.
These futons come with three different parts; the seat, the back, and an ottoman extension. You can use it to convert your futon into a lounger, a recliner, a couch or a flatbed. You will need a thin mattress on this frame to make sure that you can trifold it.
The bunks are hybrid of all the above types you will find a futon underneath the bunk bed. They are the best space savers and you can find them in a range of different sizes and styles.
Futon Frame Features
There are different features that you must consider before buying a futon frame.
You need to consider the size which can either be queen, full or twin
The frame style itself can either be conventional, mode or latest
You can either choose a wood frame or a metal frame based on your preferences. Plastic options are also available
The mattress support can either be mesh or slats
You can go for a design featuring handles that allow you to conveniently open/close the frame
Metal frames are lighter as compared to wood frames, they are good for repositioning. But you can also go with other material options like softwood, particleboard, and MDF. However, you must compromise on durability factor here
Finishing needs to go with your interior décor and you can either go for silver, black or white based on the materials
The folding mechanism can be trifold, Bifold or loveseat. Hence the number of legs may range from 4 to 6
You can have an increased utility through drawers, a central console or armrest
Product Reviews
This chemical-free Bifold futon KB frame is our first choice because it keeps your room's environment natural. It is free from chemical and high-quality wood construction assists us to enjoy living naturally. The wood also does not produce any awful odors related to paints and stains.
So far we are able to use it in four reclining positions that make the KD futon frame the best. You'll enjoy both versatile sitting and comfortable sleep. The sturdy and solid construction provides ideal support, which delivers perfect comfort. You can convert it into a sofa, lounger, bed and more as our requirements.
The small casters are equipped on the legs so you can easily move the futon from one place to another. It does not require any special skills to assemble. Your purchase also comes with essential assembly hardware. Therefore, no additional expense is required.
This futon frame is available in full and queen size on the market. It constructed from Tulip Poplar that gives it a natural finish. The dimension of KD Futon frames is about 74-inch x 54.5-inch x 10-inch inches and weighs about 49 lbs. 
Pros
Easy and quick to assemble
Flexibility and easy to move around
Four reclining positions like bed, sofa, lounger
Five years warranty
Cons
Doesn't have any anti-slip mechanism
Scratches appear on the floor while moving it due to no padding
This might be a good choice for those who want superior and elegant comfort. The Nirvana Futons uses solid hardwood to construct the Westfield frame for us. You can give your living room a classic, country, and traditional look. This is because; the natural wood gives a deep and warm color blend. 
This is a good investment for you because you can convert it into three different positions. You can convert it into a full-size bed, sofa, and lounger as per your requirement.
The conversion is straightforward and effortless for anyone. You just need an Allen Wrench and a regular screwdriver for its conversion.
The weight capacity is about 500 lbs. In addition to that, it features curved arms, which releases the pressure from your arms and gives you a comfortable sitting. This is the best space-saving futon frame for you because it is comfortable, supportive, durable, and has a trendy design.   
The dimension of a full sofa is about 81-inch x 32-inch x 33.5-inch and the full bed has an 81-inch x 54-inch x 24.75-inch dimensions. The arms height is approximately 24.75-inch. This sturdy and durable frame offers an anti-slip mechanism that ensures ultimate safety.  
Pros
Ideal for enhances interior decoration 
Inbuilt anti-slip mechanism
Eco-friendly hardwood frame
Multifunction 3-in-1 bed, sofa, lounger  
5year warranty
Cons
Assembling isn't hard but requires much time
If you have a small space lifestyle, then DHP futon frames are here to fulfill your needs.
The metal materials used in its construction enhances its durability. It also comes with a mesh back, which provides great support to the mattress.
It comes with the circular armrests. That's a great feature because it helps to relieve pressure and delivers superior support to your arm and you feel comfortable.
Another best feature is a low-seating design that is perfect to complement both traditional and contemporary décor.
This futon frame also features a useful retainer clip for preventing the mattress from falling off and sliding down. The 3-in-1 multifunctional conversion is our favorite feature of DHP metal futon frames. You can easily and quickly convert it into a full-size bed for enjoying a good night's sleep. Later on, you can convert it from a lounger to a sofa and vice versa.
It is effortless to convert it into a lounger, sofa, and bed with only one hand because it weighs just 43.5 lbs. The futon dimensions are 76.5-inch x 30-inch x 29-inch whereas bed dimensions are 71.5-inch x 52-inch x 10.5-inch.
DHP is one of the leading companies that offer us a one-year limited warranty. The weight limit of the DHP futon frame is 600 lbs.
Pros
Multifunctional 3-in-1 sofa, bed, lounger
Affordable and lightweight
Ideal space-saving solution
One year limited warranty
Cons
Some users report it's hard to assemble
KB futon frames offer both versatility and comfort simultaneously.
It eliminates the need to purchase different furniture because it offers 3-in-1 functions. Therefore, it is an ideal lounger futon frame for your small apartments, living rooms, and offices. 
In addition to that, this convertible frame is more than regular furniture. This is because; you can convert it from a lounger, seat to a bed. With the use of just one hand, you can recline it into a bed whenever you feel tired.
What's the best part? You can recline it to five chairs and eight lounge positions.
The manufacturer has used kiln-dried hardwood materials to construct the long-lasting and sturdy frame without cracking. These futon frames are entirely natural and no additional and artificial painting has used in its finishes. However, we recommend you to color it according to your room interiors.
The base offers extra stability so no need to worry about the position you are using. The dimension of the product is 74-inch x 52-inch x 10-inch and weighs about 52 lbs. The rounded corner design also gives a trendy and classic look to the furniture.
Pros
13-convertible positions
Rounded corner design enhance functionality
Sturdy and solid hardwood construction
Provide an ideal base support
Available in full and twin sizes
Comes with Five years warranty
Cons
Difficult to convert with mattress
Heavy and difficult to move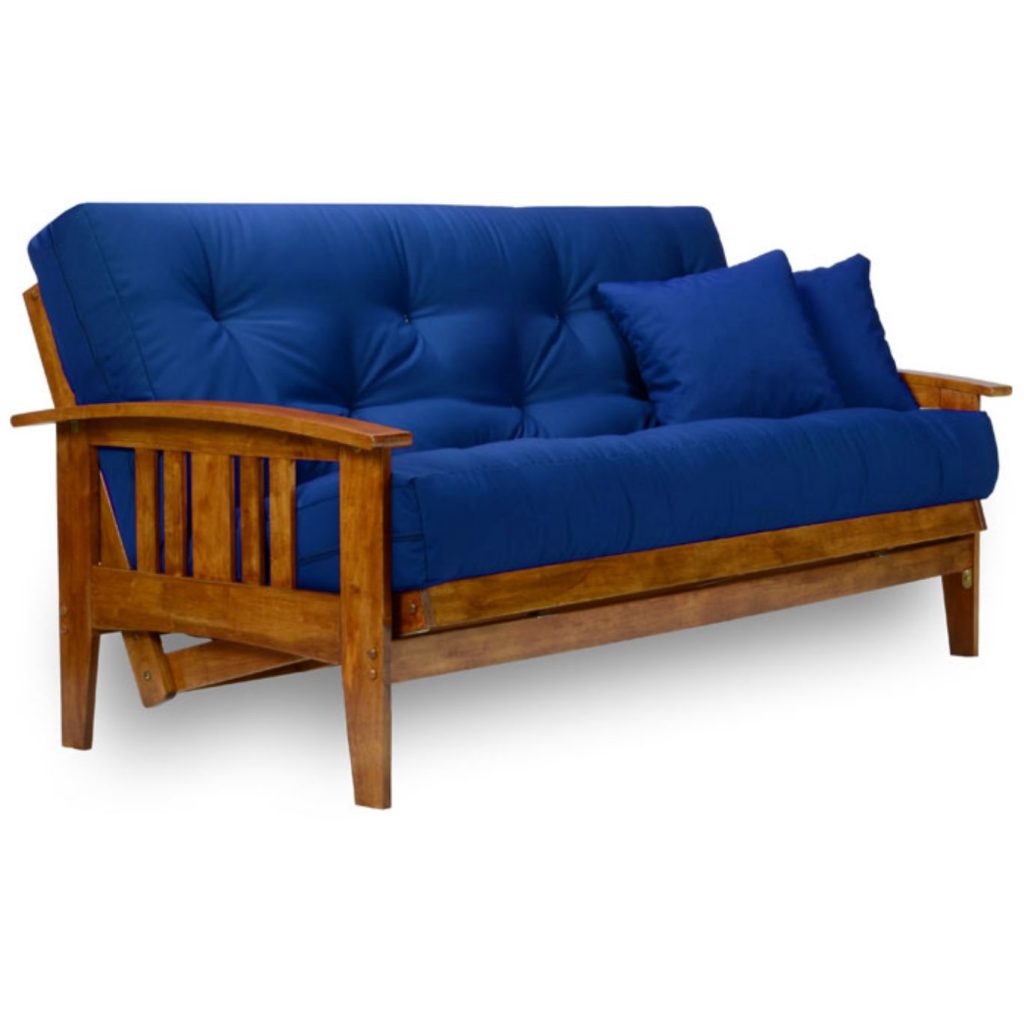 Nirvana Futons manufactured a complete set of futon frames that come with a premium quality mattress. It is a stylish wooden futon frame for your living room.
The mattress is available in plentiful colors so you can choose according to your room interiors.
The thick 8-inch futon mattress delivers a medium to firm support. This is because; it has made with 4-layers of high-density foam and multilayer of poly-cotton.
Moreover, the manufacturer uses solid and heavy-duty wood to construct study futon frames. For that reason, it provides better longevity as well as quality as compared to other futon metal frames.
The Rich Espresso futon frame finishes give more attractive and a warmer look. It finishes with a multi-stage finishes process that ensures long-lasting, smooth color stay. 
The seating flexibility feature makes the Nirvana futon frames one of the best futon frames. The complete set offers you three functional positions such as a lounger, bed, and a sofa. You can convert it easily according to your requirements.
The dimension of the full sofa is 81-inch x 32-inch x 33.5-inch and the full bed comes with 81-inch x 54-inch x 24.75-inch. Additionally, it featured with gently and interesting arm curved design, which adds style and support. The arm height of the Nirvana futon frame is about 24.75-inch and the weight limit is about 500 lbs.
Pros
Heavy-duty and solid wood construction
Better longevity and ideal support
Comes with 8-inch thick and medium to firm support mattress
A mattress is available in many colors
Convertible into a sofa, bed, and lounger
Cons
Some assembling instructions are unclear
Medium to firm supportive mattress is not comfortable all sleepers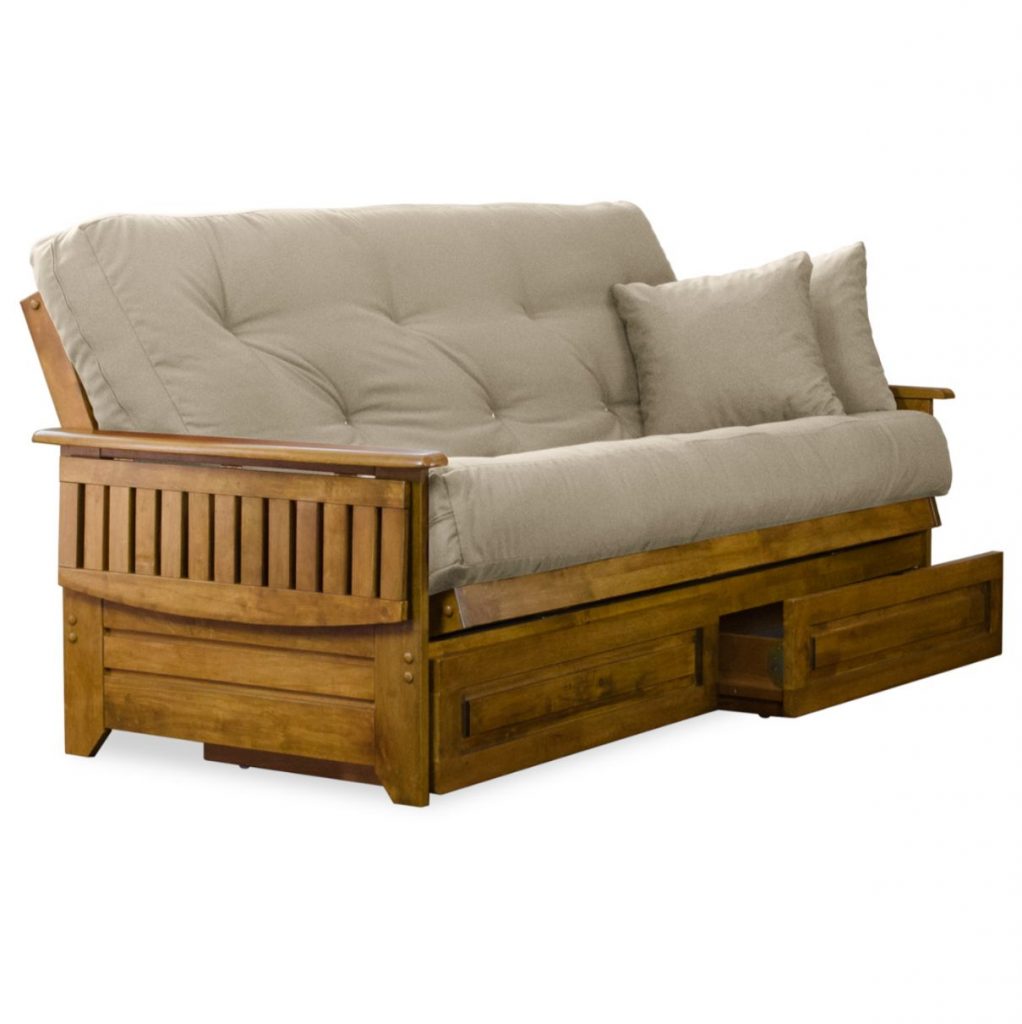 Modern life demands to keep your tech devices and gadgets in your access while sitting on your couch. This is where Nirvana Futons frames comes in handy.
It comes with a solid construction frame and storage drawers. Nirvana Futons never compromises the quality and always delivers a premium sturdy, supportive, longevity, durable, and comfortable products to us.
The 100% genuine and solid wood construction delivers the best futon frame for your room. The manufacturer uses a multistage finishing process, which ensures long-lasting color stays. What's more? The heritage finish makes it unique from other products.
Another appealing feature is that we can convert it into the multi positions futon. We can convert it into a sofa, lounge, and full-size bed as our need. The dimension of a sofa is 81-inch to 96-inch x 37-inch x 33.5-inch and the bed is 81-inch to 96-inch x 54-inch x 23.25-inch. Furthermore, the drawers come with a 36.75-inch x 20.5-inch x 9.75-inch dimension.
The armrests are curved perfectly to provide ideal support by releasing pressure from your arms. We are feeling very comfortable wheatear we are sitting or sleeping on the futon frames. The height of the arm is about 23.25-inch. The company provides you a limited 4-years warranty as well.
Pros
Three positions like bed, lounger, sofa
Solid hardwood construction
Heritage finishes appeal excellent
Comes with premium-quality storage drawers
Limited 4-year warranty
Cons
Assembling instructions are difficult to understand
Difficult to convert it with the mattress
Conclusion
Overall, the winner of this best futon frame roundup is the Bifold Futon By KD Frames. This is our favorite futon frame because it allows you to choose between five different positions.
Repositioning is very simple and the durable construction of this futons features high-quality Poplar hardwood. The unfinished tulip color looks stunning and provides your room with a contemporary look. The mattress doesn't come attached so you can choose the one that meets all your comfort requirements.
Futons are great space savers and offer a lot of conveniences. But you need to make sure that you bring in a futon that is designed according to your needs and it shouldn't take much space. If you like redecorating every now and then, it is better to go for a lightweight futon or you will need some extra pair of hands.
So how was our list of best futon frames? Have you used any of them before or have we missed out on the one that you have been using for a long time now? Have your say; leave a comment below and we'll get back to you!
Chris was a psychiatrist and neurologist with board certification in sleep medicine Clinical Associate Professor at the University of California. For over 10 years, he served and helped patients at Stanford Health Care-Stanford Hospital with their sleeping disorders.
After suffered from sleep disorders for years, Chris has been passionate about sleep health ever since. He wants to help others sleep better and wanted to make the world of sleep easy to understand for everyday people.