When your mattress is too firm, you may find that it feels uncomfortable. Choose a mattress that is too soft, and you are likely to feel like you are sinking into your bed. This makes the choice of choosing the perfect mattress difficult. The best innerspring mattress offers the best of both worlds. You get a medium-firm mattress in most cases, which is not too hard or too soft.
Studies suggest that mattress firmness is a critical factor that plays a role in how well you can sleep. A mattress with adaptive functions, often provided by an upper memory foam layer, may further help to improve sleep quality. These mattresses could even be the answer to reducing musculoskeletal pain.
We look at the top-rated options that you should consider if you want to buy an innerspring mattress. We also share a buying guide to help you understand what you should look for when buying a spring mattress.
The Best Innerspring Mattresses In 2021
There are quite a few innerspring mattresses that you can choose from. Some companies have been offering innerspring mattresses for a few decades, while others are still relatively new to the market. We filtered through the top-rated options – this allowed us to narrow down to a shortlist of the best innerspring mattress that you can buy in 2021.
Take a closer look at each of the innerspring mattresses we share below. This will help you determine what the best option would be to help you sleep better at night – especially if you prefer a supportive, innerspring feeling.
1.

Editor's Pick - Saatva Mattress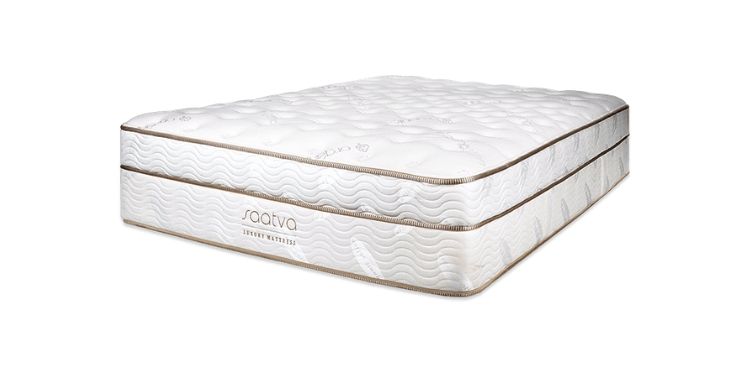 Highlights
Coil-to-coil base layer
Memory foam comfort layer
Euro pillow top
Various firmness options
120-day trial
Free whiteglove delivery
15-year warranty period
Our editor's pick for the list is the original Saatva Mattress. This is an innerspring system that also combines some factors that you see in an all-foam system. It is an entry into the world of hybrid mattresses, which still focuses on giving you that innerspring feeling that you may prefer. 
The Saatva Mattress features two different coil systems on the inside for superior support and comfort. At the bottom of the mattress, a standard range of coiled springs are used to provide durability. Above this is a layer of pocketed coils. These coils further add to the overall support that the mattress offers you. At the same time, they contribute to the edge support that you may desire – especially when sleeping with a partner on the same bed. This makes Saatva one of the best mattress for couples.
The Euro Pillow Top that is added to the upper surface layer of the Saatva Mattress provides luxurious comfort. This helps you experience a softer feeling when you lay down, but without making you feel like you sink into your own bed. 
The Saatva Mattress comes with a 120-night trial offer. During this time, you can sleep on the mattress and decide whether or not you wish to keep it. The manufacturer provides a refund for any unsatisfied customers. A 15-year warranty period also helps to give you more value for the money you spent on the mattress. The warranty period ensures you are able to enjoy the mattress for a longer period of time before having to worry about upgrading to a new mattress.
Read our full Saatva Mattress Reviews here.
2.

Best Hybrid: Brooklyn Bedding Signature Hybrid
Highlights
Features a hybrid design
Individually-wrapped coils
Different firmness options
Made in the USA
120-night trial
10-year warranty
If you want to give a hybrid sleeping system a try, then the Brooklyn Bedding Signature Hybrid is a good option to consider. The mattress offers a superior system to the more traditional innerspring mattresses that you can find on the market. It combines the best features of an innerspring mattress with the comfort that comes with an all-foam option. 
The Brooklyn Bedding Signature Hybrid is also one of the more affordable hybrid mattresses that are currently available. This allows you to give a hybrid sleeping system a try without spending too much money. The mattress is made locally in the United States to assure its overall quality. 
You can choose between three different comfort levels when you buy the Brooklyn Bedding Signature Hybrid mattress. This includes the most popular medium-firmness option. A firm and soft option is also available. 
The mattress features individually-wrapped coils as its base. Along with the coils, the mattress also includes the brand's unique TitanFlex foam. This is a memory foam material that provides responsiveness and contouring at the same time. A total of 961 coils are used in the Queen size mattress design. 
You get a 120-night trial when you decide to buy the Brooklyn Bedding Signature Hybrid. This gives you several months to try the mattress and get a refund if you are not happy. The mattress also comes with a 10-year warranty period. The warranty period gives you assurance that your investment is protected. If you find that the foam layers of the mattress sags during the first decade of use, you can simply get in touch with Brooklyn Bedding. The company will issue a repair for your mattress. When a repair is not possible, a replacement may be provided instead.
Read our full Brooklyn Bedding Mattress Reviews here.
3.

Best Multi-Firmness Mattress: Layla Hybrid Mattress
Highlights
The first flappable hybrid mattress
Copper-infused material
Prioritizes cooling features
Made in the USA
120-night money-back guarantee
10-year warranty
The next option on our list is quite a unique entry. Layla became popular for providing a flappable mattress a few years ago. The original mattress used an all-foam design and infused copper for a cooler sleep. Recently, the company released the Layla Hybrid Mattress. This mattress combines the all-foam design they previously used with an inner coil system, enhancing comfort and support, while also giving you the same multi-firmness flexibility as with the original Layla Mattress. 
The Layla Hybrid is both a soft and a firm mattress – in one single product. You have the opportunity to choose the firmness that you want to feel when you lay down in bed. The one side of the mattress features a plush and soft firmness level. On the other side, you have a firmer surface with enhanced pressure relief and support. 
The Layla Hybrid mattress also focuses on providing better edge support. With the inclusion of the inner coil system, there is a significant enhancement on the surface area that you can sit or lay on when you are on the bed. 
Each coil used in this hybrid mattress is individually wrapped. It helps to reduce pressure that may be applied when laying on an innerspring system – while still preserving the feeling you may desire with these mattresses. A special type of memory foam is used to ensure the mattress is able to contour to the shape of your body. With the better edge-to-edge support, partners will also find that the mattress provides a better overall sleep. 
The Layla Hybrid mattress is made in the United States. Strict control over the manufacturing process ensures you are provided a mattress that focuses on support, comfort, and quality at the same time. The mattress comes with a one-decade warranty period to help you gain better protection for the money you invest in the product. Additionally, Layla Sleep offers a 120-night trial with a full money-back guarantee on the purchase of the Layla Hybrid Mattress.
Read our full Layla Mattress Reviews here.
4.

Best Value: Ikea Hesstun Spring Mattress
Highlights
Affordable option
Wrapped pocket spring system
Pressure relief
Foam layer at the top
25-year limited warranty
Sometimes, you might be looking to buy an innerspring mattress without spending thousands of dollars. In such a case, turning to a mattress that can provide you more value for a lower budget is important. The Ikea Hesstun is a great option to consider in this type of scenario. It forms part of the original innerspring mattress range from Ikea and gives you a comfortable, yet supportive sleeping experience. 
The Ikea Hesstun comes with a longer warranty than many of the other options that are available. This innerspring mattress is accompanied by a 25-year warranty. During this time, the manufacturer will repair or replace factory faults. This includes sinking at a specific level. 
The Ikea Hesstun comes with two types of innerspring systems. This helps to give you better support at the upper surface of your bed. There are 594 mini pocket springs and 594 normal pocket springs found in the Queen size mattress. The coil count will differ for the other size options that are available. 
Apart from double layers of wrapped coils, the product also provides a thick foam layer at the top. The euro top foam system helps to add a plush feeling to the surface of the mattress. This reduces the firmness that the innerspring system may add. It also helps you feel more comfortable when you get into bed. 
The bed is able to provide contouring features when you lay down. This ensures the mattress adapts to your body's shape, providing better support at areas like your hips and shoulders. In turn, your spinal alignment will improve.
Read our Best Ikea Mattress Review here.
5.

WinkBeds Luxury Hybrid Mattress
Highlights
A luxurious experience at a lower price
Decompression spine support
Cooling TENCEL cover
120-night trial offer
Lifetime durability warranty
When it comes to a luxurious sleeping experience, you may feel that your budget would not allow it. Luxury beds tend to come with premium price tags. WinkBeds is a brand that focuses on helping to deliver a luxurious experience without those high prices. The WinkBeds Luxury Hybrid Mattress is not the cheapest on the market, but it is definitely a more affordable option that some of the other luxury options that you are going to find. 
This is a hybrid bed. It means it combines both an innerspring system with an all-foam mattress design. The result is a bed that gives you comfort and a plush feeling, along with a supportive interior – all at the same time. 
The WinkBeds Luxury Hybrid Mattress also focuses on being a breathable and cool mattress. The design helps to improve airflow in the mattress. This helps to reduce the risk of heat retention at the surface. You will find that you sleep cooler at night – which can aid in improving your sleep quality. 
The bed comes with a lifetime warranty, which is quite rare for mattresses. You are also given a period of 120 days to test the bed. During this time, a money-back guarantee is offered. 
Check out our full Winkbeds review here!
6.

Best Organic Mattress: Avocado
Highlights
Needle Tufted design
1,414 coils and five support zones
Organic materials
25-year warranty period
One-year trial offer
The next option on our list is perfect for people who are trying to be more eco-friendly when buying furniture for their home. The Avocado Green Mattress is probably the most eco-friendly solution that is currently available on the market. The mattress features a 100% organic cover that is primarily made from a cotton material. 
This adds a soft feel to the surface of the mattress, giving you superior comfort when you get into your bed. The mattress also uses a coil system on the inside to help add more support. A total of 1,414 coils are used on the inside of the mattress. Each of these coils are individually tuned, wrapped, and tempered. Three different gauge levels are used to provide a more customized sleeping experience. 
Check out our full Avocado mattress reviews here!
We have shared the top options you can choose from when buying the best innerspring mattress. The variety of options available may still feel somewhat overwhelming and confusing. 
In this section, we share a complete buying guide. This will help you understand what an innerspring mattress can do for you. We will also share a few things that you need to consider when buying one of these mattresses. This ensures you know exactly what to look at while shopping for the best coil mattress.
The Benefits Of An Innerspring Mattress
We will start by looking at why an innerspring mattress may be a good option. There are a few different mattress types that you are able to buy. Innerspring mattresses are considered some of the older mattress models that are available. Many people refer to an innerspring mattress as a more traditional option. 
This does not mean the newer types of mattresses are better. In fact, there are many people who still prefer the feeling of an innerspring mattress over hybrid models and all-foam mattresses. 
Here is a list of some benefits you can expect from an innerspring or coil mattress:
There are quite a large variety of innerspring mattress models available. This allows more versatility in your choice of a spring-based mattress model. You can choose between a more traditional innerspring system or give one of the new coil mattresses a try instead. 

An innerspring mattress offers a very unique feel to it. The same experience cannot be provided by an all-foam mattress. 

These mattresses offer excellent support. Many of them come with a layer of memory foam at the top, which also helps to provide better pressure relief features. 

An innerspring mattress will not conform to the shape of your body as much as an all-foam mattress. For some people, this is an important benefit. When a mattress conforms too much, it may feel like you are sinking into the mattress instead of lying on top of it. 

Innerspring mattresses often come at more budget-friendly prices compared to some of the other options that are available. This makes it a great choice if you do not want to spend a lot of money on a mattress. 
What To Look For When Buying An Innerspring Mattress?
There are a few things you should be looking at when buying an innerspring mattress. When you know what factors you need to consider, you have the ability of buying a mattress that will help you sleep better – instead of making you feel like you wasted your money. 
First of all, you should take a look at the type of coil system used in the mattress. There are a few different options today. Each of these offer a specific set of pros and cons. Understand the differences as this will help you decide what type of coil system is best for you in particular. 
Open Coils:

A very common option is open coils. This is one of the popular types of innerspring mattresses that are available. These are often referred to as the Bonnell mattress model. It is the more traditional type of innerspring system. A double-sized or full-size innerspring mattress using an open coil design will contain an estimated 300 springs in total. These are also cheaper than the other types you can choose from.

Offset Coils:

Another option is an offset coil system. These are somewhat similar to the open cell construction, but the sprigs are hinged together with a helical wire that lays on top of the spring system. An offset coils innerspring mattress offers improved motion isolation over an open coil design. The mattress will also offer better body contouring. These are more expensive compared to innerspring mattresses that use an open coil construction. 

Pocket Spring:

Often also called wrapped coil innerspring mattresses, these are quickly becoming more popular. They are the higher price options when looking for the best innerspring mattress. The pocket spring system significantly improves body contouring and can prevent motion transference. At the same time, they offer a premium-level of support. 
You should also consider what type of material is used on top of the spring system. The majority of mattresses will add some foam layers. This helps to reduce the pressure of the coils. It also provides a softer and more comfortable surface to sleep on – while the springs underneath the foam will help to offer you excellent support. 
Memory foam is sometimes used on top of the innerspring system. This further enhances the contouring features of the mattress, without making you feel like you are sinking into the piece of furniture. 
Consider the coil count when you buy an innerspring mattress too. This is something that a lot of people overlook. When there are too few coils in the mattress, it may not provide the support and durability you expect. A King size mattress may have up to 2000 coils. Never buy an innerspring mattress with less than 300 coils.
The coil gauge is another factor that you want to take into consideration. This essentially refers to the thickness of the metal that is used to form the springs that are added to the interior of the mattress. Coil gauge often falls within the range of 12 to 15. There will often be half gauges too. Some brands offer a coil gauge as high as 18. 
For a softer spring feeling, you should opt for an innerspring mattress with a higher coil gauge. If you need something that provides better support, then rather consider a mattress with a lower coil gauge. 
How Much Should You Pay For An Innerspring Mattress?
One confusing decision that many people face when they want to buy a new mattress is the question of how much to spend on the piece of furniture. Pricing for mattresses differ significantly. It is possible to get your hands on a cheap mattress for one or two hundred dollars – but these are likely not to last for a long time, and they may not offer you the support you desire while sleeping. 
The best way to go about this is to look at your budget. The prices differ too much to provide a single range that you should follow. Instead, your budget will be the main factor that tells you how much you will be paying for the innerspring mattress. 
Make sure your budget is not too low, however. You do not want to buy a cheap innerspring mattress. The springs used in these mattresses will usually not be able to provide you with adequate support. The quality will also be lower. This means you are likely to find that the mattress does not last for a long period of time. 
When you have a budget in mind, then you can search for innerspring mattress options that fit within the amount of money you can spend on the furniture. This means filtering through innerspring mattresses on the market becomes much easier. 
Traditional Spring System or Wrapped Coils?
When buying an innerspring mattress, you have a few choices to choose from. You need to consider the type of springs you prefer. You may choose between the newer wrapped coil options, or rather opt for a more traditional spring system.
Both of these come with pros and cons. If your budget is tight, then choosing a traditional spring system might be the ideal solution for you. If you need better motion isolation and support, then a wrapped coil system could be the answer instead. 
Is a coil mattress good for me?
Many people find that an innerspring mattress is able to provide them with exceptional comfort. These mattresses are also durable. In the end, however, it comes down to personal choice. 
Look at the specific features of the mattress. Consider your needs, as well. Look for something specific. You may choose the best innerspring mattress for side sleepers if you constantly sleep on your side. These mattresses may offer pressure relief at your shoulders and hips. 
Some people may find that a coil mattress is too firm, however. 
You should ultimately try one out to determine if it is the right option for you. 
How long will an innerspring mattress last?
One of the main benefits of an innerspring mattress is the durability it offers. Many people find that an innerspring system is able to provide them better value for their money – particularly because these mattresses tend to last for longer periods of time. 
An innerspring mattress often lasts for a few decades. You should be able to sleep comfortably on the mattress for at least 10 years – many people can use these mattresses for much longer. You should take the quality of the mattress into account, however. A poorer quality innerspring mattress may not last as long. 
The best innerspring mattress can give you comfort, support, and a better quality of sleep. There are a few different options that you need to filter through to find the mattress that is right for you. We shared some of the top options that you might want to take into consideration. Be sure to look at the buying guide too. We shared some helpful details to ensure you are able to buy the right innerspring mattress for yourself.