Everyone has their own preferred sleeping position. If you enjoy sleeping on your back, then special thought needs to go into the process of buying a mattress. The best mattress for back sleepers should provide your spine with enough support. Even a slight misalignment of your spine could lead to back pain and other issues.
We take a look at the best mattress options for back sleepers in this post. We will also share a buying guide to help you understand what you should look at if you are buying one of these products.
What Is The Best Mattress For Back Sleepers?
There are a lot of different mattresses on the market today – and not all of them are able to give you appropriate support for a back sleeping position. There are a few benefits that come with a back sleeping position. For example, people with acid reflux may find that their symptoms improve if you lay on their back during sleep. When your mattress does not offer effective support, however, your spine will be misaligned. This equals problems like back pain, a stiff neck, and poor quality sleep.
Research has shown that the construction of your mattress affects your sleep. It also affects how well you can sleep in specific positions.
This is why it can be hard to choose the right mattress. You need to consider factors like the firmness and interior materials in the mattress. You also need to ensure that the mattress will last for a long period of time.
Here Is The Best Mattress For Back Sleepers In 2022:
Best Mattress For Back Sleepers – Reviewed
We looked at quite a large number of mattresses that are available on the market at the moment. We then considered specific factors to help us filter down to a smaller list of mattresses that are ideal for people who sleep on their backs. 
Below, we share our selection of the best mattress for a back sleeper. You should take a look at these options to help you identify the best bed for back sleepers that will work for you. Consider the best firmness for back sleepers, if you sleep in other positions too, as well as your own budget. These factors will help you decide which of the back sleeper mattresses you should opt for. 
1.

The Nectar Memory Foam Mattress - Editor's Pick
Highlights
Memory foam materials
Cooling functionality
Free shipping and returns
365-night home trial offer
Lifetime warranty
The Nectar Memory Foam Mattress has become a preferred option among people who prefer different sleeping positions. Even though this is an all-foam mattress, it has been constructed with a range of premium materials. This adds superior support to the surface of the mattress. The supportive structure ensures you get a better alignment of your spine during the night, providing relief of lower back pain and related issues. 
Apart from being supportive, the Nectar Memory Foam Mattress also features built-in cooling technology. This feature gives you an opportunity to sleep cooler at night, reducing the risk of waking up in a pool of sweat. There are studies that have shown a cooler night's sleep makes you feel more comfortable and might be an effective strategy to improve sleep quality. 
The mattress consists of five layers in total. At the bottom, a supportive base layer is used in the mattress. This baselayer provides stabilization to the upper memory foam materials. It also ensures the mattress is able to offer you reinforced support and contributes to the durability of the product at the same time. 
A quilted memory foam cover is added to the surface of the mattress. It provides an improved airflow, which contributes to its cooling properties. This cover is also very soft, which adds a plush feeling to the top of the mattress. 
Another important feature to take note of is motion isolation. The mattress was developed to provide a significant reduction in motion transfer. This ensures you can sleep with a partner on the same bed, without moving from a partner interfering with your sleep quality. 
The mattress comes with one of the best sleep trials offers on the market. You get a period of one year to sleep on the mattress and try it out. Within this period, you have the ability to request a refund from the manufacturer of the mattress if you are not satisfied with your sleep experience. There is also a Forever Warranty that comes with the purchase of the mattress. This mattress gives you a lifetime warranty against any manufacturing defects that develop while you are using it. 
2.

Saatva - Best Double Innerspring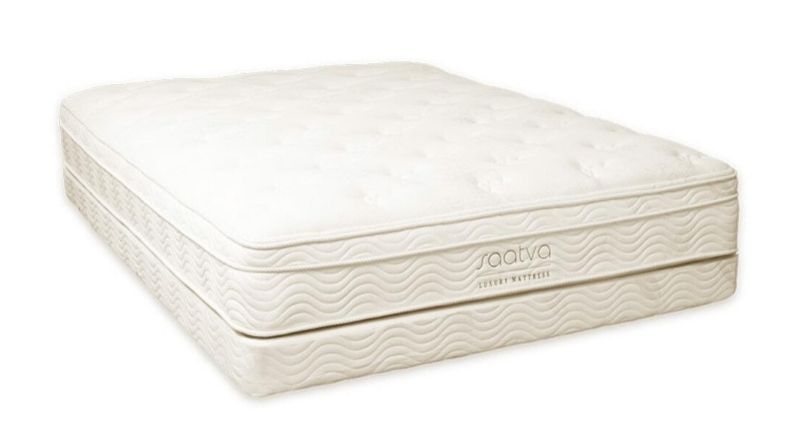 Highlights
Premium quality materials
Hybrid mattress design
Free shipping and returns
Coil-on-coil system
15-year warranty
120-night trial
If a supportive structure is your number one priority while shopping, then the Saatva Classic Mattress is definitely an option you should look at. This mattress features a handcrafted cover, along with a double innerspring system, which makes it quite a unique option for back sleepers. 
The Saatva Classic Mattress prioritizes support with the brand's original Lumbar Zone Technology. This technology helps to offer your back superior support – in turn, you get to experience a better alignment of your spine. It ensures you get a mattress that is able to reduce your back pain symptoms and relieve tension in your lower back and shoulders. 
The mattress is handcrafted in the United States. Only a selection of eco-friendly materials is used in the production of the Saatva Classic Mattress. The mattress is available in three different firmness options. This allows you to gain a more customized sleeping experience. The preferred option for back sleepers would be either the Luxury Firm or the Firm mattress. The Luxury Firm option measures between five and seven, with a Firm option that ranks eight out of ten. 
The hybrid design further contributes to a more effective mattress for back sleepers. At the center of the Saatva Classic, there are two innerspring layers. Pocketed coils are used to ensure the springs do not add too much pressure to your body. At the top, memory foam is used to deliver a responsive feeling to the sleeping surface. 
The mattress comes with a 15-year warranty period. This gives you peace of mind that any manufacturing-related faults that develop will be taken care of at the expense of the Saatva brand. Additionally, you are also given a 120-night trial period with the mattress. This allows you to test the mattress and confirm its supportiveness for your back problems before deciding if you want to keep it. 
3.

Casper Sleep Original Hybrid Design
Highlights
Upgraded model
Zoned Support
AirScape Technology
100-night trial offer
There are quite a few hybrid mattresses on the market today, but some of them are not able to deliver adequate support. The Casper Sleep Original Hybrid Mattress delivers a dual sleeping system that gives you a premium and luxurious sleeping experience. 
There are two different models of the Casper Sleep Original Hybrid Mattress available. The mattress also comes in a wide range of sizes, ranging from a small Twin size up to a California King. The mattress uses a pocketed coil system on the inside, combined with a unique type of memory foam. This delivers a soft, responsive sleep system that is still supportive at the same time. 
The Casper Sleep Original Hybrid Mattress comes with Zoned Support technology. This provides targeted support at specific regions of your body. The result is an improvement in your spinal alignment. You get a softer foam selection at the region of your shoulders, which helps to relieve pressure in this particular area too. 
The use of an AirScape foam layer adds a more breathable system to the mattress. This is a perforated foam that has been shown to significantly enhance the circulation of the bed. In turn, you get to experience a cooler night's sleep. 
The base of the mattress adds just a little bit of lift to the sleeping system while offering support for the upper layers. It also provides a further enhancement in the airflow within your bed. 
The Casper Sleep Original Hybrid Mattress comes with a convenient 100-night sleep trial. This gives you plenty of time to test it out and decide if this is the right mattress for you. 
4.

The WinkBed - Best Handmade
Highlights
Handmade design
Hybrid mattress system
Decompression support
120-night trial
Lifetime warranty
When it comes to luxury, money is often an issue. The great thing about the original WinkBed mattress is the fact that the manufacturer is able to offer you a luxurious experience, without the hefty price tag. This is also a handcrafted mattress, which further contributes to the overall quality and durability the product is able to offer you. 
The WinkBed mattress uses a hybrid sleep system to give you more support for your entire body. It is a great option for any sleeping position. The mattress is not only good for back sleepers, but combination sleepers will also find that it perfectly adapts to their body. 
Specialty foam materials are used in the upper layers of the mattress. At a deeper level, there is an innerspring system that has been specifically engineered to provide a restorative effect through customized comfort. 
Decompression support is offered by the WinkBed Mattress. There is a three-step system designed specifically to help provide you a relief of back pain and related problems. The decompression support provides an opportunity to relax your joints and muscles, while also improving bodily alignment. 
A TENCEL cover is used on top of the mattress, along with ventilated upper foam layers. These materials add to the breathability of the mattress, giving you the ability to sleep cooler during the night. Specific pressure point relief functions help to add more support at your hips while relieving pressure at your shoulders. 
The WinkBed Mattress is offered with a 120-night trial. This trial period gives you enough time to determine if the mattress is going to help improve your sleeping experience as a back sleeper. There is also a lifetime warranty offered with the purchase of the mattress. 
5.

Tuft & Needle Original Mattress - Best Adaptive Foam
Highlights
Adaptive foam
Cooling technology
10-year limited warranty
Safe materials
The Tuft & Needle Original Mattress is best known for its ability to provide a "hugging" effect to your body. This is achieved by a very unique type of adaptive foam. The manufacturer calls the material the T&N Adaptive Foam. It is a proprietary formula used by Tuft & Needle to deliver a foam that responds to your body and your sleeping position. 
Tuft & Needle created this mattress with the goal of providing a universal solution. The mattress offers enough support for back sleepers, while also providing a soft feeling for a side sleeper. The adaptive foam used in this mattress uses gel beads, as well as cooling graphite, in its construction. 
These materials help to provide an advanced cooling effect at night. It ensures there is a significant improvement in temperature regulation inside your bed, keeping your body at a more ideal sleeping temperature throughout the night. 
The Tuft & Needle Original Mattress features a plush cover on top. This is a breathable cover. The cover also contributes to the cooling effects offered by the mattress. This is a GreenGuard Certified mattress. Its materials are also CertiPUR-US Certified. 
The mattress is accompanied by a 10-year limited warranty. The warranty provides protection against production defects that you notice during the first decade of use. 
6.

Saatva Zenhaven Mattress - Best Latex
Highlights
Talalay latex
Organic cotton cover
Targeted support
15-year warranty
120-night trial
If you like the Saatva brand, but want something different than memory foam, then the Saatva Zenhaven Mattress may be a good option for you. This mattress was developed to offer a more supportive structure. The primary material used in the production of the Zenhaven mattress is latex. The material is known for its bounciness and it does not feature the same responsive feeling as memory foam options. 
The Zenhaven mattress uses natural Talalay latex. This means the product is safer than many of the alternative mattress options that are available. Other materials used in the production of the Zenhaven mattress further contributes to the safe approach used in the product. 
The Talalay latex material was constructed to provide a five-zone supportive structure at the surface of the mattress. This offers support at just the right spots for a customized sleeping experience. A cover that uses New Zealand Wool and organic cotton materials is added to the mattress. The combination of materials contributes to a more breathable product. 
The mattress features a 120-night sleep trial offer. There is a 15-year warranty period that also comes with the purchase of the Saatva Zenhaven mattress. 
7.

Leesa Hybrid - Best For Multiple Sleeping Positions-
Highlights
Hybrid mattress design
Pocketed springs
Hole-punched foam
100-night trial
10-year warranty
The Leesa Hybrid is another great option if you do enjoy the feeling of memory foam, but also want to experience the support that an innerspring system is able to offer you. The hybrid design uses pocketed coils, which provide a better contouring effect when you lay down. This particular mattress is considered an ideal option for combination sleepers. The combination of responsive memory foam, along with an innercoil system, helps to ensure the mattress perfectly contours around your body. 
The mattress uses a hole-punched foam at the top layer. This foam offers a cooler sleep, as it assists in improving the breathability of the mattress. There are more than 1,000 pocket springs included in the hybrid design of the mattress. These springs add exceptional durability to the mattress, while also ensuring your spine remains aligned while you lay down on your back. 
There is a limited 10-year warranty period offered on the purchase of the Leesa Hybrid Mattress. Additionally, you also get a 100-night trial offer to maximize the value you get for your purchase. 
Best Mattress For Back Sleepers Buying Guide
Now that we have looked at the best mattress back sleeper options on the market, there may still be confusion. You still need to consider each of the options we shared to find the best mattress for back sleepers – that will work for you in particular. 
This is why we decided to also share a buying guide. In this buying guide, you will discover a few tips that can be used to help you decide which mattress to buy. We also take a look at common issues that back sleepers tend to share. This information will ensure you know exactly what to look at while shopping for back sleeper mattresses. 
Challenges As A Back Sleeper
A back sleeper position has both pros and cons that need to be taken into consideration. If you enjoy sleeping on your back, then understand the challenges you may face – but also recognize the advantages that may come with this sleeping position. 
As a back sleeper, one of your major challenges may be lower back pain. This is the most common complaint among people who prefer to sleep on their backs. With a back sleeping position, your buttocks and hips will often start to sink into the mattress throughout the night. While this is happening, your shoulders remain aligned. There is more weight in your pelvis region – which is causing the sinking. This leads to an arch in the lower spine region – which results in back pain. 
People with sleep apnea also need to be careful if they prefer to sleep on their backs. This particular sleeping position is known to have an adverse effect on sleep apnea. Many people report a worsening of their symptoms with this particular sleeping position. 
Additionally, some also find that a sleeping position on their back is not as comfortable as they may want it to be. When this is the case, there are two options. The first is to consider the best mattress for back sleepers that can add additional support underneath your body, or you can decide to change your sleeping position. 
Which Type Of Mattress Is Best For Back Sleepers?
There are quite a few mattress types out there today. Traditional options like foam and innerspring systems have received significant upgrades in the past few years. There is also the newer hybrid model that combines the best of these two sleeping systems. Apart from these, you need to consider other options, such as air beds and latex mattresses too. 
Understanding what type of mattress will work best for a back sleeping position is important. This will ultimately ensure you give your back enough support, have the ability to keep your spine in proper alignment and help you prevent the obstacles that often keep people from laying on their backs. 
Support is the number one factor you need to consider when buying a mattress for a back sleeper. With this in mind, many people will find that an all-foam mattress is not supportive enough. If you are a particularly light person, however, then you could still find a foam-based mattress to provide enough support for your body. 
Hybrid and innerspring mattresses remain preferred options among the majority of back sleepers. Apart from these, some people also report sleeping comfortably on a latex mattress. These mattresses are sometimes more expensive, especially if an organic Talalay latex material is used. They offer a bouncy feeling and provides a superior level of support. 
Which Mattress Firmness Is Best For Back Sleepers?
In addition to considering the type of mattress, do not overlook the importance of taking the firmness into account too. If you end up buying a mattress with an inappropriate firmness level, back pain, shoulder stiffness, and other issues may become worse – especially if you sleep on your back. 
A soft mattress is not ideal for anyone who sleeps on their back. These mattresses are generally only considered appropriate for side sleepers who have low body weight. A back sleeper position on a soft mattress causes your hips to sink deeply into the product. This causes a spinal misalignment and, in turn, leads to pain symptoms. 
A firmer mattress option is generally considered ideal for back sleepers. This adds more support underneath your body. It helps to keep your hips more in line with your shoulders, improving the alignment of your spine in the process. 
At the same time, make sure the mattress is not too firm. You also do not want to sleep on a hard surface. Your back still needs some softness at the top of the mattress. 
Some back sleepers find that a medium-firm mattress is perfect. It adds support underneath their body, but without being too hard on their back. A firmer option, such as a luxury firm mattress, may be more appropriate for a person who is overweight or obese. 
Sleep Accessories For Back Sleepers
There are a few sleep accessories that you should also consider if you enjoy a back sleeping position. These accessories aim to help you feel more comfortable when you lay down on your back. Some also contribute to a better alignment of your spine. 
The right pillow is critical for any person who sleeps on their back – in fact, regardless of your sleeping position, you should always ensure your pillow adds enough support to your head and neck. 
Get a supportive pillow that helps to keep your head and neck in an appropriate position throughout the night. 
Some people also find that a pillow that forms an alley next to them helps to create a more supportive structure when they sleep on their back. This can be achieved by a few extra pillows, or by opting for a body pillow. A pillow underneath your knees may help to provide a slight elevation to your lower body. This is another way of adding to the comfort and support you gain when you sleep on your back. 
Tips For Buying A Mattress For Back Sleepers
You already know that you prefer to sleep on your back and have seen the best mattresses for back sleepers on our list. While you realize the top options you can choose from, you may still not be sure what exactly to look at while shopping for a mattress. There are a few things that need to be taken into consideration during the process. This will ensure you buy a mattress that gives you superior support and keeps your spine aligned. 
We share a few important elements to consider below – be sure to look at these while you are looking to buy the best mattress for a back sleeper. 
Body Weight:

A good starting point would be to consider your own body weight. Lighter people do not have to worry too much about a firmer mattress, as a medium-firm option often yields enough support for them. If you are heavier, then you may need to consider opting for a mattress with a firmer surface. Take note of the weight limit mentioned by the manufacturer of the mattress too. This will give you a guideline on whether or not the mattress will be suitable for your body. If you sleep with a partner, take both your own and your partner's weight into consideration. 

Budget:

Your budget also needs to be at the top of the list when looking at factors to consider while shopping for a mattress. Know exactly how much money you can spend – or at least a maximum amount. This makes the shopping process much easier. You can simply look at mattresses that fit within your budget. 

Firmness:

Consider the firmness of a mattress you may be interested in. Many mattress manufacturers will offer multiple firmness options. You should opt for a medium-firm or a firm option to help support your back. 

Materials:

Look at the materials that are used in the manufacturing of the mattress too. This tells you how soft or supportive the mattress will be. Memory foam is by far one of the more common materials used in mattresses today, but it should be coupled with individually wrapped coils or an innerspring system to offer adequate support for your back. Latex is also a popular material and many people find that it gives them better support when sleeping on their back. 

Top Layer:

While looking at the materials used to produce the mattress, consider taking a closer look at the upper layer of the product. Some companies add a pillow top to their mattress designs. This adds a soft layer at the top, which helps to relieve some of the pressure caused by an innerspring system. It may be just what you need to sleep more comfortably on a firmer mattress. 

Trial Offer:

Some mattresses come with a trial offer. This is sometimes also referred to as a sleep trial or a satisfaction guarantee. Buying a mattress that comes with a sleep trial is a great way to guarantee you get value for your money. Most companies will offer you between 100 and 125 days to sleep on the mattress and decide if you want to keep it. There are also a few manufacturers that offer a full one-year guarantee – this helps to maximize value by giving you a long time to try the mattress out. 

Life Expectancy:

You are investing a lot of money in a new mattress, so you want to make sure you do not have to make such an investment again within just a couple of months or years. This is why looking at factors like durability and the warranty that comes with a mattress should be important too. A lot of mattresses today come with a 10-year warranty, but some offer longer warranty periods. This is generally considered the time the manufacturer expects the mattress to stay good. At the same time, many people find that buying a new mattress every seven years is a good way to maintain proper spinal support. 
Apart from these factors, doing some research on a specific mattress you have in mind is also a good idea. Once you find a mattress that you seem interested in, look for reviews on the internet. You can usually find reviews for a mattress directly on the manufacturer's website. Do not, however, limit your research only to the official website that represents the mattress and its manufacturer. Look at reviews on third-party platforms too. This gives you a more unbiased view of a particular mattress – and lets you see exactly what past users think about its support, comfort, durability, and other functions. 
Your sleeping position has an impact on how you sleep, as well as factors like pain and spinal alignment. This, however, is not the only factor that affects these elements. The mattress you sleep on needs to be taken into consideration too. If you sleep on your back, you need a more supportive structure beneath your body at night. The best mattress for back sleeper should have a sturdy and durable construction, with a supportive internal structure. It should align your spine during the entire night. When you lay down on the best mattress for back sleepers, you should not sink into the mattress – your hips, back, and shoulders need to remain in proper alignment. 
Connie finished her counseling psychologist program at Ohio State University. Her passion to write helped a lot of people suffering from physical, emotional, and mental issues.
Connie is a sleep specialist and a full-time writer for Sleep Standards. Connie has tested and reviewed over 40 different products and is always up to date on the latest sleep and mattress trends.