Daybeds are great for a child's room, guest bedroom, vacation rental, or small city apartment. When paired with the right mattress, they can help you find a better night's sleep. But, with so many mattress options on the market, it can be difficult to determine the best bed for your body type, sleep style, and your particular daybed frame. To help, we review some of the best daybed mattresses on the market. We also include a quick buyer's guide with things to consider as you shop.
What Is The Daybed Mattress?
Here are the best daybed mattresses in 2022:
Best Daybed mattresses For 2022 – Reviewed
1.

Zoma Mattress - Best Overall
Highlights
Balanced medium firmness perfect for side, back, and combination sleepers
Zoned lumbar support
Stable foam base is resistant to sagging
100-night sleep trial and 10-year warranty

The Zoma Mattress is our pick for the best overall daybed mattress because it has a medium firmness suitable for most sleepers and a gel memory foam comfort layer that cushions the joints without trapping heat. With a ventilated cover and a soft, airy comfort foam, the Zoma is perfect for hot sleepers and those who frequently experience night sweats.
Zoma's zoned support system, Triangulex™, ensures the lumbar spine is cradled to prevent excess sinking and spinal misalignment. This layer also cushions the joints to prevent pressure points. With the spine neutral and the body cushioned, sleepers are more likely to slip into deeper, more restorative sleep. 
The base of the Zoma is made with a sturdy support foam to prevent sagging and indentations. Zoma also offers a 100-night sleep trial so you can test out the mattress and make sure it's right for you. Their 10-year warranty covers manufacturing and structural defects that affect the support of the mattress. 
No matter which type of daybed frame you have, the Zoma Mattress will keep you, your child, or your guests sleeping in a safe, comfortable position for fewer morning aches and pains. 
2.

Amerisleep AS2 - Runner Up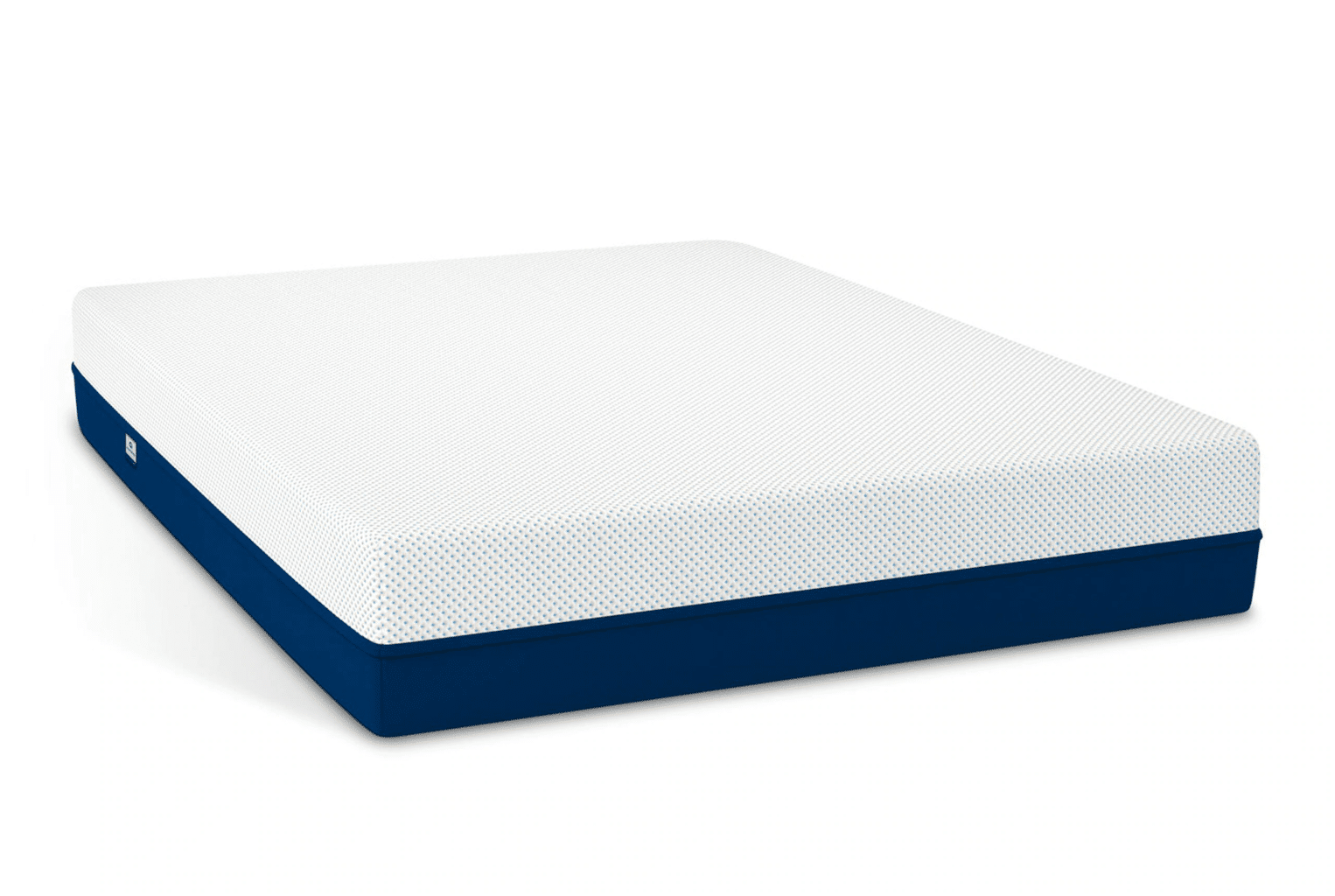 Highlights
Medium-firm feel perfect for back and stomach sleepers
Stable foam base is resistant to sagging
Plant-based memory foam comfort layer
100-night sleep trial and 20-year warranty

Our second favorite daybed mattress is the Amerisleep AS2. This bed has a medium-firm feel that is ideal for most bedframes because the slight firmness prevents sagging. This firmness is also ideal for back sleepers, stomach sleepers, and those with chronic back pain because it promotes a safe, neutral spine.
Amerisleep's AS2 features a plant-based memory foam called Bio-Pur®. This foam is conforming but has a slight bounce to prevent over-sinking and spinal misalignment during sleep. Since this foam is made with fewer synthetic oils and more natural oils, it also retains less heat and moisture, ensuring you stay cool and dry throughout the night. 
A transition layer of Amerisleep's Affinity foam with HIVE® technology provides further protections against excess sinking. This layer keeps the hips lifted and prevents the spine from bowing unnaturally during sleep. 
The stable foam base in the AS2 is resistant to sagging and increases the durability of the mattress. Like all Amerisleep Mattresses, the AS2 comes with a 100-night sleep trial and a 20-year warranty. 
3.

Vaya Mattress - Best Affordable Mattress
Highlights
Affordable price point
Responsive foam comfort layer
Soft, ventilated cover
100-night sleep trial and 10-year warranty
The Vaya Mattress is our pick for the best affordable daybed mattress because this high-quality bed is resistant to sagging, has a versatile medium firmness, and is available at a budget-friendly price. A twin size Vaya Mattress is available for just $349 and a full size is available for $499.
Vaya's comfort foam is naturally more breathable than most mattress foams. With a perforated cover and airy comfort foam, body heat can quickly dissipate without causing the mattress to become overheated. 
Vaya's comfort foam also has an elastic quality which is ideal for keeping the hips and shoulders lifted and supported. The combination of cushioning and support is perfect for most sleep styles and body types. 
The stable foam base of the Vaya guards against sagging. All foam layers of the mattress are certified by CertiPUR-US® to be free of harmful additives and chemicals. 
The Vaya Mattress comes with a 100-night sleep trial and a 10-year warranty. 
4.

Customize Bed Inc. Fortnight Bedding Gel Memory Foam - Best Memory Foam Daybed Mattress
Highlights
Smooth texture and attractive bamboo cover
Highly customizable
Super compact; dimensions are excellent for small spaces
All-foam model with an affordable price

The Fortnight mattress for daybeds easily unrolls from its packaging while remaining firm. That firmness is a quality we all want for our beds.  It is so lightweight; it's easy to fit sheets on by merely raising the corners slightly.
The support is excellent, giving you a cradling sensation during sleep. It places a premium on health and wellness. It is made of organic materials with hypoallergenic and antimicrobial properties. The company also promises it can handle back pain and lumbar problems, giving you comfortable nighttime therapy.
A cooling body temperature control gel and a protective vacuum bag are other reasons to consider this daybed mattress. There are no strange or funny smells.
5.

Fortnight Bedding 6-inch Foam Mattress - Best Low-Profile Mattress
Highlights
Solid construction supports your back adequately
It fits into a tight vacuum bow for easy setup
It gets protection from a durable stitch bond fabric
All-foam model with an affordable price

Fortnight daybed is the perfect combination of flexibility, durability, support, and comfort. It is lightweight, firm, and highly adaptable for everything from cots to futons.
It is of a mere 1½ kilograms of high-density foam. The feel is neither too hard nor too soft. The foam is US-made, and CertiPur-US certified. You can be sure it is free of any traces of PBDEs, TDCPP or TCEP ("Tris") flame retardants.
If you are looking for a trundle bed mattress with a low-profile, this mattress is ideal. With a 6-inch thickness, it fits easily under most daybed frames. Although it is thin, the soft, durable foam keeps you cushioned and supported throughout the night. 
6.

Zinus Eden Twin Daybed and Trundle Set - Best Cooling Daybed Mattress
Highlights
Sturdy and relatively easy to assemble
Attractive, functional look
Firmness is idea for most sleepers
Fits great in most room sizes

Zinus excels at offering classic daybeds for any room. This space-saving daybed suits perfectly with a limited space room. If you are looking for two high-quality mattresses for a trundle-style daybed, this mattress set is perfect for you.
Zinus's comfort foam is infused with green tea to increase breathability and prevent the formation of odor-causing bacteria. While this foam contours to the curves of the body, it won't retain body heat like many other foam mattresses. 
You can also purchase these two mattresses with Zinus's premium steel slat support trundle bed frame, which doubles as a sofa by day, bed by night. Assembly is easy and requires no tools. 
7.

DHP Independently Encased Futon Mattress - Most Versatile Daybed Mattress
Highlights
Good comfort layer and decent height
Distributed body weight equally for pressure relief
Affordable price point
Available in a set for a trundle daybed
Like daybeds, futons are also versatile space savers. This DHP 8-inch Independently Encased Mattress can be used with either a futon or daybed frame. This mattress is also thin enough to work with most trundle-style daybed frames as an extra sleep space, perfect for a guest room or child's bedroom. 
Several layers of polyester and foam lie between the microfiber cover and the coils. The coil support and comfort layers make this a highly comfortable mattress. There is an alternative 6-inch version if this 8-inch model is too thick for you or your futon.
You can also purchase this mattress set with DHP's superior daybed frame, available in either a twin or full size. 
Choosing the Best Mattress for Daybed
Daybeds give the combined benefit of a comfortable sofa while conserving space. They are comfortable to lie in and are fully open on both sides. Thus, one can place them to face any direction. Since comfort is an essential factor, a daybed mattress needs attention. What should you then consider when looking for the best daybed mattress?
Read our complete guide on How to Choose a Mattress?
Basic Daybed Types
Daybeds are available in several different designs. Some are open along both lengths and have arms. They may also have railings or panels along both short sides. Some have panels on three of its sides. Others have such high railings or panels that mimic a three-sided box.
Modern daybed design features low railings on both short sides. One of the longer sides bears a higher railing. The upholstery can be any color, pattern, or type of fabric. The frames can be an exciting blend of wood and metal or just one of either.
Your choice of a daybed will depend on what your primary use of it will be. Where you intend to put the daybed will also be essential to consider.
Using Your Daybed As A Decorative Item
Daybeds are smaller than sofas. If you wish to improve the coziness of a large room or make it more inviting, definitely use a daybed. It also provides more seating in a small room.
Depending on the room layout, daybeds can be propped against a wall or left standing alone. Low-profile daybeds with long and open sides provide comfortable seating. In contrast to traditional sofas, they don't block the visual cadence of a room. The daybed can also sit in front of a large window without hindering the view.
Daybed Mattress StyleDesign or style matters when selecting a daybed mattress. Traditional daybed mattress designs include –  victorian, the mission, and the sleigh style. The design for the best mattress for daybed should play well with your interior décor, while still offering the functionality of a daybed.
Daybed QualityDaybed designs on the market come in a range of quality and price points. The material of the daybed mattress is the best determinant of its quality. Always remember that your budget plays an important role, in any case.
Daybed Mattress SupportThe most common type of daybed mattress support is the link spring. It is a metal grid-like structure replacement of a spring box. The link spring attaches to both side panels of the daybed frame to provide strength and stability to the bed. The twin mattress will rest on this to make room below the trundle bed and mattress.
The slat system is the less popular mattress support. The system bears plenty of similarity to many full-size bed slat systems. The front and back rails of the bed have wooden slats attached to support the mattress.
Common Daybed Mattress OptionsA daybed mattress and bedding are the icings to the look and feel of any daybed. They turn it into a versatile piece of furniture. The majority of daybeds and trundles match a standard twin size mattress of 39×75 inches. A memory foam or pillow top mattress with your preferred firmness is what you should choose.
There will be a small gap between the mattress and sides of the bed when you place the mattress in the frame. It makes it easier to fit the bedding on the mattress.
Daybed Bedding Ideas
To round up the look of your daybed, you'll need proper daybed bedding. There's a wide range of bedding available for daybeds. Solids, prints to the latest design, there is undoubtedly one to rock your world. Two popular options include daybed bedding sets and daybed covers.
The bedding sets consist of a comforter, three shams, and a bed skirt. It gives the daybed the appearance of a bed, coordinating the bedding and pillows for a multi-layered look.
Standard twin sheets are great for your daybed mattress. Yet, a standard twin comforter will not fit properly because of the sides and back of the daybed frame. A daybed comforter differs from a twin comforter by size. A daybed comforter measures 52×99 inches while a twin comforter is 62×86 inches.
Daybed covers lie directly on the mattress, dropping from the mattress top to the floor on the front three sides. A daybed with a daybed cover looks more like a sofa than a bed. Daybed covers give the daybed a more custom, modern-day, sleek appearance.
Practical Uses For Daybeds
Guest rooms are a great place to position daybeds. Daybeds can provide an extra sleeping space in the bedroom. They serve the same function as a sofa or loveseat, when not occupied by guests. They are perfect for bonding between lovebirds. High rails or panels along three sides provide a more cozy enclosure than a bed that's completely open. Toddlers may use them to learn how to fit correctly on a bed. Rattan or wicker daybeds also make comfortable seating on your porch or patio. Of course, you can nap away when nature calls.
Additional Resources: Top 5 Best Folding Mattress In 2022
Conclusion
If you're ready to pick your perfect daybed mattress now, this guide should help you to choose the best mattress for a daybed. Any of these four daybed mattresses could appeal to you. They each exhibit unique features and benefits. Any of these would be a great start to improve your sleep experience.
The Winner for this round-up is the Zoma Mattress. The quality appears too good to be true, considering the extended warranty, height, firmness, and health benefits.
Chris was a psychiatrist and neurologist with board certification in sleep medicine Clinical Associate Professor at the University of California. For over 10 years, he served and helped patients at Stanford Health Care-Stanford Hospital with their sleeping disorders.
After suffered from sleep disorders for years, Chris has been passionate about sleep health ever since. He wants to help others sleep better and wanted to make the world of sleep easy to understand for everyday people.