If you're on the smaller side, finding a comfortable mattress can feel exceptionally difficult. No matter how "soft" or "cushioning" manufacturers claim their mattress is, it can still feel hard as a rock to petite sleepers.
The good news is there are plenty of mattresses out there that can accommodate you if you're on the lighter side. Below, we'll outline five of the best ones.
5 Best Mattresses for Petite Sleepers:
The Best Mattresses For Petite Sleepers In 2022
1.

Amerisleep AS5 - Best Overall Mattress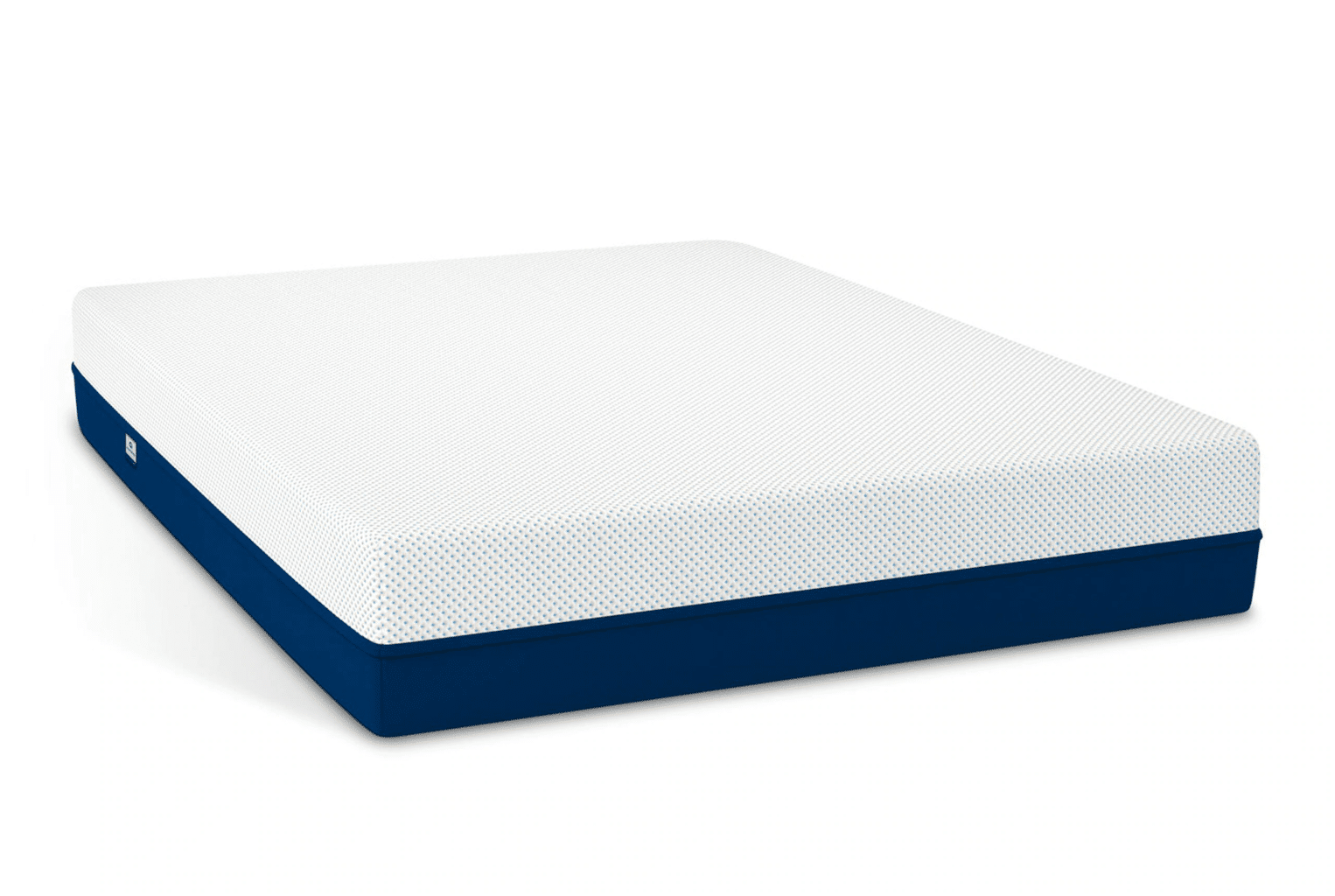 Highlights
Plush comfort layer to cushion and cradle the joints
Instant pressure relief for side sleepers
Open-cell and plant-based foam promote cooling.
Includes a 100-night sleep trial and a 20-year warranty.
The extra-soft Amerisleep AS5 mattress offers the pressure relief of memory foam and the support of Active Flex to give petite sleepers an all-around great sleep experience.
This mattress features a comfort layer of plant-based, open-cell Bio-Pur® memory foam that both helps wick away body heat and bounces back quickly to its original shape. And The Active Flex material helps reduce sinkage without making the bed too firm, offering support to your body and promoting ideal spinal alignment.
The Affinity layer with HIVE® offers targeted support underneath each zone of your body (e.g. your head/neck, shoulders/hips, and legs/feet), providing additional support under the areas that need more firmness and extra cushion under the areas that need more softness. And the durable Bio-Core® supports the comfort and transition layers to prevent sagging and help the mattress maintain its shape.
If you want a mattress that offers a ton of softness and cushioning but won't sag or lose its shape, the AS5 is a good choice for you.
2.

Zoma Mattress - Best Mattress For Active Individuals
Highlights
Medium firmness perfect for back, side, and combination sleepers.
Gel memory foam comfort layer promotes breathability.
Latex-like response layer promotes spinal alignment.
100-night sleep trial and 1o-year warranty.
Petite sleepers with an active lifestyle or a physically demanding job might do well to consider the Zoma Mattress. Designed by and for athletes, this mattress is made to cushion and support bodies that endure a lot of stress.
The cooling AirCloth Cover and Triangulex™ gel memory foam help you stay cool no matter how hot you sleep. And the comfort layer also offers targeted three-zone support to help relieve pressure points and promote spine alignment.
The Reactiv™ transition layer helps give extra bounce and responsiveness to the gel memory foam comfort layer, allowing you to enjoy the bed's softness without putting up with too much sink or that "stuck" feeling. And the Zoma's firm Support+ base layer offers at least a decade of durability.
If you need a mattress that will offer you coolness and support after a tough workout or a long day's work, the Zoma may be the right choice.
3.

Vaya Mattress - Best Budget-Friendly Mattress
Highlights
Provides the perfect balance of comfort and support.
Cooling foam comfort layer.
Durable materials prevent sagging and indentations.
Includes a 100-night sleep trial and 10-year warranty.
Those who need a mattress soft enough not to break the bank should look into the Vaya Mattress. At $599 for a queen, the Vaya is practically a steal. Don't let the price fool you, though—you're still getting a high-quality mattress that will last you a long time.
The combination of the Vaya's breathable cover with its open-cell foam comfort layer will help wick away body heat to prevent overheating. The Vaya's comfort layer is also made of their proprietary memory foam that contours to your body without sacrificing responsiveness, meaning it'll bounce back fast if you change positions.
The durable Vaya Base Foam offers stability and support without compromising the cushion of the support layer.
At Vaya, they believe in keeping things simple, combining two layers of amazing memory foam to make a mattress that offers everyone a good night's rest. If you don't want to sacrifice comfort or your whole savings account, this mattress is a good option.
4.

Nolah Signature 12 - Most Versatile Mattress
Highlights
Flippable mattress with two firmness levels.
Pressure relief without sagging or collapsing is great for side sleepers.
Latex-like response layer promotes spinal alignment.
100-night sleep trial and 10-year warranty.
Small people who like to keep their options open might consider the Nolah Signature 12 mattress. This flippable mattress's innovative construction features two different feels: a soft side and a firm side. That way, you can decide which one works for you without the inconvenience of swapping the mattress for a different one.
Both the firm side and soft side feature cooling Nolah AirFoam™ and an organic cotton cover to help keep you cool all night long. The support core of the soft side is made of 1.5 inches of high-resilience foam to complement the soft comfort layer. Meanwhile, the support core of the firm side features 7 inches of high-density base foam to increase the support and firmness.
If you want a supportive and cushioning bed that gives you the option to change firmnesses at the flip of a mattress, the Nolah mattress is for you.
5.

Zotto Mattress - Best Mattress For Back Pain
Highlights
Balance of comfort and support makes it a great choice for combo sleepers.
ThermaPhase comfort foam for breathability.
Breathable design ensures this mattress won't sleep too hot.
Memory foam layers ensure there is just enough comfort.
Endorsed by doctors and critics alike, the Zotto mattress was designed to relieve pain. This mattress features 4 layers of foam. It mixes gel memory foam with latex foam to offer coolness, bounce, pressure point cradling, and enough support for optimal spinal alignment. 
The ThermaPhase™ comfort layer is designed to keep the body at its ideal sleep temperature without sacrificing cushioning power. The hybrid second layer offers bounce and support to the top layer, while the solid, durable foam support layers maintain the mattress's structure and offer great support to the body. 
If you're looking for a mattress that offers excellent pressure relief and contoured support without compromising on responsiveness or coolness, the Zotto is the right mattress for you.
Selecting the Best Mattress for Petite Sleepers
Sleep Position and Mattress Firmness
Lighter-weight sleepers need beds with a softer feel because their bodies may not compress the bed enough to provide comfort. For a petite person, sleeping on a firmer bed might feel a little like sleeping on the dinner table. A mattress on the softer end of the firmness scale can help petite sleepers get sufficient compression to give them proper cushioning. 
Even if you're a petite sleeper, your sleep needs will be impacted by your sleep position. In fact, your sleeping position actually dictates your firmness needs even more than your body type. Let's take a look at exactly how.
Back Sleepers
Mattresses for back sleepers should have a medium firmness to achieve pressure relief and spinal alignment. When you sleep on your back, you have a gap in your lumbar region (the curve in your lower back just above your buttocks). This gap can cause your back to collapse, curving your spine the wrong direction and pulling it out of alignment. 
A medium mattress allows your pelvis to compress the bed enough that the mattress can fill the gap in your lumbar area, helping to support your lower back and keep your spine in a neutral position. 
Side Sleepers
Mattresses for side sleepers who weight 130 pounds or less should be soft to medium-soft because they often experience pain in their hip and shoulder joints from these areas pressing down on the bed. If your bed is too firm, it will put pressure on your joints rather than cushioning them.
Soft to medium-soft mattresses will cradle your pressure points, allowing them to compress the bed enough to relieve pain and improve sleep. 
Stomach Sleepers
Mattresses for stomach sleepers are often medium-firm to firm. When you sleep on your stomach, your pelvic area tends to sink into the bed, overarching the spine and causing pain in the lower back. 
To avoid low back pain, stomach sleepers need a firm bed to keep the pelvis lifted and the spine aligned. However, as a petite person, you may want to consider a medium-firm mattress rather than a firm mattress to account for your body type. 
Combo Sleepers
Petite combination sleepers need medium support because they change positions throughout the night. A medium mattress is a good compromise between firmness levels and will be versatile enough to accommodate most combo or active sleepers no matter what position they adopt. 
FAQs
What constitutes a petite sleeper?
Sleepers with a petite frame are those who weigh less than 130 pounds, regardless of height. If you're under this weight, you're too light to compress firmer beds, and a total lack of compression can leave you feeling like you're sleeping on a concrete slab instead of a mattress. This means whatever firmness level corresponds to your sleep position, you'll probably need to go a level softer to account for your body type. 
What's the firmness scale?
The firmness scale indicates how firm or soft a mattress is. The scale goes from 1 to 10 with 1 being the softest. However, most manufacturers don't typically make mattresses softer than a 3 or firmer than an 8 because there's not much market for extremely soft or extremely firm mattresses. 
Here is the break down of the firmness scale:
2 – extra-soft
3 – soft
4 – medium-soft
5 – medium
6 – medium-firm
7 – firm
8 – extra-firm
Which firmness do I need to help with lower back pain?
The best mattresses for back pain are often medium-firm. This firmness level helps support your back and promote ideal spinal alignment. However, don't forget if you're small, you may need to go softer. Petite back pain sufferers might want to consider a medium mattress if they don't get enough compression from a medium-firm.  
Does mattress material make a difference for petite sleepers?
It sometimes can, but firmness is more important. All mattress types come in all firmness levels (e.g. you can get memory foam mattresses in soft, medium, and firm). That means you have the freedom to choose the material that fits your personal preferences, whether it's memory foam, latex foam, an innerspring, or a hybrid. 
One thing to keep in mind is the coil tension in an innerspring. Sometimes the coil support layer in an innerspring mattress can put pressure on your joints, causing pain. This is especially true for petite sleepers who may not compress their beds enough. To counter the pressure from innerspring coils, petite sleepers who want a traditional innerspring mattress should consider a pillow top. 
What's the best mattress for petite sleep apnea sufferers?
If you have sleep apnea, you either need to get a mattress that will encourage side sleeping or one that is compatible with an adjustable base. Good mattresses for lightweight side sleepers with sleep apnea will be medium to soft to cradle pressure points and offer sufficient compression. 
Meanwhile, the best mattresses for adjustable bases are latex and memory foam. Both these foams are flexible and heavy enough to curve with the adjustable base, and they don't have coil support cores, which are stiff and may break when you bend the adjustable base.
What if my partner and I need different firmness levels?
If you're petite and your partner is a heavier sleeper, you may not be able to find a middle-of-the-road firmness that works for you both. Thankfully, there's a solution: the split king. 
Split kings allow you to take two twin XL mattresses and place them in the same standard king size bed frame. This setup lets both partners fulfill their individual sleep needs while still sleeping in the same bed.
If you have a smaller master bedroom, you can get a split queen bed. And if one of you is an extra tall sleeper, there is a split California king option. However, neither of these options allows you to get any old twin XL mattress. You'll have to purchase mattresses specifically made to be split queen mattresses or split California king mattresses.  
Bottom Line
Nowadays, there are tons of great softer mattresses on the market to suit the needs of every petite sleeper, whether you sleep on your side, stomach, back, or all three!
Chris was a psychiatrist and neurologist with board certification in sleep medicine Clinical Associate Professor at the University of California. For over 10 years, he served and helped patients at Stanford Health Care-Stanford Hospital with their sleeping disorders.
After suffered from sleep disorders for years, Chris has been passionate about sleep health ever since. He wants to help others sleep better and wanted to make the world of sleep easy to understand for everyday people.