Buying a mattress has become a rather complex task. You need to consider the firmness and size of the mattress. With the recent advancements, you also need to take a closer look at the materials used. Studies find that some mattress materials offer better comfort than others. With this in mind, you need to take a closer look at the materials used in the construction of a mattress.
Many people are moving toward a movement for a green planet. This means buying products that have less of an impact on the environment. These products are often able to provide a safer home for you and your family too. The best organic mattress is an example of an eco-friendly product that offers superior comfort, while also reducing toxins in your home.
Here Is The Best Organic Mattress In 2022
Best Organic Mattress In 2022 – Reviewed
There are several brands that offer organic mattress options today. Mattress manufacturers have taken note that people are looking to go green when shopping for furniture. This means you have quite a few options to choose from. It can feel a little overwhelming when you need to choose between such a significant variety of mattresses. 
We did the research for you. Below, we share the options to consider if you want to buy a natural mattress that is safer for you and the environment. We looked at several factors that are crucial when buying a non toxic mattress. This does not only include the used materials, but also comfort, firmness, and other elements. 
Take a look at each of the options we recommend below. This will help you realize which mattress will be able to offer you the best experience, while also maximizing the value you get for your money. 
1.

Editor's Pick: Avocado Green Mattress
Highlights
Award-winning mattress
100% organic certified
Handmade mattress
1-year trial offer
25-year warranty
Our editor's pick for the list is the Avocado Green Mattress. This is an award-winning mattress that has been featured in multiple publications. It was a Pinnacle Award Nominee in 2020 and was rated as the best mattress of 2022 by U.S. News. Several other publications have also noted that the Avocado Green Mattress is one of the top options that are currently on the market. 
The entire mattress was constructed to provide an improvement in your sleep experience. The mattress addresses health concerns that come with some of the other mattresses that are available on the market. The Avocado Green Mattress is a completely natural option that does not include any type of harmful chemicals or toxins. The mattress has undergone several tests to ensure that it is safe and has a significantly lower emission rate than a majority of the competitor options on the market. 
The Avocado Green Mattress is handmade in California. Precision and care are taken with the construction of each mattress. This ensures you only get the best quality product delivered to your door. The company also ensures no polyurethane foams are used in the construction of its mattress. 
The mattress comes with a generous 25-year warranty period. This gives you an extended time during which the mattress will be protected under a limited warranty. There are a few fine details that you should make yourself aware of. The mattress also ships with a one-year trial period. This allows you to sleep on the mattress for an entire year – and you have an opportunity to request a refund from the manufacturer if you do not feel happy with it during this time. 
2.

Best Cooling Mattress: Birch Natural Mattress
Highlights
Advanced breathable design
Handmade design
Provides pressure relief
GOTS certified
25-year warranty period
100-night sleep trial
If you want to combine a natural product with one that will help you sleep cool at night, then the Birch Natural Mattress is an ideal option to consider. This mattress was designed to provide better breathability than its competitors. At the same time, the manufacturer decided to produce a mattress that is made from natural ingredients. This helps environmentally aware customers get a good night's sleep, while knowing they are not exposed to any harmful materials at night. 
The Birch Natural Mattress was developed by the Helix brand. The brand has become trusted among people. Helix has a few different mattress options on the market. The Birch mattress is one of the more recent entries into the company's line of mattress options. 
This is a handmade mattress, which means the company takes care to ensure every mattress is made in such a way to provide better quality. This also ensures you get a mattress that is more comfortable than your average option. 
The Birch Natural Mattress has a large focus on breathability. The mattress was designed to allow for better airflow throughout your bed. This helps to lead heat away from your body – giving your body the opportunity to cool down. Thermoregulation in the environment has a significant impact on your quality of sleep. With the improvement in airflow, you may find that you sleep better and longer at night. 
There is a 25-year warranty that comes with the purchase of the Birch Natural Mattress. The warranty is not the only way that the company is able to give you more value for your money. You also get a full 100-night sleep trial with the mattress. During this time, your purchase is eligible for a full money-back refund. 
3.

Best For Lifetime Warranty: Awara Mattress
Highlights
Comes with a lifetime warranty
Organic materials used throughout the mattress
Individually wrapped coils
Improves spinal alignment
Organic latex
365-night trial offer
The next option on our list is the Awara Mattress. If you want maximum value for your money, then this product is great – particularly because it comes with a lifetime warranty. This is a feature that only a few mattress brands are able to offer with their products. The lifetime warranty gives you evidence that the manufacturer is serious about the quality of the mattress – giving you peace of mind that it will last for a more significant period of time. 
The Awara Mattress does not only come with a lifetime warranty, but also a money-back guarantee. The money-back guarantee lasts for a full one-year period if you have purchased the mattress. This gives you plenty of time to sleep on the mattress and test it out. The company will arrange a return of the mattress if you are not happy, and issue a refund once the mattress has been returned. 
The Awara Mattress is a natural and organic option. It does not expose your body to any toxins and it is almost free of any emissions. This is a hybrid mattress model. It combines layers of latex with a pocketed coil system. The coil system includes springs that are individually wrapped in a responsive foam. The result is a mattress that is able to provide you better contouring effects. The mattress also provides motion isolation. This means it is an excellent option if you have a partner sleeping with you on the same bed. The latex provides a bouncy feeling to the top that is still soft enough to help you feel more comfortable. 
4.

Best Two-In-One Mattress: Layla Mattress
Highlights
Copper infused foam
Flippable mattress
Lifetime warranty
120-night trial
Layla Sleep was able to revolutionize the mattress industry by releasing a flippable mattress that gives you a more customized way to enjoy your sleep. The mattress is also one of the only to use copper infused material in its construction. The copper infusion in the Layla Mattress offers several benefits over the more traditional range of fabrics and materials that are generally used in mattress designs. 
The copper infusion helps to provide a cooler sleep. Copper is a conductive material. This means the addition of copper to the materials used in the mattress helps to transfer heat away from your body at night. In turn, you will find that you do not build up too much heat during the night. 
The copper infusion also helps to reduce the risk of bacteria growing in your bed. This is important, as bacteria growth in your bed can be harmful. It reduces the overall hygiene of your sleeping environment. On the one side of the mattress is a firm layer. Flip the mattress over if you prefer a softer sleep. 
The Layla Mattress is an affordable non toxic mattress that comes at a budget-friendly price tag too. The mattress features a lifetime warranty and there is a 120-night sleep trial that accompanies your purchase.
Read our full Layla Mattress Reviews here.
5.

Best Latex Mattress: Nest Bedding Hybrid Latex
Highlights
Uses natural latex
Hybrid mattress design
Organic cotton cover
Individually pocketed coils
Made in the USA
100-night guarantee
Lifetime warranty
Next on the list is the Nest Bedding Hybrid Latex. This mattress combines two excellent sleeping systems. At the top, a layer of latex is used to help provide you a bouncy effect when you sleep. At the bottom, the mattress uses coils in order to add more support to the sleeping surface. 
The mattress uses natural latex instead of a synthetic option. This helps to improve the organic rating of the mattress. it also provides a more comfortable experience when you lay down. The Nest Bedding Hybrid Latex Mattress comes in three different firmness options. You can also choose a split firmness option, which is great for couples. 
The hybrid design of the mattress gives you better motion isolation. This means motion transfer is not a problem if you sleep with a partner on the same mattress.
The mattress comes with a full lifetime warranty. You get 100 nights to test the mattress as well.
Read our full Nest Bedding Reviews here.
6.

Best Hybrid Mattress: Saatva Mattress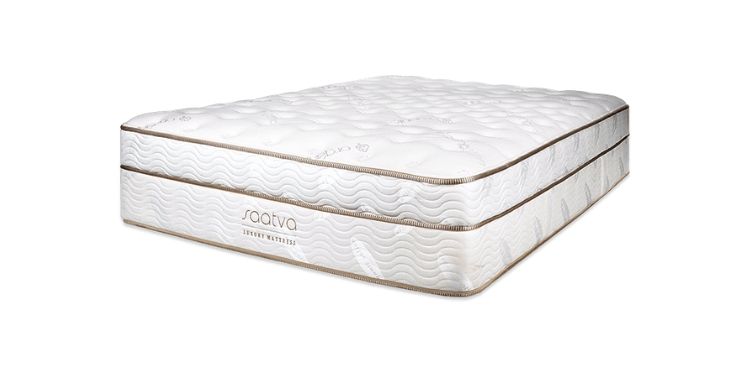 Highlights
Hybrid mattress design
Uses safe and non-toxic materials
Double innerspring systems
Improved durability
15-year warranty
120-day trial offer
Last on the list is the Saatva Mattress. This mattress was made to provide exceptional comfort and support at the same time. The manufacturer of this mattress uses special foams and materials that help to offer you a more natural approach to sleep. An organic cotton cover is used at the top of the mattress. This cover is soft and provides an added layer of comfort at the surface of the mattress.
The Saatva Mattress also features two layers of coil systems. This adds more support to the mattress and gives you more traditional innerspring feeling. The mattress also features Guardin fabric, which has natural antimicrobial properties. This, in turn, helps to make your bed more hygienic.
The Saatva Mattress does come with a somewhat limited warranty. There is still a 120-night warranty that lets you test the mattress before you decide if you want to keep or return it.
Best Organic Mattress Buying Guide
Even though you know about the best organic mattresses that are available, you may still find it hard to determine which of these will be the perfect addition to your bed foundation. You need to look at each of these and determine which one is right. 
This is why we are also sharing a buying guide. In this buying guide, we take a look at a few common questions that people ask when they are looking to buy the best organic mattress. We will also share some useful tips that help you understand what you need to consider when buying one of these mattresses. This ensures you do not waste your money on a mattress that will fail to impress you. 
Related: Top 12 Best Mattresses of 2022

Are organic mattresses worth the money?
Most of the organic mattresses on the market tend to come with relatively high price tags. This can be alarming, especially for someone who is shopping for a mattress on a small budget. You may not be sure whether or not investing in an organic mattress is truly worth the money. 
There are different reasons why people decide to invest in an organic mattress. For many people, it is worth the money. The main reason why people tend to buy these mattresses is due to the reduction in toxic chemicals they are exposed to. There are a few mattress options that tend to include materials that contain potentially harmful chemicals. 
Many people are also opting for organic mattresses to help reduce the impact that their furniture has on the environment. 
Personal preference also accounts here. Some people prefer the feeling of a natural latex material over a synthetic type of foam mattress. There are also some people who like how a cotton material feels when a mattress comes with a cover that is made from this fabric. 
Thus, you are the only one who can decide whether investing in an organic mattress is really worth it. Know how much money you can spend and consider the benefits that you would gain from the mattress. 
What is the healthiest mattress?
When talking about organic mattresses, people are generally looking for something healthy. The idea is to reduce their exposure to toxins. There are several toxins sometimes found in mattresses. These toxins may have long-term effects on the body – especially when you sleep on the mattress for several decades. 
The healthiest mattress for you depends on a few things. Choosing an organic mattress is only one way of giving yourself a healthier sleep environment. You also need to consider the firmness of the mattress – and consider whether your sleeping habits are good for that firmness. 
Side sleepers often find that a softer mattress is ideal for them. On the other hand, if you sleep on your back, you may find that a soft mattress makes you experience back pain in the morning. In such a case, the healthier mattress to choose would be one with a firmer rating. A firm or luxury firm option may be great for you. 
What is an organic mattress?
An organic mattress essentially refers to the origin of the materials that are used to manufacture the product. There are a large number of different materials generally used in the production of a mattress. Not all of these materials can be organic in nature. In the majority of cases, organic mattresses tend to use a cover that is made from a natural material. The material is also harvested in an organic way. 
There are also some companies who use natural materials on the inside of their mattresses. An example would be latex. There are both synthetic and natural latex options on the market. Natural latex helps to promote a more organic approach to adding furniture to your house. This type of material also contains fewer synthetic chemicals that are made by scientists in a laboratory. 
A few foam-based mattresses have a CertiPUR-US certification. This means the mattresses have been tested for toxin exposure – and were proven to be safe. This is another good option to consider when you are looking for an organic or healthy mattress. 
What are the benefits of an organic mattress?
There are a few benefits that come with owning an organic mattress. When you are not sure whether these mattresses are right for you, then considering the benefits might be the ideal solution. 
Here are some of the benefits that you should consider:
An organic mattress means no need to worry about being constantly exposed to some of the harmful toxins found in certain mattress models. 

You also do the planet good – as these mattresses have less off-gassing. This means they do not dispose toxins that could be harmful to the environment around you. 

Organic mattresses are often excellent in providing cooling effects. This means there is no need to worry about waking up with a pool of sweat at night. Instead, you will find that the mattress is more breathable. This, in turn, ensures heat does not get trapped in your bed. 

The covers included with an organic mattress are usually exceptionally soft. This means you have a plush feeling when you lay down on your bed. It helps to make you feel more comfortable, even when you choose a firmer mattress option. 
What to consider when buying an organic mattress?
There are a few things that you should look at when you decide to buy a new organic mattress. This is apart from realizing the benefits of these mattresses and determining whether it is worth buying for yourself. 
By understanding the factors you need to take into consideration, you give yourself an opportunity to make a more informed decision. This ensures you do not buy a mattress that will end up as a disappointment. 
A few personal factors that you need to consider:
Your Weight: Your body weight plays a big role in the mattress that will be ideal for you. If you are obese, consider a mattress that has an innerspring system. This can be either a hybrid mattress or an innerspring mattress. You should also opt for a firmer option and avoid choosing a mattress that is too soft. 
Sleeping Position: Not all mattresses are made equally. Some are good for specific sleeping positions. Others are more versatile. If you buy a soft mattress, then it is best to sleep on your side. Firmer mattresses can accommodate back and stomach sleeping positions. 
Preferences:

Your own personal preference should matter too. Consider if you prefer a soft, bouncy, or rather a responsive feeling in your mattress. This can help you determine whether you want a spring, latex, or foam mattress. 
Organic mattresses are becoming quite popular. These mattresses are non toxic and reduce the use of chemicals that may be harmful to you and your family. Many companies manufacture organic mattresses, which makes it relatively hard to find one that will suit you. We shared options for buying the best organic mattress in this post. We also shared a comprehensive buying guide, giving you some insight into things to look for. This makes the process of finding a natural mattress easier and more convenient. 
Chris was a psychiatrist and neurologist with board certification in sleep medicine Clinical Associate Professor at the University of California. For over 10 years, he served and helped patients at Stanford Health Care-Stanford Hospital with their sleeping disorders.
After suffered from sleep disorders for years, Chris has been passionate about sleep health ever since. He wants to help others sleep better and wanted to make the world of sleep easy to understand for everyday people.