Best Pillows for Neck Pain- Reviewed
1.

Coop Home Goods Eden–Best Overall
Highlights
Soft and cool fill
Provides pressure relief
Improves spinal alignment
Lightweight, stretchable and breathable cover
Convenient for all sleeping positions
The Coop Home Goods Eden Pillow construction will align your body correctly for restful and deep sleep. It's filled with a lush blend of soft, gel-infused memory foam and microfiber fill, which helps to alleviate the clumping feeling that can occur with big pieces of foam.
You can open it up and add or remove some filling to accommodate your size and sleep position.  Each pillow comes with an extra case of filling in case you want to add more fill to improve the pillow loft and firmness.
This pillow also features a removable and machine-washable cover, which helps the pillow to maintain its shape.   The cover is also hypoallergenic and dust and mite-resistant.
2.

Tempur-Pedic Neck Pillow–Runners Up
Highlights
5–year warranty and free shipping
Support the natural curvature of the head and neck
Features viscoelastic memory cells that allow proper ventilation
Polyester knit fabric cover which provides a soft surface and wicks away moisture
Tempur-Pedic Neck Pillow works perfect for people suffering from neck pain caused by neck arthritis, military neck, or stiff neck.   It was designed for side sleepers and back sleepers who require extra help to maintain a healthy posture throughout the night.
The pillow features a countered design meant to adapt to the sleeper's natural head, neck, and shoulder curvature.  Its extra firm memory foam filling helps to align your spine perfectly as you sleep.  It allows the back and neck muscles to relax and heal while taking the pressure off your cervical discs.
3.

Epabo Memory Orthopedic Pillow- Best Memory Foam Pillow for Neck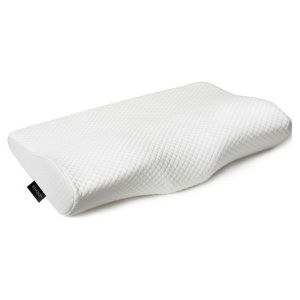 Highlights
30- day money-back guarantee
Removable cover
Differently shaped side for all sleep positions
Breathable and hypoallergenic materials
Epabo Memory Orthopedic Pillow is made from memory foam and adds the right height to offer pressure relief to the Neck. It's designed in a countered shape that aligns perfectly with the back, shoulder, and neck, therefore preventing nerve tension development.  
This pillow is ideal for all types of sleeping positions. The Epabo Memory Orthopedic Pillow features an ergonomic design that sets it apart from traditional pillows that lack enough filling to provide sufficient support.
It doesn't experience heat buildup since it's made from breathable and hypoallergenic materials for maximum comfort.  Also, its breathable memory foam improves airflow to keep the sleeper cool and dry throughout the night. 
4.

Tri-core cervical pillow- Best Orthopedic Pillow for Neck
Highlights
Offers pain relief
Different sizes and firmness levels
100% virgin polyester fill
Unique breathable, tear-resistant cotton/ polyester blend cover
If you're a side sleeper or a back sleeper, the Tri-core Cervical Pillow will help you get rid of neck pain and even morning headaches. It's effective, comfortable, and well-priced.
The Tri-core Cervical pillow construction consists of raised sides and trapezoid indentation in the middle.
The trapezoid indentation perfectly cradles the head and maintains the natural alignment of the neck in with the spine to prevent neck pain, headaches, and back pain. While the raised sides help the head level for proper spine alignment.
For therapeutic benefits and to maintain the natural curve of the neck, Tri-core's cervical roll offers different support options. The smaller neck roll works perfectly for individuals who prefer less support, while the larger roll works for those who desire maximum support.
5.

Purple Pillow - Best Cooling Pillow for Neck Pain
Highlights
Innovative Elastic Polymer Construction
Open-air pockets to keep sleeper cool
Great edge support convenient for neck pain sufferers
Constructed from hyper-elastic polymers organized in a smart-comfort grid, The Purple Pillow is a great option for head and neck support.  
The two zippers span along its sides to allow adjustability of the pillow firmness.  When the zippers are closed, the internal fill gets compressed creating a firmer feel. When left open, the fill breathes, resulting in a softer fill.
The 100% polyester fiberfill makes the pillow super fluffy and very plush.  The unconventional gel grid design offers numerous perks, including increased airflow and low-profile height that won't exert pressure on your neck or force it into awkward angles.
In addition, it restores the shape of the pillow night after night, meaning you don't have to fluff and stack like a traditional pillow to create a comfortable sleeping position.
6.

Pancake Pillow Adjustable Layer Pillow - Best Adjustable Pillow for Neck Pain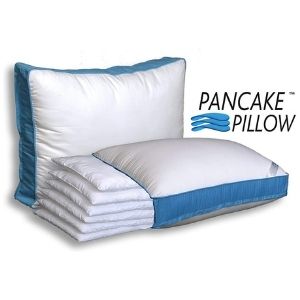 Highlights
Hypoallergenic microfiber fill
Ideal for any sleeping position
Premium fabric and core materials
Pancake Pillow features a unique design meant specifically for stomach sleepers. In a single Pancake Pillow casing, there are six inner core pads that you can remove to create the level of comfort you desire.
Finding a pillow that's a perfect height for two individuals can be hard since no two individuals have the same body size. That's why the Pancake pillow is so perfect. It allows everyone to receive what they need. Besides, it fills up to 5" for side sleepers who need extra depth to support their necks and heads.
Pancake's inner microfiber fill can be twisted, molded, or turned to offer your back, stomach, and under your arms support as you sleep.
 And if you enjoy putting your arms under the pillow, Pancake Pillow moldable materials and heights create a soothing platform that compresses your arms while offering them the best support and comfort.
7.

Core Products D-Core Cervical Support Pillow- Best Budget Pillow for Neck Pain
Highlights
Non-allergic Corefill polyester fiber
A D-shaped center that gently cradles the head
Corrects spinal posture of the neck
Firm support
This pillow uses an impressive design and style consisting of a D-shaped head cradle for perfect positioning and stabilization while lying facing up.
The D-cervical fiber fill provides both cooling and comfort while maintaining higher support levels because of its exceptional level of design and quality.
It's designed to alleviate neck conditions that need comfortable and firm support.  The cervical lobes at the bottom and top help the pillow to maintain and restore the right curvature of the spine, therefore reducing the effects of aching neck muscles, pinched nerves, degenerative arthritis, and others.
The pillow D-shaped center cradles your head in a secure and comfortable position while allowing a certain degree of motion.  The cervical roll supports your neck and the side portion helps to prevent extreme rotations.
8.

Mediflow Water Pillow - Best Water Pillow for Neck Pain
Highlights
100% cotton cover
Adjustable loft height
Cool to sleep on
Free shipping to 50 states
30- day trial period
Mediflow Water Pillow is scientifically tested and proven to possess pain alleviation properties.  It will improve your sleep quality and work to ease neck pains and cramps that might have developed while sleeping on other products.
Users can customize the firmness and loft of the pillow by simply pouring water in and out of the pillow.  In terms of temperature regulation, Mediflow Water Pillow comes with a ventilated memory foam featuring airflow pockets that prevent overheating.  
The memory foam also counters the neck and head while the insulated water chambers below respond to movement throughout the night.
9.

Nature's Guest Cervical Support Pillow–Best countered
Highlights
Fully natural construction
Breathable
Cost-effective
Adjustable firmness and density
Adjustable firmness and density
Nature's Guest Cervical Support Pillow features an adjustable 5'' thick neck roll and 5.5'' thick sides.  It offers back and side sleepers excellent neck and spine support and eases neck pain. 
This pillow chiropractor design is gusseted at the edges to support the neck. The indentation at the center has enough space to lodge the head and support comfortable movement. 
The Adjustable neck roll helps you achieve the right arch for your neck, meaning you'll receive the right amount of pressure on the neck and shoulder throughout the night. 
The cotton filling inside the pillow promotes airflow so sleepers won't feel stifled by the pillow.
Neck pain is the pain that occurs when the ligaments, bones, or muscles in the neck get injured. The most common causes of neck pain are bad posture and bad sleeping positions.  Usually, it's not a symptom of a serious health problem. But if it persists, seek medical help.  The symptoms of neck pain include:
Limited range of motion

Headaches

Poor sleep quality

Muscle spasms
After back pain, neck pain is the second most common muscle and joint condition affecting millions of Americans every day. In most cases, neck pain or soreness results from your sleeping position and the pillow you're using.
A poor quality pillow won't support your neck and head properly, which can create tension in your neck muscle and ligaments, leading to neck pain. Thankfully, you can ease your neck pain by adopting a quality pillow designed to provide maximum support and pressure relief to your neck.
How to Choose a Pillow for Neck Pain?
For people suffering from neck pain, selecting the right pillow is crucial.  That's why we've listed down a few factors to help them out with their selection process. The factors include:
Support:

The right pillow should provide your head, neck, and back with adequate support.   Cervical pillows are ideal pillows for anyone seeking neck support since they cradle the neck perfectly to offer support while still allowing room for movement.

Pressure relief:

The best pillow for neck pain should provide pressure relief by contouring perfectly to the neck to reduce pressure points and tension. Select a pillow that matches your sleeping position to receive maximum pressure relief. Also, the pillow needs to be firm enough to ease pressure at contact points.

Quality materials:

Quality plays a huge role in determining the effectiveness, comfort, support, and longevity of a pillow. 

Loft:

If you want to get rid of your neck pain, select a pillow loft that maintains your head and neck in alignment with your spine.  When it's too high or low, you may experience strain or discomfort since your neck will bend at an unnatural angle. If you're unsure of the ideal loft, opt for a pillow that comes with an adjustable loft.

Firmness Level:

The firmness level of the pillow you select depends on how high the pillow is, your sleeping position, and the heaviness of your head. Too firm pillows can force pressure to your neck or ears, while too soft pillows may sag under your head.  Therefore, failing to provide your neck and head with proper support.

Price:

The prices of pillows vary depending on their design and materials. If you settle on purchasing an expensive pillow, ensure that it will meet all your needs and will last longer. Don't go for an option that will start losing its conforming abilities after a few months.
Best Pillow Positioning for Neck Pain
The two best pillow position for people suffering from neck pain include:
Side with Elevated Neck: 

Side sleepers can avoid neck pain by keeping their head aligned with the spine. They need to find a pillow with a loft that can raise their neck enough to provide enough support and encourage proper alignment. Cervical pillows are the best option for side sleepers since they already have an elevated area.

Back with two pillows:

Most back sleeper pillows don't support high neck curvature.  However, by using two small pillows back sleepers can receive enough head and neck support and spine alignment.
Pillow Materials
Pillow designed for alleviating neck pain features different materials. The material includes:
Memory Foam:

Memory foam molds in response to pressure and heat and contours to support the head and neck.  The only downside is that it traps heat and responds slowly to pressure.

Buckwheat

:  This material usually interlocks, to hold their shape, hence it's a great option for head and neck support. Additionally, it's durable, breathable, and resistant to allergens.  However, they're not soft and make noise as you change positions.

Feathers:

Feathers are soft and provide excellent conforming. But they usually lose their loft over time when they get compressed.

Latex

: This material contains a buoyant feel that not only supports the neck but also reduces pressure points. But since they come in a solid form, pillows made from them can't be adjusted.

Polyfoam

:  They offer great foam and respond quickly to pressure, but they also trap heat like memory foam.

Down:

Down a product of inner feathers of geese and ducks is lightweight and soft.  Pillows made from this material can get reshaped to meet the sleep preferences.  The only downside is that it's expensive and some people are allergic to it.
Connie finished her counseling psychologist program at Ohio State University. Her passion to write helped a lot of people suffering from physical, emotional, and mental issues.
Connie is a sleep specialist and a full-time writer for Sleep Standards. Connie has tested and reviewed over 40 different products and is always up to date on the latest sleep and mattress trends.