A pillow top mattress gives you the best of both worlds. These mattresses will often provide the perfect balance between softness and firmness. The pillow helps to give you a softer sleep. At the same time, the underlying layers help to make the mattress more supportive. Finding the best pillow top mattress can be a challenge, however. 
There are several options that you have to filter through. Some of these offer a better experience than others. We share the top options you should look at when buying a pillow top mattress. 
Here Are The Best Pillow Top Mattress In 2022
Best Pillow Top Mattress 2022 – Reviewed
1.

Nest Bedding Alexander Hybrid - Best For Quality
Highlights
Comes with a 100-night sleep trial
Made locally in the USA
Eco-friendly materials
Excellent customer services
The Nest Bedding Alexander Hybrid is one of the most popular mattresses from the brand. Overall, this is the editor's choice for anyone looking to get their hands on a top-quality mattress. The mattress is made locally in California to assure you get a high-quality product that will impress you from the first night. The entire mattress is also produced in such a way to ensure the product is more environmentally-friendly. This means the mattress is safer for you, while also reducing the impact that the manufacturing process has on the environment. 
This is not the most affordable option on our list. In fact, the Nest Bedding Alexander Hybrid ranks as one of the more expensive options. When it comes to looking for the best pillow top mattress, however, it is one of the most promising investments you can make. 
A TitanChill Endurance Foam is added to the surface of the mattress. This is essentially the pillow top layer. The foam was engineered to greatly enhance the overall support that the mattress is able to offer you. 
The Nest Bedding Alexander Hybrid also comes with a 100-night sleep trial. This means you can sleep on the mattress for more than three months before deciding if you want to keep it. Additionally, a lifetime warranty also accompanies your purchase. This adds greater value to the money you will be spending. 
The customer support team at Nest Bedding is available at all times, seven days a week. This means any queries you have can be answered at any given time. 
The hybrid design of the mattress also means it combines two excellent sleep systems into one product. This includes a foam setting at the top, along with an inner coil system at its base. The innerspring system features coils that have been individually wrapped for better comfort and support. 
2.

Saatva - Best For Value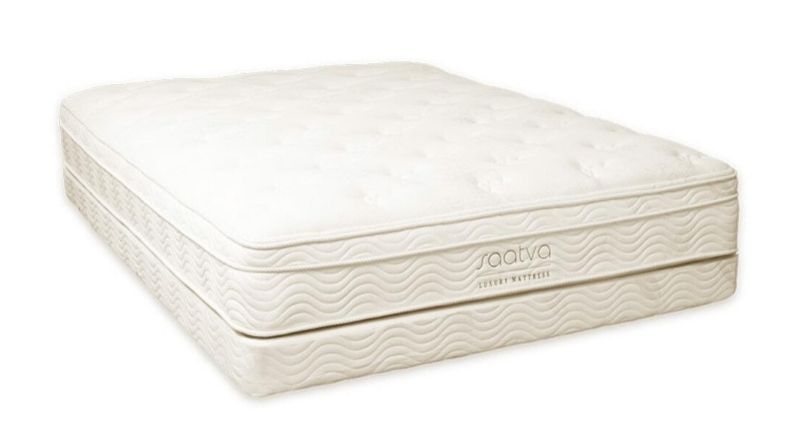 Highlights
Combines a pillow top system with an innerspring support base
Features two different innerspring systems
Comes with a 120-night sleep trial
Features a 15-year warranty period
The Saatva Classic Mattress is another ideal option if you want a better night's sleep. One of the main features you get with the mattress is the excellent value it offers you. Pricing is considered to balance – with some people considering Saatva quite an affordable mattress brand. At the same time, the brand is able to deliver the quality you need to sleep better. 
At the top, the Saatva Classic Mattress features the brand's exclusive Luxury Euro Pillow Top system. This pillow top is made from foam that is able to provide a cushioning effect, without making you feel like you are sinking into the mattress. 
The pillow top layer is followed by a dual coil system. This is what adds an adequate level of support to the mattress. At the top, there is a wrapped coils system. This layer consists of coils that have been individually wrapped with a soft foam material. This ensures you get support on top of the bed, but without causing the bed to feel hard. At the base of the Saatva Classic Mattress, a standard spring system is also used. This makes the mattress more durable and adds further support. 
The mattress is also able to offer excellent edge support. This provides for a larger surface to sleep on, making it an excellent bed for couples too. 
The Saatva Classic Mattress comes
3.

WinkBed - Best For Handmade Mattress
Highlights
Lifetime durability warranty
Comes with a 120-night sleep trial
Free shipping and returns
Advanced pressure point relief system
The original WinkBed is yet another highly recommended option when looking for the best pillow top mattress. This one is a handmade mattress. The company behind the mattress decided to make it by hand, which helps them ensure better quality and precision at every aspect of the product itself. 
The WinkBed features a three-step engineering process. At the top, you get a system that helps to provide decompression support. The decompression support system was developed to provide improved support for spinal alignment. Improvements in your spine's alignment at night help to reduce the risk of back pain and greatly enhances your overall sleep quality. 
A TENCEL cover is included with the pillow top system. The TENCEL is derived from Eucalyptus plants. This system does not only adds more comfort to the mattress but also addresses a very important factor – breathability. A mattress that lacks adequate breathability is likely to make you sleep hot at night. This can reduce your sleeping time and overall sleep quality. The breathability of the TENCEL cover, along with the specially designed mattress, helps to ensure you sleep cooler at night. 
The WinkBed comes with a lifetime warranty, as well as a 120-night sleep trial. This gives you better value for your money in the end. 
4.

Bear Hybrid - Best for Athletes
Highlights
Specifically developed for athletes
Unique cooling technology
100-night sleep-trial
20-year warranty period
The Bear Hybrid Mattress is actually a very unique entry in our list to help you find the best pillow top mattress. This mattress has been engineered in such a way to provide better support for athletes. This does not mean the average shopper cannot take advantage of the system. Superior support is excellent for greatly enhancing your experience during sleep. 
The Bear Hybrid Mattress is only made from environmentally-friendly materials. This does not only make the mattress safer for the environment, but also for you and anyone else you might sleep on the product. 
The Bear Hybrid also features a dual sleep system. This includes an innerspring system, which is combined with a foam sleep system. The result is both superior comfort and support at the same time. 
The mattress comes with a 100-night risk-free trial. During this time, you are given an opportunity to test the mattress for yourself. See if you like, and it asks for a refund if you are not completely satisfied. After the 100 nights, there is still a 20-year warranty that helps to protect your investment against significant sagging, as well as manufacturing-related faults that you may notice. 
The mattress consists of six layers in total. At the top, there is a Hand-Quilted Celliant Fiber top system. The mattress also includes a cooling-gel foam layer, as well as comfort and transition foam systems. Additionally, a Quantum Edge Coil System is added for better support. This also adds to the edge support of the mattress. 
5.

Avocado Green Mattress - Best Organic Mattress
Highlights
All-natural selection of materials
Uses latex for adequate support
Comes with a one-year trial period
Features a 25-year limited warranty period
The Avocado Mattress offers something unique for many people too. This is an organic mattress, which is something very different from what a mattress tends to offer. The product is certified organic, featuring a GOLS organic certification. This means all materials used are safe for both the environment and anyone who sleeps on the mattress. 
The primary material used in the Avocado mattress is natural latex. This adds a bouncy feeling to the mattress. The mattress is both soft and supportive at the same time. Most people find that it perfectly balances firmness. This means it is not a hard mattress, but will still keep you at the top. The latex material helps to ensure proper alignment of your spine.
The Avocado Mattress comes with a one-year sleep trial. This is a significantly longer period than most competitors. You can sleep on the mattress for an entire year before you decide if you wish to keep it or send it back for a refund. 
There is also a 25-year limited warranty that accompanies the mattress. This ensures the manufacturer will fix the mattress if it sags beyond a certain point. 
6.

Helix Midnight Lux - Best For Heavier Sleepers
Highlights
Best-rated in multiple publications
Hybrid sleep system
Features a 15-year warranty period
Comes with a 100-night sleep trial
The Helix Midnight Lux is currently considered one of the most popular mattresses from the Helix brand. This is a hybrid mattress that perfectly combines a foam comfort system with an innerspring construction for better support. 
The Helix Midnight Lux offers a medium feel. This means it is neither too soft nor too hard. It is considered an ideal option for side sleepers due to the specific pressure relief system offered by the mattress. The mattress also offers zoned lumbar support. This helps with the alignment of the sleeper's spine. At the same time, it helps to provide a more breathable environment. This equals a cooler night's sleep. 
You are given 100 nights to test the mattress out. If you are not happy, Helix does offer free returns and will provide a refund on your purchase. There is a 15-year limited warranty too, which ensures sagging beyond a certain amount will be fixed at the manufacturer's expense. 
Best Pillow Top Mattress Buying Guide
Now that we shared the top options when looking for the best pillow top mattress let's look at some essential factors about these products. There are quite a few pillow-top mattresses that you are able to choose from. We will answer some common questions and share important information about pillow-top mattresses in this section. This should help you make an informed decision when you choose the best-rated pillow top mattress. 
What is the best pillow top mattress?
There isn't just one single answer when looking at what the best pillow top mattress would be. This is because every person has their own unique preferences and needs in the bedroom. 
To understand what pillow top mattress would be an ideal option for you, there are a few factors that you will need to take into consideration. Some of these include:
Whether you are sleeping alone or with a partner. If you sleep with a partner, factors like motion isolation and edge support become crucial factors.

Studies do show

that couple sleeping requires more, though. This includes the process of buying the right mattress. 

Your weight should be considered too. The mattress should be able to accommodate your weight. Sleeping on a mattress with lower weight support than your own body weight will wear it out faster. 
Your sleeping position plays a part too. Some mattresses are quite versatile. This allows you to sleep in any position at night. Others are more appropriate for specific sleeping position preferences. 

Your preferred feel in a mattress. Some people like the feeling of an all-foam mattress. Others would rather prefer an innerspring feeling. This may offer an enhanced supportive feeling in some cases. 
There are also factors directly related to the element that you want to take into consideration. This includes the materials used. The manufacturer should be able to provide an accurate view of the specific foams, coils, and other materials used in the production of the mattress. 
How much does a good pillow top mattress cost?
Pricing for pillow-top mattresses can differ a lot. This is one thing that makes the process of finding the perfect mattress harder. 
Buying a cheap mattress is likely to end up a disappointment. Sure, they may offer some support in the beginning. The problem is, a cheap mattress is likely to sag very fast. This means that initial support will disappear in just a few months, if not sooner. 
There is also no need to spend thousands of dollars on a good-quality pillow top mattress, however. If you do your research, you will find that there are a few options that come with high-quality construction, without breaking the bank. 
The best way to shop for a good-quality pillow top mattress would be to first consider your own budget. Look at how much money you are willing to spend on a new mattress. Take the fact that this is a long-term investment into account. Decide your budget and then look at mattresses that are able to fit the amount of money you have set aside. 
Hybrid or all-foam pillow top mattress?
Many companies are starting to offer hybrid mattresses. Some of these products even come with an additional pillow top. You may wonder whether a hybrid or all-foam mattress might be better to invest in. 
There isn't a single answer that would work here. It really comes down to your own personal preferences. Consider whether you prefer an all-foam feeling in your mattress. In such a case, you might consider opting for the best pillow top mattress that features only layers of foam. If you do like an innerspring feeling, but you also want to enjoy the benefits of foam, then a hybrid mattress could be the perfect option for you. 
How important is a return policy for a mattress?
Some people overlook the importance of taking a closer look at the return policy of a mattress before they buy it. There is no guarantee that you will enjoy the mattress you buy. If you do not look at the return policy, you might end up with a mattress that you cannot return. 
Always check the return policy of a mattress. Many companies will offer you a trial period. During this period, you can sleep on the mattress and decide if it is the ideal option for you. If you do not feel happy with the mattress, you can contact the company. They will arrange a pick up of the mattress and give you a refund on your purchase. 
Most mattresses will also come with a warranty. This gives you peace of mind that a sagging mattress will be fixed or replaced. 
Even when you do see a trial and warranty, always look at the fine print. There are sometimes specific factors that need to be taken into consideration. Make sure you understand the criteria that would allow you to make use of the trial period or the warranty that comes with the mattress. 
Do more foam layers mean a better quality mattress?
When choosing an all-foam mattress, some people think that more layers mean better quality. Unfortunately, this is a common misunderstanding. More layers do not always mean the mattress offers superior quality over competitor options. 
The quality of the foam used in these layers really plays a bigger role in deciding the comfort, support, and overall quality of the mattress. Thus, always take a closer look at the materials used in the mattress. Sometimes, fewer layers of higher quality foam can give you a better night's sleep. 
What firmness level should you choose?
Pillow top mattresses are available in different firmness levels. Even though the pillow top itself provides a plush experience at the surface, you should still be considerate about the firmness level of the underlying layers. 
The firmness also comes down to your own personal preference. Some people prefer a very firm mattress. Others tend to prefer a softer feel when they lay down in bed. Most people, however, are able to benefit from sleeping on a balanced firmness level. This helps to provide proper spinal alignment. At the same time, the bed will not feel too hard beneath your body. 
It is also important to consider the fact that research suggests mattress firmness tends to impact sleep quality. At the same time, results in the research study were mixed. Some people slept better on a soft mattress. Others preferred the firmer mattress. For this reason, finding the firmness level that is more ideal for you, in particular, becomes an important factor. 
What are the best sleeping positions for a pillow top mattress?
Another common question is which sleeping positions would be ideal for a pillow top mattress. This really depends on the mattress itself. The pillow top simply adds a plush layer to the mattress. It does not control the underlying layers of the mattress. 
It would be a good idea to consider your own preferences for sleeping positions first. This helps you look for a mattress that will be more compatible with the sleeping position you most prefer. 
Of course, you should take note that some sleeping positions may worsen symptoms like back pain. Studies show that certain sleep postures are more beneficial than others. According to one particular study, an inappropriate sleeping position can lead to non-specific spinal symptoms. This may include lower back pain. In turn, you may find that you start to experience a deficiency of sleep. 
Connie finished her counseling psychologist program at Ohio State University. Her passion to write helped a lot of people suffering from physical, emotional, and mental issues.
Connie is a sleep specialist and a full-time writer for Sleep Standards. Connie has tested and reviewed over 40 different products and is always up to date on the latest sleep and mattress trends.