The firmness of your mattress has several parts to play in how you sleep. At the same time, everyone also has their own particular preferences. Some people enjoy a firm mattress, often with that innerspring feeling. This adds a level of support to the mattress that they enjoy. Another would prefer to sleep on the soft mattress instead. 
A best soft mattress gives you a cushioning effect when you lay down at the bed. Sure, there are a few that might be simply too soft. Do your research well, and you can find a soft mattress that hugs your body instead of causing it to sink into your bed. 
Here Are The Best Soft & Plush Mattresses of 2020
Best Soft Mattress 2020 – Reviewed
1.

Layla Sleep - Editor's Pick
Highlights
Comes with a 120-night trial
Features a lifetime warranty
Free shipping and returns in the US
Made locally in the United States
For a great sleeping experience on the best soft mattress, we highly recommend you take a look at the Layla Mattress. This is the original mattress from the Layla brand and provides both support and softness in one product. The Layla mattress is a multi-layer product that has been engineered to help you feel more comfortable while sleeping. At the same time, the support layers added to the mattress helps to keep your spine in the correct position throughout the entire night. 
The Layla mattress comes with a 120-night sleep trial. During this period, you can sleep on the mattress and see how it feels. If you do not like it, simply let Layla know. The manufacturer will arrange a return of your mattress and provide you a refund on the purchase. 
The Layla mattress features a cooling cover. The cover offers Thermo-Gel cooling technology. This helps you sleep cooler at night – an important factor when looking at any type of mattress. A zipper is included in the cover, ensuring you can easily keep it clean at all times.
Apart from these features, it should also be noted that the mattress takes advantage of copper-infused material. This means the mattress is naturally resistant to microbes like bacteria. The copper infusion used in the layers of the mattress also contributes to its overall ability to keep you cool at night. 
The purchase of the Layla mattress comes with a lifetime warranty. This is a unique feature provided for a mattress. If your mattress sags further than a specified level, you can return it for repairs or a refund, as per the warranty terms and conditions.  
Read our full Layla Mattress Reviews here.
2.

Nest Alexander - Best Luxury Plush Mattress
Highlights
100-night comfort guarantee
Eco-friendly material
Handmade in California
Two-in-one mattress design
The Nest Bedding Alexander Hybrid mattress is something that has gained attention in media publications and became quite a hit in recent years. This is the company's latest hybrid mattress. This means the mattress combines the best benefits from a traditional foam-based system, along with an inner-coil setup. The result is a mattress that is not only soft to the touch but also supportive thanks to the deeper layers on the inside. 
You get a 100-night comfort guarantee with the Nest Bedding Alexander Hybrid mattress. For the first 100 nights, you are free to decide whether or not to keep the mattress. If you do not feel happy with the sleep experience on the mattress, simply ask the manufacturer for a refund. 
The entire mattress is made in California, making this a locally-produced mattress. The company also uses an eco-friendly process to manufacture the mattress. The materials use in the mattress have gone through appropriate tests to prove that they are environmentally-friendly too. 
At the top of the mattress is a gel-infused memory foam layer. There is also a thermic phase change fabric that helps you sleep cooler at night. 
On the inside of the mattress, there is a 16-gauge Quantum Edge Zone Pocketed Support Coils system. This system consists of coils that have been individually wrapped. The coils add support to the mattress without affecting its firmness level too much. This means you still get a mattress that is exceptionally soft, yet it also helps to align your spine and make you sleep better at night. 
Read our full Nest Alexander Mattress Review here.
3.

Brooklyn - Best Soft Memory Foam Mattress
Highlights
Features a 120-night trial
Comes with free local shipping and returns
Made locally in the USA
10-year warranty
The Brooklyn Signature Hybrid is yet another excellent option if you are looking for a soft mattress. Pricing is relatively affordable on this one, especially if you compare it to other options that can offer you a softer night's sleep. The bed also comes with a unique multi-layer system that focuses on giving you a better sleep. 
The Brooklyn Signature Hybrid comes with a 120-night trial. This trial is an excellent opportunity for you to test just how soft the mattress is. The manufacturer gives you four months to sleep on the mattress and determine if it is right for you. The product is also shipped to your local US address for free. If you are no happy, a free return will also be arranged. 
Apart from the soft firmness level, the Brooklyn Signature Hybrid is available in two other firmness levels as well. This includes a medium-firm and a firm option. If you find the soft option has too much of a plush feeling, then the medium-firm option might be worth looking at. 
When you buy this mattress, you do get a ten-year warranty with the product. It should be noted that this is a little shorter time compared to some of the other mattresses on the market. 
Read our full Brooklyn Mattress Review here!
4.

Saatva - Best Value Soft Mattress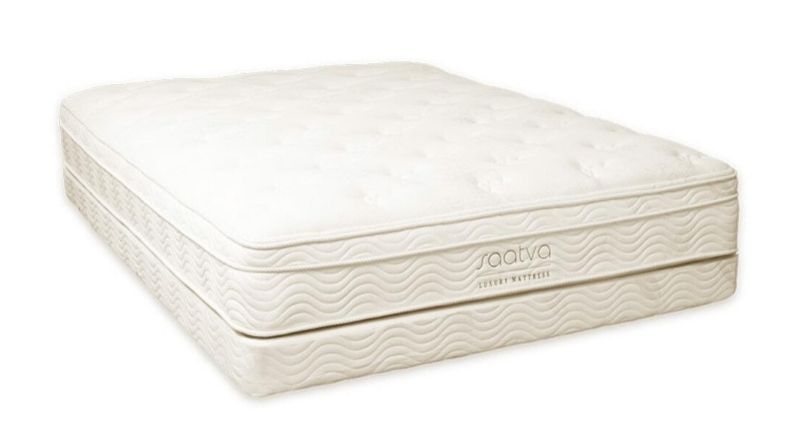 Highlights
Relatively low price tag
Soft plush pillow top
120-day trial
Free white glove delivery
The Saatva Mattress is the original mattress from the Saatva brand. Even though the company has expanded into other ranges of mattresses, this remains a preferred option among people who want a soft surface to sleep on at night. 
The Saatva Mattress comes with a multi-layer system that perfectly combines an innerspring system in the deeper layers of the mattress, with layers of supportive and soft foam at the top. 
You are given a 120-day trial offer when you decide to invest in the Saatva Mattress. This provides adequate time to thoroughly test the mattress and see if this product is right for you. Saatva also offers free white glove delivery with the purchase of this mattress. This means the company will not only deliver the mattress to your physical location but also help you get your new bed setup. 
The plus soft model provides a deep and hugging sensation when you lay down on your bed. It also features an extra pillow top that contains added padding. Combined, this gives you a softer feeling when you sleep – perfect for anyone looking to get their hands on the best soft mattress. 
Alternative options are also available. This includes a luxury firm model, as well as a firmer model. 
Read our full Saatva Mattress Reviews here.
5.

Bear Hybrid - Best Soft Mattress For Side Sleepers
Highlights
Comes with a 100-night risk-free sleep trial
Features free shipping and returns
Eco-friendly materials
20-year warranty period
The Bear Hybrid was primarily designed to provide a greater way of supporting athletes who had a long day on the track. The mattress features a very specific range of layers that was engineered to assist with the recovery process that athletes often have to undergo after a hard day on the track or in the ring. 
The Bear Hybrid has since become popular among the general population too – and provides an exceptionally soft surface without leading to a body sinkage feeling. The mattress consists of six layers in total. It combines individually-wrapped coils with several foam layers. This is what makes the product not only soft but also supportive. 
6.

Leesa Hybrid - Best Medium Soft Mattress
Highlights
Made to order
Free local US shipping
100-night risk-free trial
10-year warranty
Another great option to consider is the Leesa Hybrid Mattress. This is another hybrid system that combines individually-wrapped coils with a high-quality range of foam layers. The result is a bed that is as soft as you might like it, but you will not sink into the mattress. Instead, the support layers will ensure you can enjoy the softness of the mattress while your spine remains in perfect alignment. 
The Leesa Hybrid Mattress is made to order and will be shipped to your local address for free. It comes with a 10-year warranty period, as well as a useful 100-night risk-free trial offer. All materials used in the mattress have been CertiPUR-US certified. This means only safe materials are used in the production of the Leesa Hybrid Mattress. 
Read our full Leesa Mattress Review here.
Best Plush Mattress Buying Guide
We have taken a look at the top options that you can find when looking for the most comfortable soft mattress. All of the entries we shared were hand-selected. We followed a strict process, looked at soft mattress reviews, and considered our own research too. This helped us show you the top options that you can choose from. 
Every person may have their own reason for wanting to buy a soft mattress in particular. Regardless of the reason, there are still a few common questions that people tend to have when they are looking to buy one of these products. 
In this soft mattress buying guide, we share a few tips and helpful information to assist with the decision-making process. We will take a look at a few common things that you may be uncertain of or questions that you may have before you do make an investment in the best soft mattress. 
What to look for in the best soft mattress?
One thing you will notice when looking for the best plush mattress is the market is relatively full of these products. There is a multitude of brands that produce and promote soft mattresses. Unfortunately, not all soft mattresses are made equal. Some lack the added support that you need. You want a soft mattress, but you do not want to sink into the mattress and have a difficult time getting up, after all. 
To make sure you get a soft mattress that is right for you, there are a few things you should keep in mind during the shopping process. Below, we share a couple of things to look for in a soft mattress:
Consider the materials used in the upper layer. Many companies will provide a plush layer at the top. This can help to make the mattress have a soft feeling – even when the underlying layers are a bit firm. 

Consider the multiple layers that the mattress is made from. The upper layers should focus on providing a soft surface for you to sleep on. In most cases, this will comprise multiple foam layers. Some mattresses will also only have foam layers with no additional materials. These materials may provide a soft touch that you desire. 
It could be useful to consider a supportive base system too. Some mattresses add an individually-wrapped coil system at the base. If the upper foam layers are soft enough, the coils will not cause the mattress to feel hard. Instead, they will simply add a desirable layer of support to the mattress. 

If you want an extra soft feeling, consider a mattress with an extra pillow top. This pillow top layer can consist of various foams. Its idea is to make the mattress more comfortable at the top. In turn, this will also lead to improved softness. 
While you take these factors into consideration, you do not want a mattress that is too soft. Make sure there is some type of support system in the mattress. One study shows that mattress firmness plays a big part in chronic pain. Participants in the study had non-specific lower back pain. The pain among the participants were all rated as chronic. A mattress that is too soft could potentially cause problems with your spine alignment. This could worsen issues like chronic pain. 
How much will the best soft mattress cost?
For many people, pricing is one of the most concerning factors when it comes to buying a new mattress. Whether looking at the best soft mattress or any other firmness level for that matter, pricing is a sensitive subject that really starts with your own budget and bank account. 
Prices do differ a lot when looking at soft mattresses. This is why it can be hard to go out to buy one of these devices without knowing how much money you can spend in the first place. For a more accurate view, you should start the planning process for the best plush mattress even before you start to look for a product to buy. The first thing on your plan should be your budget. 
Consider how much money you are able to spend on the mattress. If you have a low budget, then you will be more likely to look for affordable soft mattresses that can still give you the quality you need. If you have a higher budget in mind, then the options that are available to you would certainly be increased. 
Don't expect to pay less than about $500 if you want a high-quality soft mattress. On the higher side of the pricing range, there are a few options that reach well beyond $1,000 too. 
Can only all-foam mattresses offer you a soft sleep?
Many people think that a soft mattress means a product that only consists of foam layers. Foam is, after all, what gives the superior comfort and the plush feeling to most modern-day mattresses. 
This brings us to another question – can a mattress with an innerspring system actually help you sleep soft?
The truth is yes; you can have a great night's sleep on a soft bed when your mattress has an innerspring or inner coil system. The key is to find a mattress that provides an appropriate layer structure to help you sleep softly on top of the surface. 
Many people prefer an innerspring feeling to their mattress. When you prefer an innerspring mattress, then there is no worry about not being able to sleep on a soft mattress. Many hybrid models have been introduced recently. These mattresses combine the best of both. At the top, you have a soft layered system that is made from foam materials. At the bottom, an innerspring system provides you the support that you need. 
This type of mattress can still be very soft, but, at the same time, it won't make you feel like you are sinking into a mattress. 
What should the return policy of the mattress say?
When you buy the best soft mattress, there is one particularly important factor that you should not overlook. This would be the return policy of the mattress. The return policy will generally contain two specific factors. The first is a warranty. This warranty period tells you how long the product will be under warranty. 
The warranty period will generally give you a repair or replacement if the mattress sags past a certain level within its warranty period. Additionally, the warranty will also be needed if you find any type of factory faults with the mattress. 
The second is a trial. Only a few mattresses come with a trial offer. This is a very useful feature. The trial offer gives you a specified period of time to sleep on the mattress and test it out. If you feel that you enjoy the mattress, you can simply continue using it. If you are not happy, the company will offer you a refund within the specified period of time. Just be sure to take note of how long the sleep trial is. Some companies only provide a short one-or-two month sleep trial. Others would allow you to sleep on the mattress for as long as one year before the trial period ends. 
How soft should the mattress really be?
You want a soft mattress – that is obvious for reading this post. The question now is – how soft do you want your mattress to be. 
One problem that you may find is that looking for the softest mattress on the market will not give you the superior night's sleep that you might desire. When the mattress is simply too soft, it means you will sink into the bed. You will also find that your spine is not aligned. Poor spinal alignment means you will likely wake up with back pain the next morning. 
Thus, when looking for a soft mattress, make sure it still has a firmness level that can provide adequate support to your body. 
Can you sleep with a partner on a soft mattress?
Many people ask if they can sleep with their partner on a soft mattress. This really depends on a few factors. You should rather ask if the specific mattress is appropriate for sleeping with a partner. The softness that comes with a mattress is often contributed to by its upper layers – often in the form of a pillow top setting. 
The layers underneath this soft foam and pillow top need to provide the features needed for the soft mattress. If you are sleeping with a partner, look for features like motion isolation. This feature means when your partner frequently moves around at night, the motion of his movements will not move to your side of the bed. Thus, you will be able to sleep more peacefully when both you and your partner sleep.