If you're finding it harder to get onto your mattress, then why not swap for something more low-profile? Although outdated, thin mattresses are still in use by many people. These are as thin as 5 inches and are mostly plush and delicate.
A thin mattress is a suitable choice for children and elderly people. But wait, which mattress should you buy? Are there any famous brands? There are, and we've prepared a list of just 7 of them. Let's take a look at the highest-rated thin mattress and how to choose one.
Here are The Best Thin Mattresses In 2022:
Best Thin Mattress 2022 - Reviewed
1.

Linenspa Innerspring Mattress – Editor's Pick
Highlights
Flame retardant and antimicrobial.
Tempered high gauge steel coils.
Extra buoyancy and plushness.
Coils do not poke or stab through the cover.
Highly portable.
Linenspa has the most amazing deals for twin-sized mattresses. This mattress has its own vibe that gives you a restful sleep all night. It's an innerspring mattress that uses high-grade steel coils. The coils have a great bounce and account for a semi-plush feel. They do not stick out of the mattress cover and stab or scratch your skin.
The cover is given special attention to in the Linenspa mattress. It consists of a soft-top layer that meets flammability requirements. This fire barrier prevents accidental fires from cigarette butts and exploding gadgets. The second layer is soft foam, and the third a felt pad. With the Linenspa, you can bid farewell to your sleepless nights.
It is recommended to buy the Linenspa if you're not interested in memory foam, but still want to get your hands on a low profile mattress. It's a fully coiled mattress that feels just as soft as the others. And it's fireproof too.
2.

Zinus Ultima Comfort Mattress – Runner-Up
Highlights
Biodegradable and eco-friendly.
No VOC emissions or petroleum smell.
Small, compact, and comfortable
High-density foam for support and firmness.
No ozone depleters or harmful dyes.
This full-sized mattress from Zinus is known for being eco-friendly. What sets it apart is the fact that this slim mattress uses BioFoam, which substitutes petroleum with natural plant-based oil.
Zinus's full-sized mattress has two layers. The first is a 1.5-inch memory foam that is CertiPUR-US certified. This is a standard certification that ensures eco-friendliness and user safety. Moreover, this layer uses BioFoam, which is made of organic plant oils instead of petroleum. So you can be sure that you're not inhaling anything toxic.
The second layer is a 4.5-inch support layer of high-density foam. The Zinus is a great mattress for the economic standard and indoor air quality. You get a more natural feel with the Zinus. This is the best thin mattress for its overall design and economy. While not particularly one of the skinny mattresses with a very thin design, it still has a low profile that can offer exceptional comfort at the same time.

3.

Lucid 5-Inch Gel Memory Foam Mattress - Best For Soft Feeling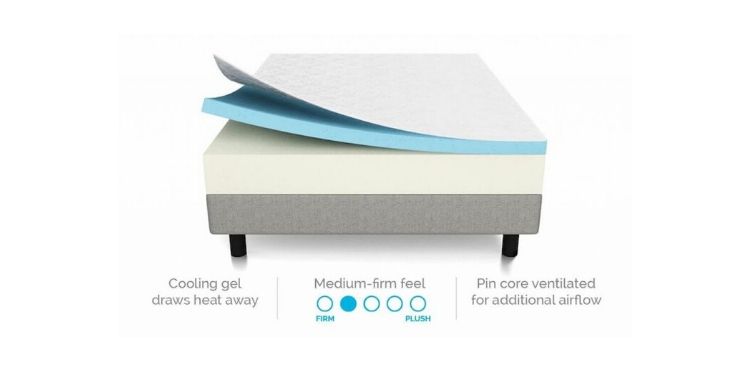 Highlights
Five-inch thickness
Very soft feeling
Compressed delivery
Uses Gel memory foam
CertiPUR-US certification
If you are looking for a mattress with an exceptionally soft feeling, then the Lucid 5-Inch Gel Memory Foam Mattress might be an ideal option for you. This is also one of the thinner mattress options that are available on the market. It measures five inches in height. The mattress itself is constructed from three layers of foam-based materials.
Apart from being very soft, the Lucid 5-Inch Gel Memory Foam Mattress comes with an affordable price tag. The pricing for this mattress is much lower than the majority of the alternative thin mattress options that are available at the moment. 
The mattress uses the gel memory foam layer at the top. This helps to add a responsive layer to the mattress, offering body contouring features. Two additional foam layers are added to provide support without making the mattress hard to sleep on. 
The Lucid 5-Inch Gel Memory Foam Mattress is an ideal solution for providing your kids with a more comfortable sleeping experience. It comes in various size options too. The thickness of the mattress makes it a great solution for a twin size bed in the kid's room. This mattress may not, however, provide adequate support for larger adults. 
The mattress comes with a 10-year warranty period. This adds protection to the investment that you make when you decide to proceed with your purchase. Lucid is also one of the budget option for the best mattress for sex.

4.

Modway Aveline 6" Gel Infused Memory Foam Twin Mattress
Highlights
Built-in cooling technology
Uses gel memory foam
Available in some local stores
CertiPUR-US certified materials
A lot of thin mattress options tend to lack the responsiveness that people need to sleep well. The Modway Aveline 6" Gel Infused Memory Foam Twin Mattress is a great option if you need to add extra responsiveness and body contouring effects to a bed. The mattress measures a total of six inches in height, making it a great option when looking for thin mattresses. 
The mattress itself is made from safe materials. The company uses CertiPUR-US certified foams and materials in the construction of the product. Every mattress is tested for common toxins like mercury, formaldehyde, and flame retardants. This ensures you or your child will not be exposed to any harmful chemicals while sleeping on this mattress. 
The mattress is delivered in a box. Unlike many alternative options, this mattress only takes about two to four hours to expand. A knit diamond patterned cover is included with the mattress. This is a removable cover, making it easier to keep the mattress clean. The mattress is compatible with both a foundation or a box spring system. 
Buying the Modway Aveline 6" Gel Infused Memory Foam Twin Mattress should be convenient. The product is sold at various retailers, including Amazon. There are a few local mattress stores that also stock this particular mattress. 

5.

Signature Sleep Memoir – Great For Back Sleeper
Highlights
Highly comfortable and plush.
Soft knit cover soothes skin.
No ozone depleters or VOC emissions.
Highly body contouring.
No harmful flame retardants.

If you want comfort and variety, then you're looking for a Signature Sleep. This twin-sized mattress is the epitome of Signature Sleep's production line. It includes a comfortable top cover and up to 6 inches of memory foam. The mattress is thin, lays flat, and feels plush and soft.
The top cover of the mattress is made of very soft cotton material. However, the cover cannot be removed or washed. So it is recommended to use a bedsheet on top of it.
Below the cover is a 1.5-inch layer of memory foam. This foam is CertiPUR-US certified, which means it maintains indoor air quality. And the foam does not poison the user or deplete the atmosphere. With this in mind, you can consider the product a safer thin queen size mattress. 
Underneath that is a 4.5-inch high-density foam layer. This foam is firm and supports the other layers. It provides great support and firmness, but the entire mattress overall is more on the plush side.

6.

Signature Sleep Hybrid Coil Mattress – Best Hybrid Mattress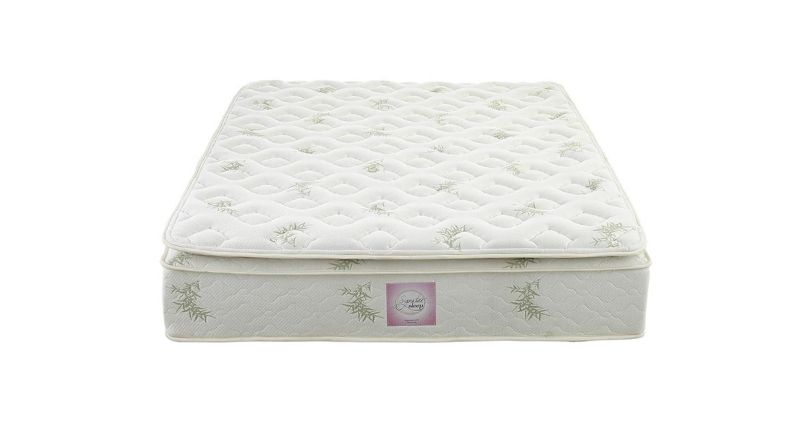 Highlights
Highly durable.
No tears or breaks.
Maintains and builds good posture.
The cover is flame retardant.
Made for all types of sleepers.
Compact and portable.

Another luxury from Signature Sleep, this mattress is a hybrid mattress. It uses both foam layers and steel coils. The Signature Sleep hybrid mattress is one of the best for relieving pain and maintaining posture. Whether you want a thin queen mattress or another size, there are various options to choose from. 
This impressive foam uses two layers of cover, 5 layers of foam, and 1 layer of heavy gauge coils. The foams are not memory but rather high density. But they do a great job of reducing back pain and supporting good posture. This is probably the best thin firm mattress that you will find, due to the hybrid design. 
The coils are made of heavy gauge steel, and they don't cut through the fabric. The bottom of the mattress has 3 layers of support foam that keep the coils standing straight up
Signature Sleep's mattress is a medium-firm mattress. Its multiple support layers give it firmness while the top and coil layers keep it buoyant. We recommend it for anyone who wants memory-style comfort in a non-memory foam mattress.

7.

Best Price Mattress – Best For Breathability
Highlights
Highly ventilate surface provides cooling.
Organic foam that does not off-gas.
No harmful flame retardants or dyes.
Motion isolation, pressure relief, and body contouring.
Therapeutic for spine and shoulder pain.

The Best Price Mattress is a 100% foam mattress that ensures a sound, peaceful sleep. It includes typical memory foam and support layers. But what sets this mattress aside is the breathability – which is superior for a thin memory foam mattress. It provides high moisture wicking and works to keep you cool and sweat-free. The product is also a lightweight mattress, making it easier to move around and set up. 
The middle layer of the Best Price mattress is made of a low-density soft foam. This foam allows the air to circulate through the entire mattress. In this way, you get a cool night's sleep without worrying about sweating. The memory foam has the usual features, such as motion isolation and body contouring. It also has a high-density foam layer that prevents your body from sinking in.
Memory foam mattresses like the Best Price are best for reducing back and neck pain. It's certified by CertiPUR-US, so you know it's safe to use. It's the great thin mattress for ventilation and moisture absorption.

A thin mattress is any mattress that is compact and low-profile. These mattresses lay flat on the bed frame and they don't place your body too high on the bed. Any mattress that is between 5 and 9 inches deep is considered as a thin mattress.
Nowadays, thicker mattresses are more trending. But many people opt for a thin mattress for therapeutic reasons.
Related: Top 12 Best Mattresses of 2022
Different Types Of Thin Mattresses:
There aren't that many types of thin mattresses. There are ultra-thin mattresses, which can be as thin as 5 inches. These are softer and plushier, and they can't sag since they are so low-profile.
Most thin mattresses are only good if they use coils. Many hybrid mattresses are thin and low-profile. Hybrid mattresses are a good choice. In thin mattresses, you can practically feel the coils poking into your back. A layer of memory foam on top of that makes the mattress more comfortable. These are suitable for a buoyant sleeping experience. You'll feel like you're floating on the clouds.
Benefits Of Using A Thin Mattresses:
Sleep Temperature:
Thin mattresses have the ability to regulate sleep temperature. Since they don't have many layers of foam, you won't feel hot on them. Yet, many don't have any form of cooling gel. So they don't really cool you; they just keep you at room temperature.
Ease Of Use
Thinner mattresses are easier to get on. This is especially the case in children or elderly people. Or if you have a bunk bed and don't want to hit your head on the ceiling every time you get up.
Safety
A thin mattress has more safety, especially for children and elderly people. And for those who use walking sticks or vehicles. Thinner mattresses are used in hospital wards to make it easier for patients to get up. You can also buy a thin mattress if you want to keep your children safe from falling.
Save Space And Money
If you want to save space and money, then buy a thin mattress. A thin mattress takes lesser time and space to ship. So you won't spend much on delivery. And it can be rolled up very narrowly and stored in a cupboard. Plus, these mattresses are lesser expensive. So you'll end up saving on both the product and the shipment.
Factors To Consider When Choosing The Right Thin Mattress For You:
Design And Construction:
Thin mattresses have up to 5 or 6 layers. The top layers will be for comfort. This is usually where the memory foam resides. The bottom layers will be for support and have high-density foam. The middle layer can be either memory foam or coils, depending on whether you have a hybrid or not.
The coils should be heavy gauge industrial steel coils. And they should be sturdy but bouncy. Some thin mattresses are 100% innerspring. Which means they don't have any foam layers. In this case, you'll have a foam top cover and multiple cushion layers.
Hygiene:
Mattresses that are thin tend to absorb a lot of sweat. And unlike thicker mattresses, the sweat will seep through into all the layers. And if your mattress uses coils, then those will become a breeding ground for bugs and mites.
Your mattress should cool your body but not absorb sweat. And it should be sprayed both inside and outside with antimicrobial spray. The cover should also be flame retardant but not treated with any harmful chemicals. In short, a CertiPUR-US certification is best in your favor.
Durability:
Just because a mattress is thin doesn't mean it has to sag. Thin mattresses make you float just like regular mattresses. These mattresses should have foam layers that stay as firm as they were the day you bought them. If your mattress has coils, they should be made from high-quality steel.
Moreover, hybrid or innerspring mattresses get old pretty fast. And their coils start to poke out through tears and seams. Your mattress should have enough protection to prevent the eruption of these coils. Stabbing coils can become a real issue, and you might not get a new mattress on time.
Comfort And Ergonomics:
Last but not least, your mattress should be comfortable. Regardless of whether it follows the norm or not, if you're happy with it, then you're set. The mattress shouldn't feel too firm or too soft, depending on your preferences. If you wake up with more pain in your body than before, consider a refund.
The mattress should be easy to climb up and sleep on. The coils shouldn't poke or sink into your back. And most importantly, your spinal posture should be optimal. If you find your posture getting worse, then try a different mattress.
Read more: How To Choose A Mattress: Mattress-Buying Checklist
Final Thoughts
Whether you're a child or an adult, a thin mattress ought to do us all some good. These mattresses are so therapeutic and spine-friendly. They keep your body at a normal elevation. And they even come cheap too.
Of the five products we reviewed, we found that Linenspa Innerspring Mattress was the best thin mattress. Not only is this mattress supportive, but it's also eco-friendly. It doesn't use petroleum and makes use of organic biodegradable plant oil.
But the others weren't half as bad. We suggest that you look through the review and find out your perfect thin mattress.
Chris was a psychiatrist and neurologist with board certification in sleep medicine Clinical Associate Professor at the University of California. For over 10 years, he served and helped patients at Stanford Health Care-Stanford Hospital with their sleeping disorders.
After suffered from sleep disorders for years, Chris has been passionate about sleep health ever since. He wants to help others sleep better and wanted to make the world of sleep easy to understand for everyday people.