Sleep deprivation is becoming an increasing concern throughout the world. This is causing people to be involved in more accidents and leading to both physical and mental health complications. Several companies are producing mattresses to help people sleep better. Lucid is one company that has been producing different types of mattresses. 
Lucid is popular for two factors. This includes their large range of mattress options that you are able to choose from. Secondly, the mattresses from the brand are generally considered to have lower price tags compared to some competitor options. At the same time, some problems have been noted with certain mattresses the brand produces. In this Lucid mattress reviews, we take a closer look at the Lucid brand and the mattresses that have made the company a relatively well-known brand.
Rating Summary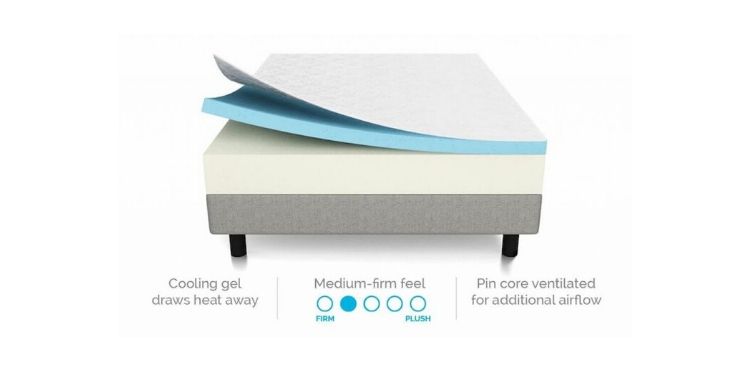 Highlights
Lucid provides a larger variety of mattress choices than many competitors. Choose from latex or memory foam when you buy a mattress from the brand. You can also choose between hybrid and all-foam constructions.
The Lucid brand offers some of the most affordable options when looking to buy a mattress from an online brand.
Most Lucid mattresses are compatible with a variety of foundations and bed bases, which means you can likely use the mattress with your existing foundation.
Budget-Conscious Shoppers:

Many people have a low budget when they go out to shop for a new mattress. A large number of mattress brands on the market today tend to have relatively high price tags attached to their products. The great thing about Lucid would be the affordable price tags that come with purchasing their mattresses. Many people claim that the mattresses from the brand tend to be bargains. 

People Who Need More Variety:

A lot of the mattress brands on the market today also tend to be quite limited in terms of the selection of mattresses that you are able to choose from. This is not the case with Lucid, however. The brand produces mattresses from various materials, allowing you better versatility when choosing a mattress that will be more ideal for your particular case. You can choose between hybrid designs, memory foam mattresses, and options that use latex instead. 

People Looking For Thicker Mattresses: Another common problem that many people have today is that the latest mattresses tend to be quite thin. Even when support layers are added, some people still find these mattresses to be too thin. This is where the Lucid brand comes in, offering mattresses with a thickness of up to 16 inches. Thickness also matter for couples. That's why no surprise this mattress made it to our list of best mattresses for sex.
Long-Term Sleeping:

An issue often noted with Lucid mattresses is that they tend to sag faster than many competitor options. This is a concern among customers who are planning to sleep on the mattress for a longer time. 

People Looking For Extended Warranty Periods:

If you want a mattress that will last several decades and give you a lifetime warranty, then the products from the Lucid brand would also not be ideal options for you.
Lucid is a brand that particularly focuses on producing mattresses. Over the last few years, the brand has been able to build quite a reputation for itself. When looking at Lucid mattress reviews, one of the primary focus points would often be related to the budget-friendly options that the company is able to offer people. 
The diversity of mattress options that people are able to choose from is also quite impressive. Unlike many brands that only focuses on a single mattress, Lucid rather chooses to provide a better variety of options that their customers can consider. This gives more people access to a mattress that would offer them the ability to reduce their risk of sleep deprivation complications. 
Lucid is an American company too. The mattresses produced by the company are primarily sold on the brand's official website. The company offers several convenient features, including the ability to deliver the mattress directly to the customer's physical address. Apart from being sold online, Lucid has also partnered up with a few of the major retailers throughout the United States. This means some people might be able to pick up a Lucid mattress at a local retailer.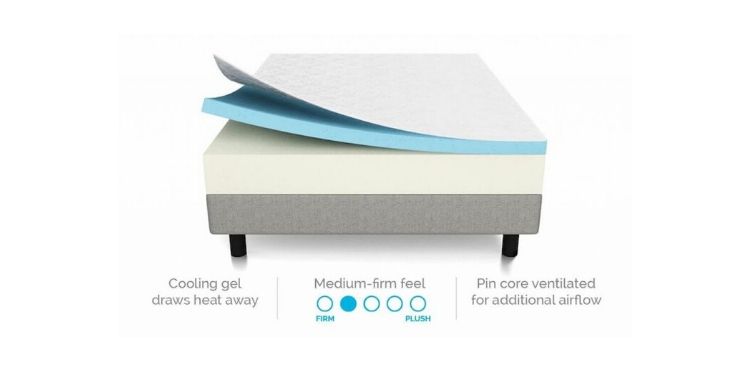 When looking to buy a new mattress, it is always important that you take a closer look at the construction of the product. This will give you a much better idea of the sleep that you will experience when you lay down on the mattress. You will also be able to determine whether there are risks like off-gassing and exposing you to harmful toxins when you decide to buy a specific mattress. 
Lucid does have a few different options that are available when buying a mattress from them. Each mattress features its own specific construction. We will consider the most popular option from the brand in this post – this is the Lucid Gel Memory Foam Mattress. Most people seem to be very happy with this mattress. 
The Lucid Gel Memory Foam Mattress features a height of 10 inches. There are options available with more height, should the mattress not be thick enough for you. The mattress is also made from an all-foam construction, making transport easier, and reducing the possibility of noise and related issues. The mattress provides a deep pressure relieving effect, which may greatly enhance your ability to sleep well at night. 
Lucid focuses on providing a more eco-friendly approach to the construction of their mattresses. This process starts with the cover that comes included with the purchase of the Lucid Gel Memory Foam Mattress. Tencel is the primary material used to manufacture the cover that fits over the mattress. Tencel is an eco-friendly type of material. It is produced from wood cellulose. The cover is soft and also adds to the mattress's breathability. The result is not only better comfort, but also a cooler night's sleep. Studies have previously shown that temperature affects how well a person sleeps. When you sleep in a warm environment, you are more likely to experience poor sleep.
Comfort is a key element to consider when buying a new mattress. The cover of the Lucid Gel Memory Foam Mattress already adds to its comfortability. The mattresses all-foam construction also helps to provide a cushioning effect, but without leading to a trapped feeling. This is achieved with the use of a gel memory foam material instead of the standard memory foam used in most mattresses.
Contouring is also something that the Lucid mattress is able to offer. The upper gel memory foam layer is able to perfectly contour to the shape of your body as you lay down in bed. This helps to provide a more personalized sleeping experience.
Even though the Lucid mattress is able to effectively contour, the bottom foam layer of the product is able to provide the support you need to ensure you do not sink deeply into the mattress. This also adds to the pressure relief offered by the mattress.
Lucid focuses on being a brand that is eco-friendly. Additionally, the brand helps to improve the safety of their mattresses for the sleeper. The cover is made from Tencel. The foam is also made from materials that are considered safer for the environment and the user.
The height of the Lucid Gel Memory Foam Mattress depends on what you. You can choose the height that is most appropriate for you. The height options range from five inches up to 16 inches.
The base of the Lucid Gel Memory Foam Mattress is made from a higher density foam. This helps to make the mattress more durable and also adds to the overall support the product is able to offer.
What Type Of Sleeper Is Best Suited To A Lucid Mattress
Lucid offers mattresses for every kind of sleeper, which comes with the versatility of the products that the company offers the customer. Mattresses from this brand also focus on enhancing breathability. This is why a Lucid mattress review will often advise these products for hot sleepers. The contouring effects of the mattresses help to contribute to a more comfortable sleep as well while providing pressure relief at the same time. 
It should be noted that some people do consider Lucid mattresses more appropriate for temporary use. This is because there does seem to be some sagging that occurs with consistent use.
How Does Lucid Compare To Other Mattress Brands?
Many other brands produce mattresses, which makes it hard to determine if Lucid is right for you. We compare Lucid to other popular brands in the section below. 
Lucid Vs. Saatva
Saatva is a brand that focuses on producing high-quality mattresses and offering them at affordable prices. Even though affordable, Lucid is still able to provide mattresses at lower price tags. Saatva's range of mattresses may, however, providing better durability as they do not tend to sag as quickly as a Lucid mattress. 
Lucid Vs. Casper
Casper is also another popular brand that sells their mattresses online. The prices are much higher compared to the range of Lucid mattress, making them less budget-friendly. Casper also has excellent quality mattresses available, with a variety that the customer is able to choose from. 
Frequently Asked Questions
There are a few common questions that people tend to ask when they are considering the purchase of a Lucid mattress. Below, we take a look at some of these common questions to give you the ability to make a more informed decision when considering one of this brand's mattresses.
As mentioned previously, one of the best things about the Lucid brand is the fact that they ensure the range of mattresses offered is all affordable. This means there is no need to worry about paying thousands of dollars for a mattress when shopping from this brand. 
The most affordable mattress from the Lucid brand would be the Lucid Gel Memory Foam Mattress. The mattress comes in different thickness levels and size options. Prices start from as little as $150. This is for one of the thinner and smaller mattress options. Pricing goes up to $800 for the thickest and largest option, which is still a great saving compared to many competitor brands.
Lucid has a few different mattresses on the market at the moment. This is also what makes the brand stand out from the crowd. There are three main lines of mattresses available. When looking at a Lucid mattress review, you will also notice that each mattress is available in a variety of options. 
The three main lines include Latex, Gel Memory Foam, and Hybrid. If you want an all-foam mattress, then the range of memory foam and latex mattresses may be ideal for you. If you need an innerspring feeling, then take a closer look at the Lucid Hybrid mattress instead.
Chris was a psychiatrist and neurologist with board certification in sleep medicine Clinical Associate Professor at the University of California. For over 10 years, he served and helped patients at Stanford Health Care-Stanford Hospital with their sleeping disorders.
After suffered from sleep disorders for years, Chris has been passionate about sleep health ever since. He wants to help others sleep better and wanted to make the world of sleep easy to understand for everyday people.