If you are starting your mattress shopping journey and you want to know what's new with the timeless company, Serta, you have come to the right place to find your Serta mattress reviews.
Serta used to be the golden standard when it came to buying a mattress. However, with so many newcomers on the market these days, do they still give the competition a run for its money?
If you are looking for the best Serta mattress for you, Serta perfect sleeper reviews, or even a Serta Eurotop mattress review, we have got you covered.
Keep on reading to learn more about what Serta is up to in 2022 and how their different mattress are performing. 
Rating Summary
Highlights
Foam-based mattresses such as the iComfort aren't known to be durable, and versions containing coils such as the Serta Luxe are a better bet
Serta mattresses are made of high-quality materials and have a 10-year limited warranty and 120-night sleep trial
Serta uses high-quality cooling gel and foam in many of their mattresses
Customers on a budget – the Serta Luxe hybrid has very affordable options and is a quality hybrid mattress

Couples who fight for space – the edge support on Serta mattresses is reinforced and some of the best-performing on the market

Customers who like instant gratification – Serta mattresses are available at stores near you – no need to order online

Back and Stomach sleepers – the firmer feel of the best Serta mattresses will be very supportive
Customers in it for the long haul – Serta mattresses are known to have durability and sagging issues across many of their models

Those who want a softer feel – Serta's best mattresses are quite firm. Their soft versions sag and are not a good investment

Box-Spring Haters – According to Serta, their mattresses need a box-spring
We all remember the sheep commercials from the early 2000's – but Serta has been around much longer than that. In fact, they have been around much longer than most of us. 
Serta introduced their Perfect Sleeper mattress in 1931 – and the rest was history. Since then, they have gained a reputation for being a pioneer in comfort technology. Despite all of the competition coming from bed-in-a-box companies and other direct-to-consumer models, Serta is still the #1 mattress manufacturer in the United States and one of the leading global brands.
One of the best features of Serta is that they make sure to provide mattresses at many different price points – ensuring everyone can get a comfortable night's sleep, which is so important for productivity and health. 
One of the best reasons to buy a Serta mattress is their commitment to health and safety standards. In 2005, Serta became the first mattress company to meet the federal flammability standard with all of their models. 
Overview of Serta Mattress Collections
Serta has many different mattresses available on the market, all with their individual characteristics and price points that could make or break whether it's the perfect fit for you. Below, we have outlined a few of the key differentiating features between these different options.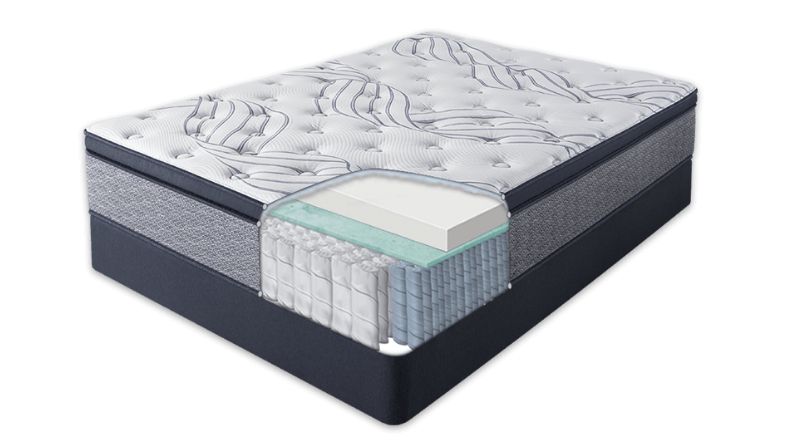 Most of Serta's mattresses use a traditional quilted cover that is non-removable. They are comfortable and soft and are designed to reduce heat build-up.
Serta believes that the firm doesn't always mean comfortable, and revolutionized the advent of pillow-top. Serta mattress toppers are more often than not quite comfortable and plush on top.
Many of Serta's currently available mattresses include a layer of contouring memory foam on top, ensuring that you are supported and relieving pressure off of key pressure points.
While some Serta all-foam mattresses are known to sag, the innerspring and hybrid options provide a lot of support throughout the mattress.
Materials, Height, and Base
Serta mattresses are made of quality materials that meet US safety regulations as well as CertiPUR-US standards. They come in varying heights depending upon the model, and the majority of their mattresses require a box spring base.
Rating Breakdown - Serta Mattress Reviews
Serta has plenty of very firm options on the market due to its commitment to supplying many different hybrids and innerspring coil mattresses to the market. If you are looking for a very firm mattress, you may want to go to your local store and try out a few different Serta models and see if they work for you.
One of the main complaints with bed-in-a-box direct-from-manufacturer companies is that in order to roll up a mattress, it can only be so firm. That's why so many of these companies are turning to white-glove-delivery services so that they never have to roll their mattress up in the first place – allowing them to create a more firm and durable mattress.
Because Serta does not subscribe to that business model, they are able to provide very firm beds you wouldn't even imagine being able to roll into a box. 
However, it is worth noting that for those who don't want a very firm mattress, a Serta mattress may not be a great choice for them. Even the newest iComfort hybrid model, which contains plenty of memory foam, only comes in a firm option. 
Pressure relief is one of Serta's specialties – as they were the first to prioritize pillowtop models and introducing a bit of contour to the top of their mattresses. Since then, they have added many models that are topped with memory foam. 
However, the models with the most pressure relief tend to be the most expensive. If pressure relief is high on your list, you may need to look elsewhere in order to keep your mattress purchase affordable. 
If you are committed to buying a mattress with Serta, you need to be sure to look at what the top layer of each mattress you are considering is made of and ensure it has a thick enough layer of memory foam to give you what you need.
Serta mattresses range highly on if they are very durable or not. The bed-in-a-box Perfect Sleeper, as well as the other foam-based models, are not known for being very durable, and many users report issues with sagging when it comes to their Serta mattresses. 
However, for the lovers of firm mattresses out there, Serta's classic innerspring coil mattresses are highly durable. In fact, they have many models designed especially for use in Hotels. Because Hotels are committed to reducing costs – they want to make sure they can buy mattresses that will really last. Serta's Hotel line is up to the task and is the brand trusted most by Hotels around the world. 
Like any mattress, if you regularly flip the mattress foot-to-head and back, you should be able to increase the lifespan of your mattress and decrease sagging. You should also ensure that you have the correct base for your mattress – as an improper base such as a slatted base will increase sagging.
The hybrid models of Serta mattresses are going to be the most supportive. They have not only memory foam that contours to your body and relieves pressure, but also the strength and bounce of innerspring coils that ensure that you feel like you are sleeping on top of the mattress, not in the mattress.
However, you will likely pay a hefty price for the most supportive mattresses that Serta has available. The iComfort hybrid, for instance, is one of their most expensive options. If you need a lot of support but are on a strict budget, you may need to look at some other mattress brands before making your final decision.
Edge support is where all Serta mattresses really shine. Even their all-foam versions have enhanced edge support to ensure that the mattress isn't buckling when you roll to one side of the bed. 
Where edge support is usually the cause of durability issues for most mattress brands, that isn't the case with Serta. Their mattresses tend to sag more in the middle. The edges, instead, are very strong and don't buckle under the weight of someone sitting on the edge of the bed to put their shoes on in the morning.
The increased edge support on Serta mattresses makes these mattresses a great option for couples who are often pushed to the edge of the bed. 
These beds are all designed with hot sleepers in mind. The MemoryLux might be the least cooling of the three, but it's still rated for zero heat retention. That's because both the MemoryLux and the WinkBed have a cooling gel layer. The MemoryLux also uses air coils to prevent the foam from heating. 
The EcoCloud is a little different. Talalay latex naturally distributes heat, so this model doesn't need an additional cooling layer. 
While the Perfect Sleeper is now delivered in a box and has some smell and off-gassing due to being rolled-up in plastic, most of Serta's mattresses do not have a problem with smell and off-gassing. 
Serta is very committed to using chemicals to increase the safety of its customers and keep tragic bedroom fires from happening – so if you are sensitive to these chemicals you may need to look for a different brand. 
In general, Serta is not known for its motion isolation. Their most popular options are hybrids and innerspring coil mattresses, which, by design, are a bit on the bouncier side. 
While Serta's all-foam mattresses are going to do a much better job at motion isolation, there are better foam-based mattresses on the market for an equal or lesser cost that are going to be more durable and have more features than what mattresses such as the Perfect Sleeper provide. 
When you look at Serta Perfect Sleeper mattresses reviews, you will see that these mattresses do a great job at motion isolation but are also riddled with complaints about durability.
If you do not need total motion isolation and instead just need to ensure your partner isn't rocking the boat when getting up to use the restroom in the middle of the night, the hybrid options will be a good choice for you. These mattresses have enough memory foam to keep them from being too bouncy, but enough innerspring coils to maintain their durability.
While the memory-foam options that Serta provides are very quiet, the innerspring coil mattresses can be quite noisy. Serta mattress reviews around the web complain about noise quite frequently. A middle-of-the-road alternative, a hybrid version, will keep noise to a minimum.
One of the best parts of having so many coil-based options available is that these mattresses are great for intimacy. Having a bit of bounce makes sexual encounters much more enjoyable and fun.
While it depends on what mattress you are looking at, Serta mattresses do have a good value. A Serta Queen mattress can run from a few hundred to a couple of thousand dollars. They work hard on keeping prices down and providing a range of options, while also committing themselves to make high-end mattresses throughout the price range.
Serta is such a large company that their customer service can feel a bit impersonal at times. However, you know that your warranty means something with this company. As the #1 mattress manufacturer in the country, they aren't going anywhere anytime soon.
If you are looking for more reviews after learning about Serta mattresses, click here to discover more information about all the different brands currently on the market. We guarantee there are plenty you've never even heard of!
Chris was a psychiatrist and neurologist with board certification in sleep medicine Clinical Associate Professor at the University of California. For over 10 years, he served and helped patients at Stanford Health Care-Stanford Hospital with their sleeping disorders.
After suffered from sleep disorders for years, Chris has been passionate about sleep health ever since. He wants to help others sleep better and wanted to make the world of sleep easy to understand for everyday people.